Houston races past Cincinnati, 90-52

UPDATED: February 21, 2021 -- 8:05 p.m. CT
POSTED: February 21, 2021 -- 6:18 p.m. CT
HOUSTON, TX (Fertitta Center) -- After losing 68-63 to Wichita State on February 18th, the Houston Cougars men's basketball responded in a big way Sunday afternoon with a 90-52 win over the Cincinnati Bearcats. Houston has not lost back-to-back games since March 2017.
Houston improves to 18-3 overall and 12-3 in the American Athletic Conference. Cincinnati is now 7-8 overall and 5-5 in the AAC.
Wichita State outrebounded Houston 35-33 in Thursday's win. Houston Head Coach Kelvin Sampson emphasized rebounding and more possessions in practice leading up to Sunday's game.
Playing faster "starts with rebounding.", Sampson said after the game. "We were determined to get our pace in the 70s. I'm not sure what it ended up."
Houston had 68 possessions versus Cincinnati and scored 1.324 points per possession in the game.
"We wanted 70 plus possessions today. We're not very good slow," Coach Sampson acknowledged. "But, to play fast, it starts with defensive rebounding.
"Quentin Grimes had eight defensive rebounds today. He had two the other night (against Wichita State).
"DeJon Jarreau had 1 rebound (against Wichita State)."
Then Coach Sampson turned his attention to his big men.
"Think about it: Brison Gresham and Reggie Chaney, in 40 minutes, had 3 rebounds."
"I almost lost my lunch just watching us rebound the other night."
---
SUPPORT The Houston Roundball Review via PayPal or via the Cash App.
Sign up to get ESPN+.
Or, get the Disney bundle: ESPN+, Disney+, and Hulu!!! Save when you bundle all three and get the best movies, shows & sports.
---
"Somebody with diabetes, they need insulin to live," Coach Sampson detailed. "An asthmatic needs an inhaler. Everybody has to have something to sustain them to give them life.
"For us, we don't just have to rebound, we have to rebound to live. We can't win without rebounding."
Losing to Wichita State is not some earth-shattering defeat; however, Coach Sampson was disappointed how Houston lost the game.
"The most disappointing thing to me about losing the other night was not losing the game," Coach Sampson remarked. "It was how we lost it. Getting outrebounded. We're not perfect. We can get outrebounded. Nobody anointed us.
"When somebody is really good at something, you don't give them credit for it anymore. It's hard to outrebound teams every, single game. And, we got outrebounded the other night; and, took that personal."
Then, as he continued, Coach Sampson said he reminded his team about the culture of Houston Cougars men's basketball.
"You can't forget where you came from," Coach Sampson proclaimed. "Even if you move into a different neighborhood; you move up to an upscale, high rise district. Don't ever forget where you come from."
"The way we play we're a ghetto team. There ain't nothing suburbs with this crew. You start acting like you're from the suburbs then that tells me you forgot where you came from. So, today, we got back to our roots."
---
SUPPORT The Houston Roundball Review via PayPal or via the Cash App.
Sign up to get ESPN+.
Or, get the Disney bundle: ESPN+, Disney+, and Hulu!!! Save when you bundle all three and get the best movies, shows & sports.
---
DeJon Jarreau said the key to Houston's pushing the pace and playing a faster pace is more rebounding from the guard.
"Really, it's our guards rebounding," Jarreau commented. "If you look at our last game, me and Quentin (Quentin Grimes) only had two or 3 rebounds. Come back to this game, he had 8 defensive rebounds. I had 5. Just to get it off the rim and start the break instead of looking for the outlet pass from the bigs because that takes a couple of seconds for you to actually get the ball. But, if we get the rebound, we can just get it off the rim and push it. That's one of my best games -- in transition. I like finding my teammates in transition and that's one of the things that gets us going. In order to do that a big key is guards have to rebound."
Quentin Grimes scored a game-high 20 points in today's win. Grimes said Houston is more effective when playing in transition.
"When DeJon pushes the pace, he can see the floor at all times. He can rebound, push the ball. He can go get it himself. Whenever he's playing like that, I feel like we're the best team in the country."
Quentin said he made a conscious effort to crash the boards today.
"For sure because last game, I kinda got out of my rhythm not going to the boards like I used to. And, then, Coach emphasized that on the film right after we got on the bus.
"I kind of made a conscious effort to go out there and kinda get back to rebounding how I was."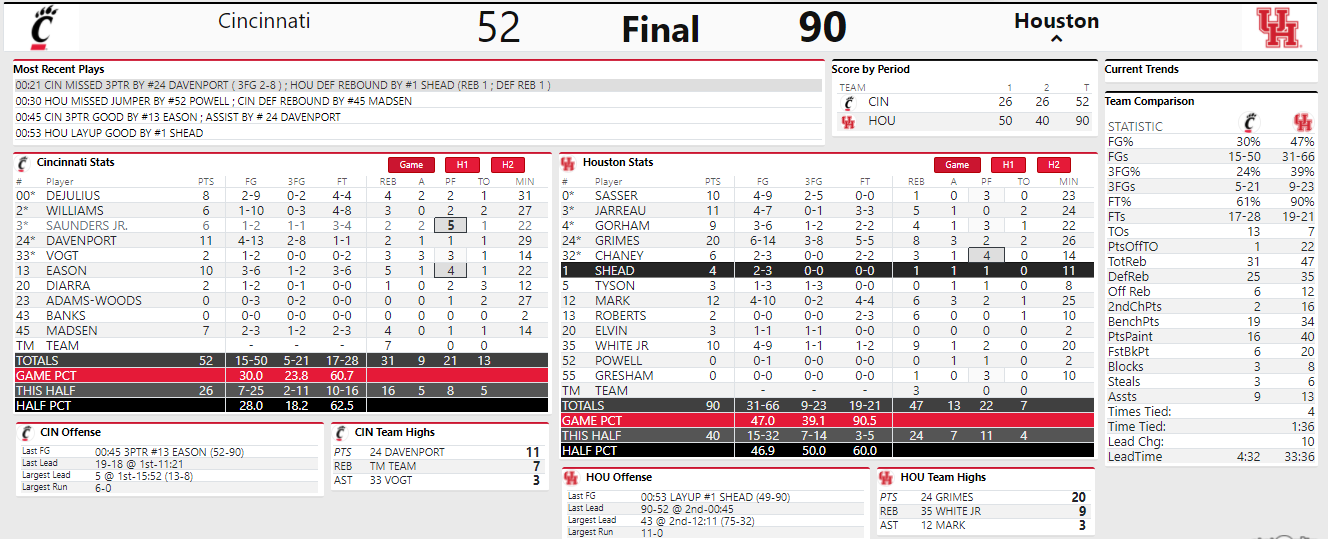 In addition to Grimes' 20 points, four other Coogs scored in double-digits:
Freshman guard Tramon Mark scored 12 points off the bench added 6 rebounds, 3 assists, and 1 steal.
Jarreau had 11 points, 5 rebounds, 2 blocks, and 2 steals in 24 minutes.
Fabian White Jr, in his second game back from tearing his ACL last May, had 10 points and 9 rebounds in 20 minutes off the bench.
Sophomore guard Marcus Sasser scored all 10 of his points in the second half.
Houston outrebounded Cincinnati 47-31 and outscored the Bearcats 16-2 in second chance points; 40-16 in the paint; and, 20-6 in fastbreak points.
Houston had 16 layups and 2 dunks in the ball game.
Houston turned a 19-18 deficit into a 50-26 lead at halftime. Houston's largest lead of the ball game was 75-32.
UP NEXT:
Houston's next game is scheduled for this Thursday, February 25, inside Fertitta Center, against the WKU Hilltoppers. An announcement the game was added to the 2020-21 schedule happened Sunday afternoon. Tip time is 6 p.m. ESPN2 will broadcast the game.
CLICK HERE for The HRR's write-ups of Coogs' men's hoops games.
Subscribe in a RSS feeds reader
Subscribe to The HRR provides news and info of UH Coogs' men's basketball by Email