1-seed Houston loses 75-65 to 2-seed Memphis in AAC final; Tigers' Kendric Davis scored game-high 31 points


Buy Houston Cougars Gear at Fanatics.com
POSTED: March 12, 2023 -- 9:43 p.m. CT
FORT WORTH, TX -- (Dickies Arena)
The 1-seed Houston Cougars lost to the 2-seed Memphis Tigers 75-65 Sunday afternoon in the 2023 American Athletic Conference Championship game. The loss ends Houston's 12-game winning streak. Memphis guard Kendric Davis scored a game-high 31 points to lead the Tigers to the victory.
Houston senior guard Marcus Sasser did not play in the game due to a groin injury. Sasser was injured yesterday in Houston's 69-48 win over the Cincinnati Bearcats in the semifinals.
Davis and Memphis took the action to Houston in the first half. Davis scored a driving layup to begin a 21-4 Memphis run to stretch the Tigers' lead to 20 points (40-20) with 3:36 remaining in the first half.
Houston missed 9 consecutive field goals; and, at one point in the first half Davis nearly had as many points (18) as Houston (20).
Memphis shot 62.1% (18 for 29) in the first half.
Houston shot 29.7% (11 for 37) in the opening half -- Houston made its last 3 field goal attempts to reach 11 for 37.
Houston trailed 46-35 at halftime. Memphis outscored Houston 26-16 in the paint in the first 20 minutes.
Houston was more active and alert on defense early in the second half which contributed to the Cougars 9-4 the first 5 minutes of the half to claw within 10 points (50-40).
Memphis missed 5 consecutive field goals and went scoreless for 3:21.
Houston pulled within 5 points twice; and, trailing 55-50, Houston freshman forward Terrance Arceneaux shot a three-pointer which rattled in and out. Memphis' senior DeAndre Williams rebounded the miss then made a three-pointer to boost Memphis' lead to 58-50.
A six point turnaround. If Arceneaux's three goes in, Houston trails 55-53 with 10:30 remaining in the game.
Houston managed to pull within 7 (60-53 and 62-55); but, the Tigers went on an 8-0 run to lead by 15 (70-55) with 4:43 to go in the contest. The Cougars made one final push with a 9-2 run to cut their deficit to (72-64) with 1:11 seconds remaining.
Kendric Davis sank a floater in the paint to close the door on Houston and secure the Tigers' AAC Championship.
Davis was named Most Outstanding Player of the 2023 American Athletic Conference Men's Basketball Championship.
Joining KD on the All-Tournament Team are teammate DeAndre Williams; Houston's J'Wan Roberts and Jamal Shead and Cincinnati's Landers Nolley II.
J'Wan Roberts finished the game with 12 points and a new AAC tournament record 20 rebounds. Jamal Shead scored 16 points (3/14 fgs, 8/10 fts).
Houston's next game will be Thursday, March 16, in Birmingham, AL, versus the Northern Kentucky Norse in a first round matchup in the Midwest Region of the 2023 NCAA Men's Basketball Tournament. Tip time is 8:20 pm CT on TNT.
Memphis will be headed to Columbus, OH, as the No. 8 seed in the East Region and will take on ninth-seeded Florida Atlantic (31-3) on Friday, March 17, at 8:20 p.m. CT, on TNT.
---
SUPPORT The Houston Roundball Review:
Purchase your Coogs' gear at Fanatics.com via this link;
Get ESPN+ via this link;
Save when you get the Disney bundle (ESPN+, Disney+ and Hulu) with this link;
OR, contribute via PayPal or the Cash App.
---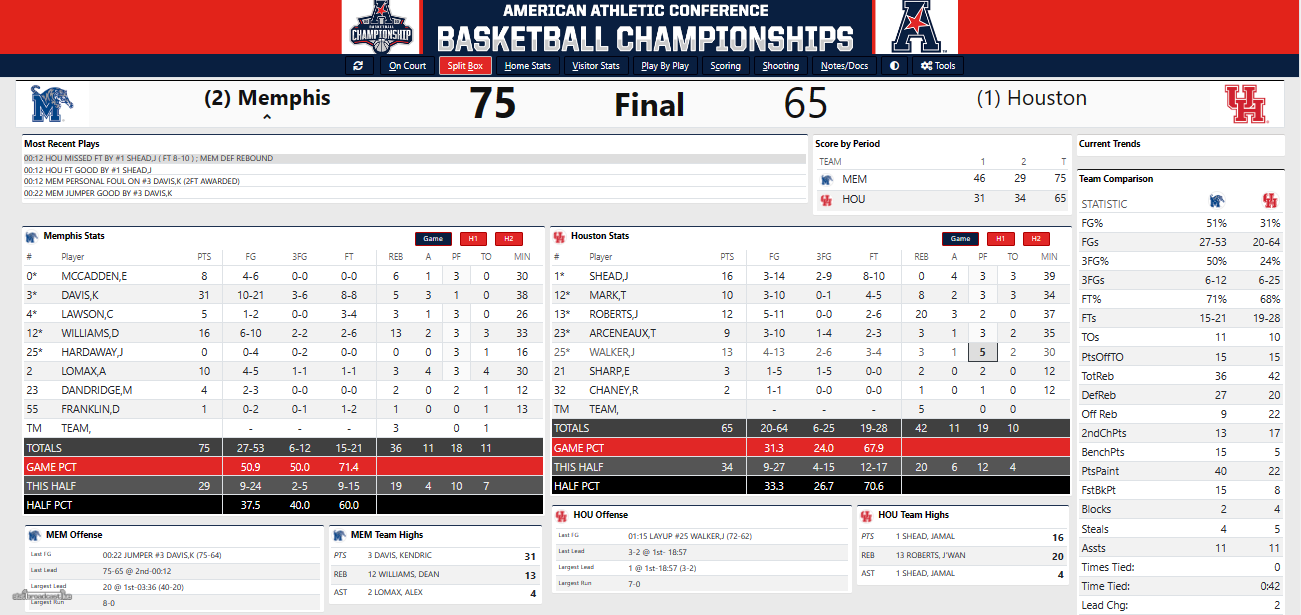 CLICK HERE for The HRR's write-ups of Coogs' men's hoops games.