Jamal Shead's buzzer-beater hands Top-ranked Houston 67-65 road win at Memphis


Buy Houston Cougars Gear at Fanatics.com
POSTED: March 5, 2023 -- 3:53 p.m. CT
MEMPHIS, TN -- (FedEx Forum)
The Houston Cougars defeated the Memphis Tigers 67-65 Sunday afternoon on a Jamal Shead pull-up jumper to beat the buzzer.
"Credit to him for recognizing the time," Kelvin Sampson, Houston Head Coach, said after the game about Shead's game-winner. "He knew exactly how much time it was. We got bodies in the corners. We got one in the slot and allowed him to go one-on-one. In that situation, that's about as good a shot as you're gonna get."
Houston is now 29-2 overall and 17-1 in the American Athletic Conference.
With Sunday's win at Memphis (23-8, 13-5), the Cougars also tied the American Athletic Conference single-season record for conference wins (17-1, SMU, 2016-17).
Today's win by the Coogs also sets a school record for conference wins in a single season. The 2022-23 Cougars topped the mark set by the 2018-19 team (16-2, American Athletic Conference) and the 1982-83 team (16-0; Southwest Conference).
Shead's jumper was over 2 Memphis defenders. Memphis guard Kendric Davis scored a driving layup with 8.9 seconds remaining to tie the game at 65.
Houston led Memphis 41-32 at halftime. Tramon Mark set the tone for Houston in the first half. Mark scored 14 points in 18 first-half minutes and added 2 steals plus 1 blocked shot. He made 5 of 7 field goal attempts including 2 for 4 from three-point range.
Shead played the entire first half and added 10 points and 5 assists.
Houston made 7 of 19 three-point shots and 7 of 14 two-point shots in the opening half. The Coogs were 4 for 7 from three throw line.
Memphis did not shoot the ball well in the first half making only 8 of 26 field goals; however, the Tigers were a stellar 16 for 18 (88.9% at the free throw line. The Tigers missed all 7 of their three-point shots in the first half.
Houston freshman Jarace Walker made a three-pointer to open the second half and increase Houston's lead to 44-32. However, Houston started turning over the ball. The Coogs had 4 turnovers in the first 4 minutes of the second half. Meanwhile, Memphis made 5 of 6 three-point shots and outscored Houston 19-3 over an 8-minute span to lead Houston 51-47 with 11 plus minutes remaining.
Houston trailed 56-51 when Walker got a friendly bounce on a three-point basket to begin a 10-0 Houston run. Jamal Shead scored a jumper in the paint to tie the game at 56; then, Marcus Sasser sank a 3 in transition before Sasser made 2 free throws for the 61-56 Houston lead with 3:49 on the game clock.
Houston led 63-58 before Memphis scored 5 in a row to tie the game at 63 with 2 minutes left in the game.
Jamal Shead banked in a runner high off the backboard for a 65-63 Houston lead with 73 seconds to go.
Kendric Davis missed a 3-point attempt; and, Marcus Sasser grabbed the defensive rebound. Sasser, however, committed his 4th turnover of the game with a bad pass after a Houston timeout.
After a Memphis timeout, Walker swatted a Davis shot attempt out of bounds with 17 seconds remaining.
Memphis' Elijah McCadden missed a jumper in the paint; but, Alex Lomax snagged the offensive rebound. Lomax gave the ball to Davis and Davis scored the driving layup to tie the game at 65 with 8.9 seconds to go.
Houston Head Coach Kelvin Sampson did not call timeout. Shead received the inbounds pass and worked his way up the court before dribbling to his right and hit a contested pull-up jumper to win the game.
"I didn't want to call timeout," Coach Sampson said after the game. "Too much time for that. Plus, Penny (Memphis Head Coach Penny Hardaway) is going to take out his worst defenders and put in his best defenders in; and, they're probably going to switch every ball screen. And, you're probably going to end up with the exact same shot anyway.
"But, the difference is we had them in retreat. And, when you get back on their heels, then, you can get a good shot. And, that's what we did. And, that's why didn't call timeout because we put the ball in Jamal's hands. And, Jamal is a downhill guy."
Shead finished the game with 16 points and 7 assists. Mark added 16 points and 8 rebounds. Sasser scored 13 points. Walker added 10 points, 7 rebounds, and 2 blocked shots.
With three 3-pointers today, Marcus Sasser set the school record and now has with 264 career 3-pointers. He moved past guard Robert "Fluff" McKiver (2006-08) in the school records book.
Houston's next game will be Friday, March 10, at Dickies Arena, in the quarterfinals of the 2023 American Athletic Conference Championship. Houston will face the winner of the first round matchup between 9-seed East Carolina and 8-seed South Florida. Tip for Friday's game is set for 12 p.m. Central Time on ESPN2.
---
SUPPORT The Houston Roundball Review:
Purchase your Coogs' gear at Fanatics.com via this link;
Get ESPN+ via this link;
Save when you get the Disney bundle (ESPN+, Disney+ and Hulu) with this link;
OR, contribute via PayPal or the Cash App.
---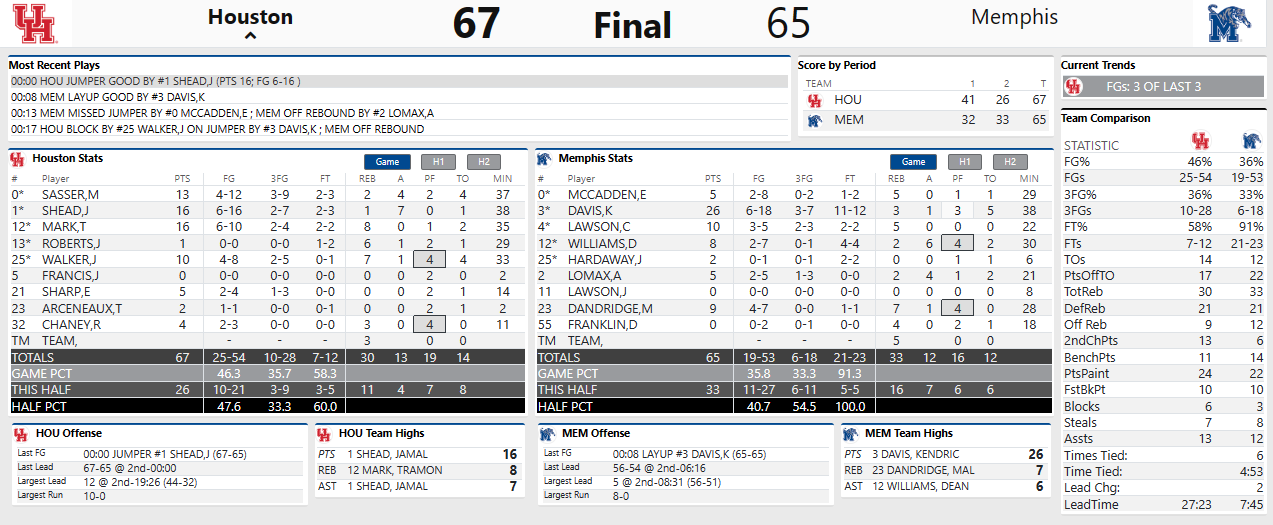 CLICK HERE for The HRR's write-ups of Coogs' men's hoops games.