J'Wan Roberts scores career-high 26 points in top-ranked Houston's 89-59 win over Tulane


Buy Houston Cougars Gear at Fanatics.com
Houston clinches share of 2023 American Athletic Conference regular season championship
POSTED: February 23, 2023 -- 8:53 a.m. CT
HOUSTON, TX -- (Fertitta Center)
The top-ranked Houston Cougars trounced the Tulane Green Wave 89-59 Wednesday night to improve to 26-2 overall and 14-1 in the American Athletic Conference. With the home win over Tulane, Houston clinches a share of the 2023 American Athletic Conference men's basketball regular season championship.
"Our efforts getting better. A lot of people are playing a lot harder for a longer amount of time," Houston senior guard Marcus Sasser acknowledged after the game. "That's been one thing we have been harping on: playing harder and a full forty minutes."
Tulane (17-8, 10-4) led 2-0; 5-2; and 7-5. The game was tied at 7 and again at 9; then, Houston went on an 11-3 run to lead 20-12 at the 10 minute mark of the first half. Houston's aggressive defense resulted in numerous steals in the first half; however, Houston's own turnovers (8) limited the Coogs from capitalizing on the Green Wave's miscues.
J'Wan Roberts scored a second chance layup to increase Houston's margin to 10 (25-15). Roberts layup kickstarted a 15-4 run to boost the Coogs' lead to 38-19 with 3 and a half minutes remaining in the first half.
Roberts scored 12 points in the first half on 5 for 6 field goal shooting and 2 for 3 free throws. Sasser scored 11 points on 3 for 5 from the floor and 3 for 4 from the foul line.The Coogs led the Green Wave 40-26 at halftime. Houston had 9 steals in the opening 20 minutes but only held a 7-6 edge in points off turnovers.
Tulane had more turnovers (10) than made field goals (8) in the first half.
Houston's defense continued to wreak havoc on Tulane to start the second half. Houston point guard Jamal Shead scored a layup in transition after teammate Tramon Mark stole the ball. Tulane's Jalen Cook made a three-point shot to trim Houston's lead to 42-29; however, J'Wan Roberts responded with 6 consecutive points during an 11-0 run which upped Houston's lead to 53-29 barely 5 minutes into the second half.
Tulane guard Jalen Cook made some tough shots to help slice into Houston's lead. Cook scored 11 of Tulane's 17 points in a 5 minute stretch which trimmed Houston's lead to 16 (62-46) with 9:21 to go in the game.
Marcus Sasser scored 9 of Houston's next 11 points to push Houston's lead to 73-48 as the Coogs put the Green Wave away with a 27-13 run to finish the ball game.
J'Wan Roberts scored a career-high 26 points in the win. Roberts has scored 20 or more points in back-to back games. Roberts scored 20 in Houston's 72-64 win over Memphis. Roberts was nearly perfect from the floor (9 for 10) and from the foul line (8 for 9).
"J'Wan has really improved," Kelvin Sampson, Houston Head Coach said after the game. "J'Wan is a byproduct of our player development system."
Marcus Sasser stuffed the stat sheet with 22 points (6 for 11 fgs - 4 for 8 threes, 6 for 7 fts); 6 assists; 5 rebounds and 4 steals.
Houston's defense picked up a season-high 16 steals in the win.
"Our team is getting better at certain things," Coach Sampson commented. "We're getting better at playing attack defense, loading up to the ball; our stunts and other things that we emphasize and teach."
Houston freshman forward Jarace Walker snared a personal-best 13 rebounds.
"I've been on Jarace hard these last couple of days," Coach Sampson said. "The thing about Jarace is he usually responds. He played hard tonight. The more physical he is, the better player he is."
Houston finished the game with 22 assists on 31 made baskets. In the second half, the Coogs had 13 assists on 16 buckets.
"We had 22 assists on 31 made baskets," Coach Sampson remarked. "That's part of our identity -- things that we emphasize. You usually achieve what you emphasize. On nights that we shoot well, we look pretty good."
Jamal Shead finished the game with 10 points, 6 assists and 2 steals.
"We've been coming together as a team," Shead said after the game. "I still feel like we haven't reached our ceiling; and, I feel like that's the most exciting thing as the season continues on."
NEXT: The Coogs' next game is Saturday, February 25, on the road, against the East Carolina Pirates. Tip is set for 7 p.m. CT on ESPN2.
---
SUPPORT The Houston Roundball Review:
Purchase your Coogs' gear at Fanatics.com via this link;
Get ESPN+ via this link;
Save when you get the Disney bundle (ESPN+, Disney+ and Hulu) with this link;
OR, contribute via PayPal or the Cash App.
---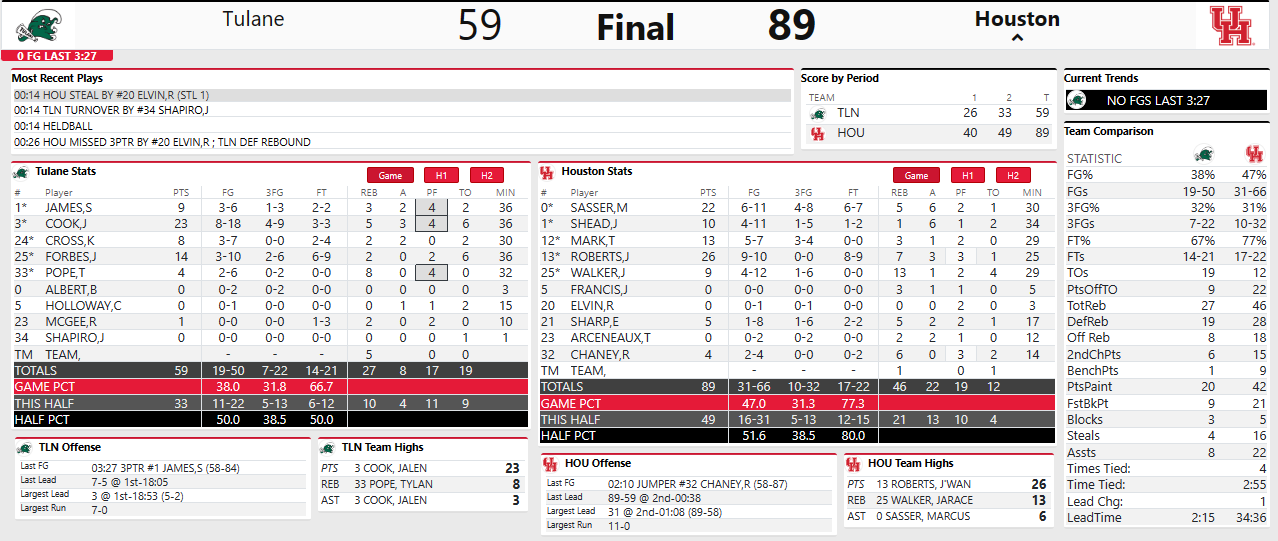 CLICK HERE for The HRR's write-ups of Coogs' men's hoops games.