J'Wan Roberts and Marcus Sasser each score 20 in 2nd-ranked Houston's 72-64 home win over Memphis


Buy Houston Cougars Gear at Fanatics.com
POSTED: February 20, 2023 -- 8:53 a.m. CT
Houston, TX -- (Fertitta Center)
The Houston Cougars defeated the Memphis Tigers 72-64 Sunday afternoon in a methodical manner with defense, scoring off turnovers, and shooting well at the free throw line. Yes, the Houston Cougars shot well at the foul line. Houston made 23 of 26 free throws (88.5%) including 89.5% (17 for 19) in the second half to secure the win over the Tigers.
"We put a lot of effort into free throws at the end of practice," Marcus Sasser, Houston senior guard said after the game. "The team does a good job of knocking down our free throws. J'Wan (J'Wan Roberts) went 8 for 9. Tramon (Tramon Mark) only missed one. That's a nice compliment to finish the game."
Sasser scored 13 of his 20 points in the second half. He was a perfect 8-for-8 at the line including 4-for-4 in the final 30 seconds to seal Houston's 25th win this season.
Houston (25-2 overall, 13-1 in the American Athletic Conference) didn't play its best game but credit to the Memphis Tigers for battling for 40 minutes despite the absence of Tigers' best player, point guard Kendric Davis. Davis missed the game with a sprained right ankle.
Elijah McCadden scored a team-high 20 points for Memphis while forward DeAndre Williams scored 18 points.
Houston turned an 11-11 tied into a 32-18 lead. Houston took advantage of 12 Memphis turnovers in the first half and outscored Memphis 16-1 in points off turnovers in the opening 20 minutes.
During big first half run, Houston freshman Terrance Arceneaux was a defensive spark for Houston with a forced steal and tough layup.
"He came in and gave us that little spark that we needed," Sasser said of Arceneaux. "He impacted winning in a different way other than scoring the ball; so, I'm real proud of him."
"He is a great anticipator," Kelvin Sampson, Houston said of Arceneaux. "He can go from the weak side and bat a ball down; go get a deflection or a steal.
"Terrence is going to be a good player. That's not an opinion; that's a fact."
The Coogs led the Tigers 32-21 at halftime.
The tables turned early in the second half. Houston committed 3 turnovers and Memphis capitalized with points off Houston's turnovers to cut Houston's lead to 38-34.
Houston responded with a 9-2 run to stretch its lead to 47-36 with 12 plus minutes remaining in the second half. Four different players scored a basket during the run.
Three minutes later, Jarace Walker scored a layup to increase Houston's lead to 13 (55-42) with 8:50 to go in the game. Houston maintained the 13 point margin for the next 2 minutes. Then, Memphis made one final push. The Tigers attacked Houston's perimeter defense with dribble drives which resulted in baskets in the paint or free throw attempts.
Memphis (20-7, 10-4) chipped away at Houston's lead and clawed within 5 (63-58). When Marcus Sasser missed a driving layup, Memphis had a chance to get within 3; however, Jonathan Lawson missed a layup in transition with 1:55 to go in the game.
Jarace Walker rebounded Lawson's missed layup. Sasser missed a 3-point shot; but, the Tigers didn't score as Walker deflected the ball as DeAndre Williams was driving to the basket. Williams was whistled for his 5th foul in the scramble for the loose ball.
Tramon Mark made two free throws for a 65-58 Houston lead with 70 seconds left in the game. Houston scored its final 7 points at the line as Memphis fouled to try and extend the game.
J'Wan Roberts scored a career-high 20 points and grabbed a game-high 12 rebounds in Houston's win.
After the game, Roberts said he knew Memphis would make a run to get back in the game.
"It's a game of runs," Roberts said. They (Memphis) go on runs. We go on runs. We just kept our composure and extended the lead."
Houston made 3 of 17 three-point shots in the game; but, Houston found a different way to win -- at the free throw line.
"When we missed an open three," Coach Sampson commented. "They would go down there, drive it; and, get to the free throw line."
"Can we play better? Absolutely. That was not our A-game tonight; but, the other team could play better as well," Coach Sampson acknowledged. "I am proud of our effort.
"We don't get to relax. We have a really good Tulane team coming here on Wednesday."
Houston's next game is Wednesday, February 22, at home versus the Tulane Green Wave. Tip is set for 8 p.m. Central Time, on either ESPNU.
---
SUPPORT The Houston Roundball Review:
Purchase your Coogs' gear at Fanatics.com via this link;
Get ESPN+ via this link;
Save when you get the Disney bundle (ESPN+, Disney+ and Hulu) with this link;
OR, contribute via PayPal or the Cash App.
---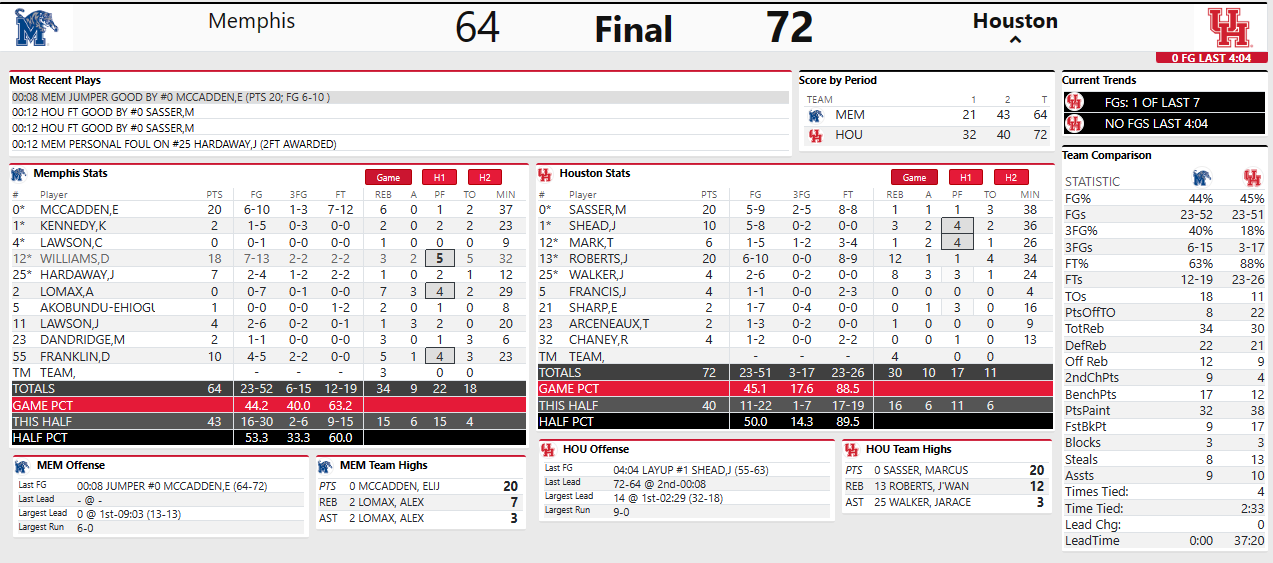 CLICK HERE for The HRR's write-ups of Coogs' men's hoops games.