Marcus Sasser scores 20 in 2nd-ranked Houston's 80-65 road win at SMU


Buy Houston Cougars Gear at Fanatics.com
POSTED: February 16, 2023 -- 10:23 p.m. CT
DALLAS, TX -- (Moody Coliseum)
Marcus Sasser led the 2nd-ranked Houston Cougars to an 80-65 road win over the SMU Mustangs Thursday night. Sasser scored 17 of his team-high 20 points in the second half to help Houston improve to 24-2 overall and 12-1 in the American Athletic Conference.
SMU (9-18, 4-10) scored the first 4 points of the game. Houston scored the next 5 points. The game was tied at 8 and at 10 before Houston forward J'Wan Roberts scored 4 straight for a 14-10 Houston lead. Roberts got a dunk for a 16-12 lead.
Houston freshman forward Jarace Walker scored the next 4 points for Houston on a jump hook and a second-chance layup.
The Coogs led 22-16 after a dunk by big man Ja'Vier Francis. With a 22-19 lead, Houston's Jamal Shead scored 7 consecutive points. Shead scored a driving layup; got steal then a dunk before swishing a 3-pointer to increase Houston's lead to 29-19 with more than 5 minutes left in the first half.
Shead finished the first half with a driving layup in the closing seconds. Shead scored 11 points and dished out 4 assists in the opening 20 minutes.
Houston led SMU 43-29 at halftime.
Shead started the second half with an alley-oop pass to Walker for a one-hand slam dunk. Marcus Sasser followed with a 3-point basket. Sasser made 2 foul shots and added a second three-point bucket for 8 quick points in 4 second-half minutes.
Freshman guard Emanuel Sharp hit a three-pointer; then, Walker hit a 3 followed by a smooth stepback 3 pointer by Sasser. Houston led 66-43 with 8:04 left in the ball game.
SMU refused to go away; and, SMU's Zhuric Phelps heated up and helped the Mustangs go on an 11-1 run. SMU managed to pull within 11 (74-63) with 1:45 left in the game; however, Sasser sank 4 straight free throws and senior post player Reggie Chaney scored a layup to seal Houston's win.
Neither team shot well from the foul line. Houston made 16 of 26 free throws (61.5%) while SMU made 14 of 24 (58.3%).
Sasser's 20 points led 4 Houston players in double-digit scoring. Jarace Walker scored 14 points on 6 for 10 field goal shooting (2 for 6 threes).
Jamal Shead scored 13 and added a game-high 8 assists. Tramon Mark added 11 points and 9 rebounds. J'Wan Roberts scored 8 points and led Houston with 10 rebounds.
Houston made 17 of 25 two-point shots and 10 of 30 three-point shots. SMU was 5 for 15 on threes and 18 for 37 on twos.
NEXT: The Coogs' next game is Sunday, February 19, at home, versus the Memphis Tigers (20-9, 10-3). Tip is set for 2 p.m. CT on ESPN.
---
SUPPORT The Houston Roundball Review:
Purchase your Coogs' gear at Fanatics.com via this link;
Get ESPN+ via this link;
Save when you get the Disney bundle (ESPN+, Disney+ and Hulu) with this link;
OR, contribute via PayPal or the Cash App.
---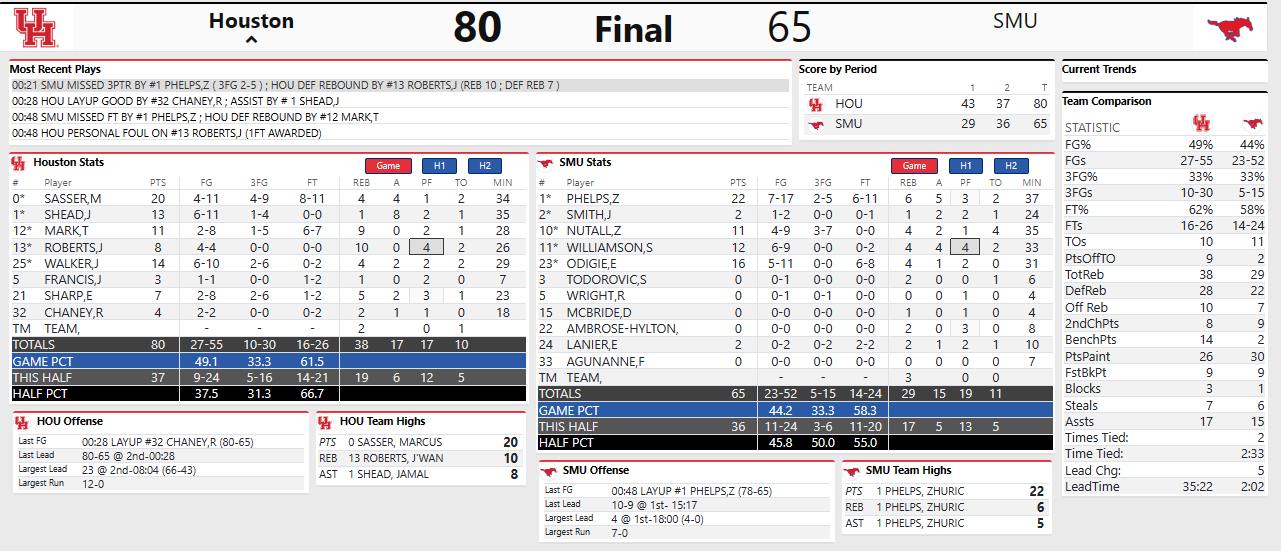 CLICK HERE for The HRR's write-ups of Coogs' men's hoops games.