2nd-ranked Houston trounces Tulsa, 80-42


Buy Houston Cougars Gear at Fanatics.com
POSTED: February 9, 2023 -- 10:36 a.m. CT
HOUSTON, TX -- (Fertitta Center)
The 2nd-ranked Houston Cougars spotted the Tulsa Golden Hurricane a 10-7 lead Wednesday night before outscoring Tulsa 39-8 the rest of the first half en route to an 80-42 trouncing of Tulsa. Houston senior guard Marcus Sasser set the tone on defense first before going on a personal 12-0 run to vault Houston in front 19-10. Sasser outscored Tulsa 19-18 in the first half.
"I still thought he passed up some (shots) that he should've took," Kelvin Sampson, Houston Head Coach said after the game. "We put such an emphasis on ball movement, being unselfish and making the right play. Tonight, we had 21 assists, 31 baskets and 21 assists. That's not easy to do. Marcus plays the right way."
Houston (23-2 overall, 11-1 in the American Athletic Conference) dominated Tulsa in every facet of the game. Houston shot a higher field-goal percentage 46.3% to 27.8%; three-point percentage: 37.1% to 13.8%; out-rebounded Tulsa 53-27; won the 2nd-chance points 18-3; bench points 31-4; points in the paint 30-18; fastbreak points 11-8; and, to top it off had 21 assists to Tulsa's 10.
Tramon Mark was active on the boards in the first half: Mark pulled down 7 of his career-high 9 rebounds in the first half.
Mark's rebounding from the wing set a tone for the Coogs. Houston's guards combined for 25 of the team's 53 rebounds. Point guard Jamal Shead grabbed 7 rebounds; Emanuel Sharp had 4 boards; Sasser grabbed 3 rebounds; and Terrance Arceneaux added 2 boards.
Houston's starting forwards J'Wan Roberts (10) and Jarace Walker (8) combined for 18 rebounds.
"That's what we've made our living on around here for a long time," Coach Sampson commented. "We've defended; and, we've rebounded."
"We're a good rebounding team, not great," Coach Sampson continued. "I've had some great rebounding teams; but, we're still good. We're working to get better."
Jamal Shead dished out 12 of Houston's 21 assists. In Houston's last 5 games, Shead has 41 assists and only 6 turnovers.
"One of the things Jamal needed to get better at was hit singles," Coach Sampson remarked. "Make the right play, make the easy play. Hit singles."
Tulsa didn't get closer than 25 (49-24) in the second half. Houston led by as much as 41 (72-31) with 7:49 remaining in the ball game.
In the 2 head-to-head conference match-ups this season, Houston outscored Tulsa 169-92. The Coogs crushed Tulsa 89-50 on December 28.
Houston scored 1.311 points per possession while Tulsa scored 0.689 points per possession.
Marcus Sasser finished the game with a game-high 25 points (10 for 17 field goals, 5 for 10 three-pointers). Redshirt-freshman Emanuel Sharp was next with 13 points.
Houston's home win over Tulsa caps off a stretch of 3 games in 6 nights. The Coogs won at Wichita State on Thursday, February 5; won at Temple on Sunday, February 5; before topping Tulsa on February 8.
"We'll take tomorrow (Thursday) off," Coach Sampson said. "We'll go Friday, Saturday; probably take Sunday off. Go Monday, Tuesday then bus over to Dallas on Wednesday and play Thursday."
NEXT: The Coogs' next game is Thursday, February 16, in Dallas, versus the SMU Mustangs. Tip is set for 6 p.m. CT on ESPN2.
---
SUPPORT The Houston Roundball Review:
Purchase your Coogs' gear at Fanatics.com via this link;
Get ESPN+ via this link;
Save when you get the Disney bundle (ESPN+, Disney+ and Hulu) with this link;
OR, contribute via PayPal or the Cash App.
---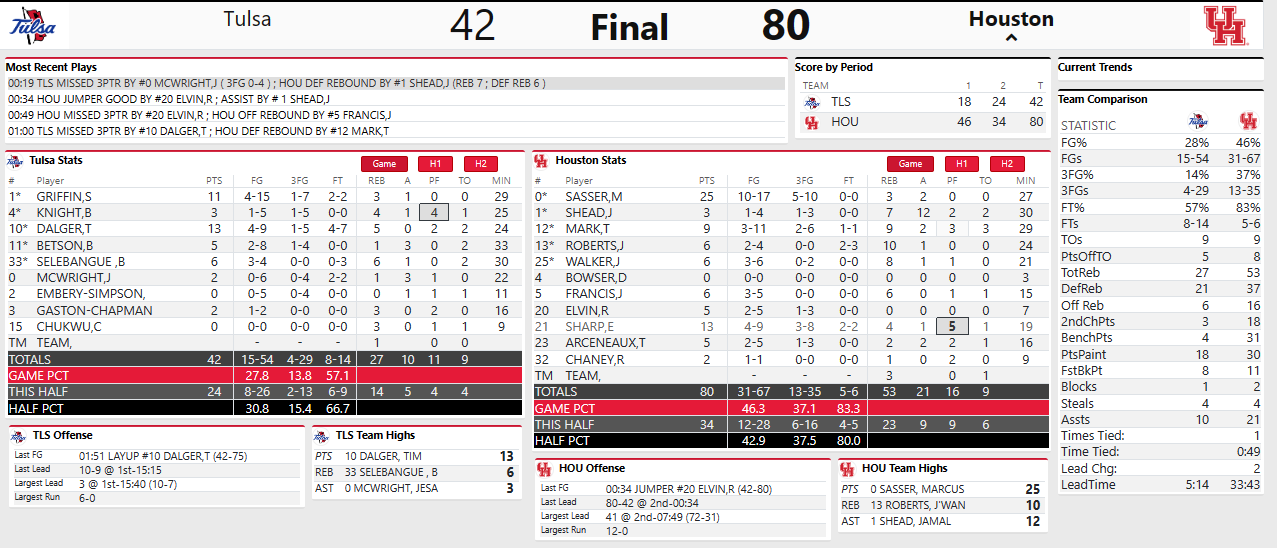 CLICK HERE for The HRR's write-ups of Coogs' men's hoops games.