3rd-ranked Houston's offense explodes in 2nd half to top Temple, 81-65


Buy Houston Cougars Gear at Fanatics.com
UPDATED: February 5, 2023 -- 8:15 p.m. CT
POSTED: February 5, 2023 -- 7:57 p.m. CT
PHILADELPHIA, PA -- (Liacouras Center)
The Houston Cougars defeated the Temple Owls 81-65 Sunday afternoon. The Coogs made 18 of 25 field goals (72.0%) in the second half including 10 straight baskets over a six-minute span to turn a 5 point lead (53-48) into a 16 point lead (76-60) with 2:42 to go in the game. Houston scored 1.6 points per possession in the second half.
Houston (22-2 overall, 10-1) in the American Athletic Conference was led by freshman forward Jarace Walker's 23 points. Walker scored 16 in the first to help Houston stay close to Temple in spite of Temple's barrage from three-point range.
Temple (14-10, 8-3) missed 5 of their first 6 three-point shots before making 5 consecutive three and 6 of 7 threes. Despite Temple's 9 for 17 three-point shooting in the first half, the Owls' largest lead was just 6 points (37-31) with 1:47 left in the opening half.
Houston's Marcus Sasser sank 2 free throws with 1 minute to go in the first half to cut Houston's deficit to 37-33. Neither team scored the final minute. Houston trailed Temple 37-33 at the half.
"What we tried to do better was our offensive execution," Kelvin Sampson, Houston Head Coach said after the game. "The second half I thought we were aggressive at both ends."
Coach Sampson's team got the job done offensively in the second half. BIG TIME.
Jarace Walker scored a floater in the paint to start the second half scoring. J'Wan Roberts followed with a jump hook for. Tramon Mark made 2 of 3 free throws. Walker picked up a steal and scored layup; then, Jamal Shead picked Damian Dunn's pocket and passed to Marcus Sasser for a tough layup. Sasser was fouled on the layup and made the free throw.
Houston led 44-37 barely 2 and a half minutes into the second half.
After another steal, Shead scored a driving layup to extend Houston's run to start the second half to 13-0.
Temple's Zach Hicks ended Temple's scoring drought with a tip-in; but, Shead sank a 3-pointer to extend Houston's lead to 49-39.
Houston's lead grew to 11 (52-41) before Temple big man Jamille Reynolds scored a jumper and sank 2 free throws.
J'Wan Roberts split 2 fouls before Damian Dunn sank a three-point shot at the top of the cut to bring the Owls within 5 (53-48) with 9:14 to go in the game.
However, Jarace Walker sank his 4th three-pointer of the game to increase Houston's lead to 8. Walker's 3 began Houston's sensational stretch of 10 consecutive baskets: three-pointer (Walker), layup (Roberts), layup (Roberts), layup (Sasser), layup (Reggie Chaney), dunk (Chaney), 3-pointer (Emanuel Sharp), driving layup (Tramon Mark), dunk (Roberts), pullup jumper (Mark).
The Coogs finished the game making 29 of 52 field goals (55.8 fg%) with 20 assists.
Walker's 23 points led 4 Coogs in double-digit scoring. Marcus Sasser scored 13; Jamal Shead and J'Wan Roberts each scored 12.
Shead had a team-high 7 assists; Sasser and Mark each had 5 assists.
"We have some tough kids," Coach Sampson said. "At the end of the win, to win on the road, you gotta have some tough kids."
In the second half, Temple made 7 of 24 field goals (29.2 fg%). The Owls finished game 20 for 51 (39.2 fg%) for the game. Khalif Battle led the Owls with a game-high 24 points.
NEXT: The Coogs' next game is Wednesday, February 8, at home, versus the Tulsa Golden Hurricane. Tip is set for 7 p.m. CT on ESPN+.
---
SUPPORT The Houston Roundball Review:
Purchase your Coogs' gear at Fanatics.com via this link;
Get ESPN+ via this link;
Save when you get the Disney bundle (ESPN+, Disney+ and Hulu) with this link;
OR, contribute via PayPal or the Cash App.
---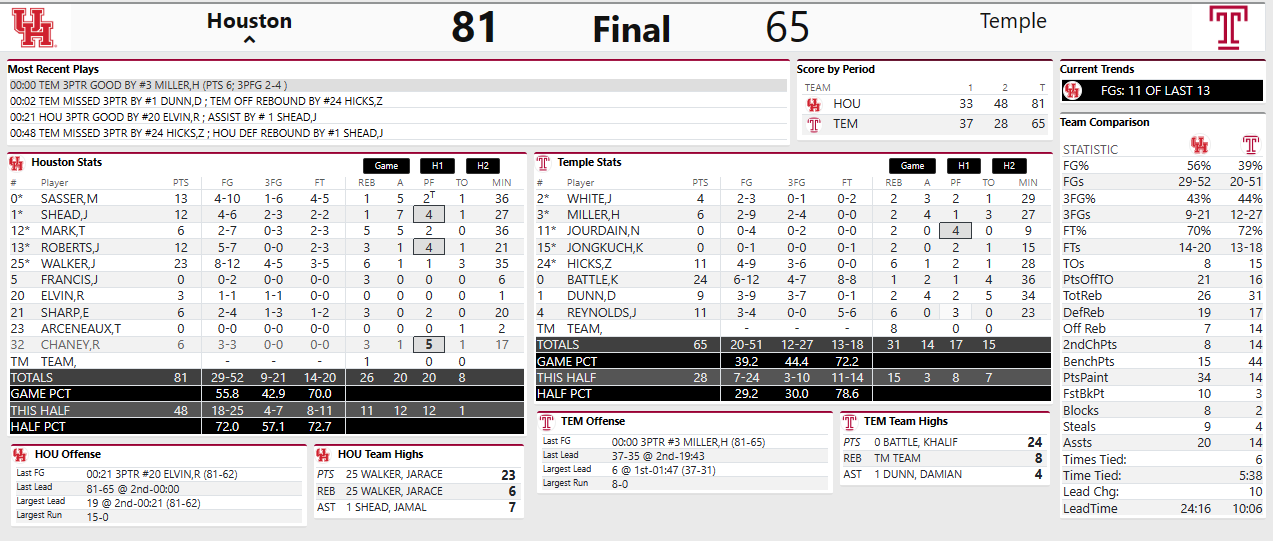 CLICK HERE for The HRR's write-ups of Coogs' men's hoops games.