3rd-ranked Houston defeats Wichita State 70-61 on the road


Buy Houston Cougars Gear at Fanatics.com
POSTED: February 3, 2023 -- 12:23 p.m. CT
WICHITA, KS -- (Charles Koch Arena)
The 3rd-ranked Houston Cougars defeated the Wichita State Shockers 70-61 Thursday night to improve to 21-2 overall and 9-1 in the American Athletic Conference. Houston outscored Wichita State 19-7 in the final 6:24 of the ball game.
"When it came winning time, I think our DNA kicked in," Kelvin Sampson, Houston Head Coach said after the game. "We know how to win; and, there's a lot to be said about that."
Wichita State (11-11, 4-6) jumped to a 10-2 lead as Houston's offense struggled to make a basket for nearly 6 minutes. Jamal Shead, Houston's starting point guard, ended Houston's field goal drought and scored 7 straight points for Houston to steady the Coogs' offense.
Tramon Mark hit a three-pointer to put Houston on top 12-11. The Shockers responded with an 8-0 run before Shead scored a driving layup to begin a 5-0 Houston burst.
The Coogs trailed 25-19 when Tramon Mark hit a jumper; J'Wan Roberts got a dunk (assist from veteran big man Reggie Chaney; and guard Marcus Sasser sank 2 free throws to tie the game at 25.
Houston finished the half with a 30-29 lead. Jamal Shead scored 9 points in the first half to lead Houston. Jaykwon Walton scored 12 to lead the Shockers in the opening 20 minutes.
Houston was out-rebounded 15-14 in the first half. The Shockers out hustled Houston early in the second half and held a 9-1 rebounding edge which grew to a 15-3 advantage.
Despite getting crushed on the boards early, Houston trailed by only 7 (47-40) with 14:40 remaining in the second half.
J'Wan Roberts and Reggie Chaney each had 4 fouls early in the second half; and, Coach Kelvin Sampson utilized 4 guards and 1 big for a few minutes. However, that lineup didn't improve Houston's rebounding numbers; and, Coach Sampson put Chaney back in the game with freshman forward Jarace Walker.
Chaney's hustle sparked Houston on the boards. Before he fouled out at the 3:58 mark, Chaney pulled down 3 offensive rebounds in the second half which resulted in a Marcus Sasser layup and a go-ahead three-point basket by Jarace Walker.
Walker's first three-pointer tied the game at 54; then, after Walker blocked a shot on the Shockers' next possession, Chaney grabbed the missed shot. Marcus Sasser missed a three-point shot; but, Chaney snared the o-board before Sasser dished to Walker for the corner three-point basket.
After Wichita State's James Rojas split 2 free throws, Jamal Shead scored a driving layup -- after Tramon Mark snagged a Marcus Sasser missed pullup jumper.
Houston led 59-55.
The Shockers' Jaykwon Walton missed a three-point attempt. Tramon Mark sank a three-pointer for a 7 point lead. Houston turned a 54-51 deficit into a 62-55 lead in less than 4 minutes.
Houston's defense tightened in the closing 4 minutes. Wichita State missed 8 of 9 field goal attempts; and, Houston closed out the game with all 5 starters scoring in the final 6 minutes.
Jarace Walker and Marcus Sasser each scored 15 points to lead Houston. Jamal Shead finished the game with 13 points, 7 assists, 3 rebounds, and just 1 turnover. Tramon Mark added 12 points and 5 boards. J'Wan Roberts only played 17 minutes because of foul trouble; but, he scored 10 points and pulled down 6 rebounds. Reggie Chaney grabbed 6 rebounds in 22 minutes before fouling out.
Houston shot 46.7 fg% (14 for 30) in the second half including 6 for 12 (50.0%) from 3 while Wichita State shot 34.5 fg% (10 for 29) and just 1 for 11 from 3 in the second half.
Wichita State missed 6 free throws (11 for 17) in the second half. Houston was 6 for 6 from the line in the second half and 13 for 15 overall.
NEXT: The Coogs' next game is Sunday evening, February 5, on the road, against the Temple Owls. Tip is set for 5 p.m. CT on ESPN2. Temple defeated Houston 56-55 in Houston on January 23.
---
SUPPORT The Houston Roundball Review:
Purchase your Coogs' gear at Fanatics.com via this link;
Get ESPN+ via this link;
Save when you get the Disney bundle (ESPN+, Disney+ and Hulu) with this link;
OR, contribute via PayPal or the Cash App.
---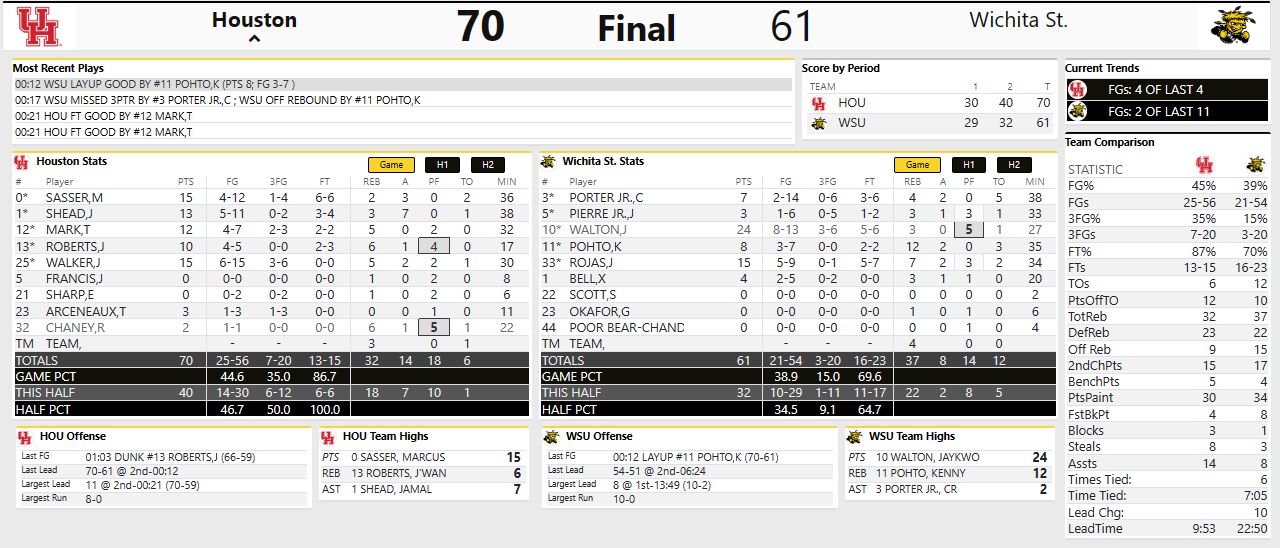 CLICK HERE for The HRR's write-ups of Coogs' men's hoops games.