LJ Cryer, J'Wan Roberts and Jamal Shead combined for 44 points in Houston's 69-55 win over Dayton to win 2023 Charleston Classic

Buy Houston Cougars Gear at Fanatics.com
POSTED: November 19, 2023 -- 11:33 p.m. CT
CHARLESTON, SC -- (TD Arena)
LJ Cryer (18 points), Jamal Shead (16 points) and J'Wan Roberts (10 points) combined for 44 of the Houston Cougars' 69 points in a 69-55 win over the Dayton Flyers Sunday night to win the 2023 Charleston Classic.
Houston's veterans took the Dayton-filled TD Arena crowd out of the game early with a 10-0 run to lead 14-4. Shead and Cryer hit back-to-back threes in the run and Roberts scored in the post. Dayton trimmed Houston's lead to 19-15; but, Houston sophomore Terrance Arceneaux scored a put back layup; then, Shead got a steal and layup before swishing a 3 to stretch Houston's lead 26-15 with 7 plus minutes to go in the first half.
Houston (6-0) answered each mini-run by Dayton. Dayton pulled within 30-22 before Cryer drained a triple. When Dayton climbed within 7 (33-26), Arceneaux swished a three with 19 seconds remaining in the half.
The Coogs led the Flyers 36-28 at halftime. The Flyers shot 57.1 fg% in the first half; but, Houston dominated the offensive rebounding (11-2) and outscored Dayton 10-2 in points off turnovers and 9-2 in second chance points.
Roberts scored a jumper in the paint to begin the second half; then, teammate Damian Dunn sank a three-pointer to increase Houston's lead to 41-28 less than 1 minute into the second half.
The Flyers struggled to missed 11 consecutive field goals in the second half and needed 3 consecutive made field goals in the final seconds to finish 7 for 26 in the half. Dayton made 12 of 14 free throw attempts in the half; but, Houston's lead never got below 11 the last 18:45 of the ball game.
LJ Cryer was named the Tournament Most Outstanding Player.
Jamal Shead was named to the All-Tournament Team. Shead added 6 assists, 4 rebounds, and 2 steals to his 16 points.
Houston won the battle of the boards 38-28 and outscored Dayton 16-6 points off turnovers and 17-9 in second chance points. Roberts (8 rebounds) and Ja'Vier Francis (9 rebounds in 21 minutes) combined for 17 of the Coogs' 38 boards.
Houston's next game is Friday, November 24, versus the Montana Grizzlies. Tip is set for 3 p.m. CT inside Fertitta Center.
---
SUPPORT The Houston Roundball Review:
Purchase your Coogs' gear at Fanatics.com via this link;
Get ESPN+ via this link;
Save when you get the Disney bundle (ESPN+, Disney+ and Hulu) with this link;
OR, contribute via PayPal or the Cash App.
---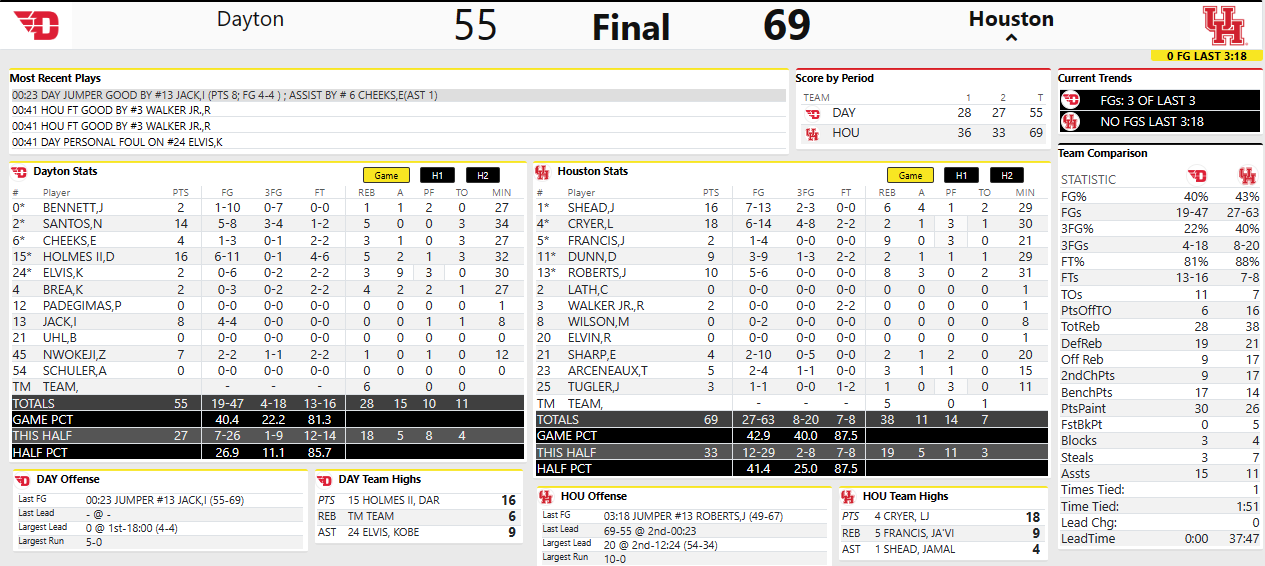 CLICK HERE for The HRR's write-ups of Coogs' men's hoops games.