Houston defeats Utah 76-66 in Charleston Classic


Buy Houston Cougars Gear at Fanatics.com
POSTED: November 17, 2023 -- 11:33 p.m. CT
CHARLESTON, SC -- (TD Arena)
The Houston Cougars men's basketball team faced its first tough test of the young 2023-24 season Friday night in a battle with the Utah Utes. Houston prevailed 76-66 thanks to a balanced scoring attack to outscore Utah 20-10 in the final seven minutes of the game.
The Coogs improved to 5-0 Friday night with the win. Utah used a 14-2 run in a four-minute span to tie the game at 56. After a Houston timeout, Houston sophomore forward Terrance Arceneaux scored a basket on a tough baseline drive. Next, after a Utah miss, Houston's LJ Cryer swished a corner 3 in front of Houston's bench.
Utah's Lawson Lovering scored a layup; but, Cryer swished another three-pointer (assist from Arceneaux) to increase Houston's lead to 64-58. Coogs' wing Damian Dunn split 2 free throws before point guard Jamal Shead swished a three-pointer (Cryer with the assist) to stretch Houston's lead to 10 (68-58) with 4:11 on the game clock.
Utah made one final push thanks to 2 turnovers from Shead and Gabe Madsen's 8th three-point basket of the game. Madsen scored a game-high 29 points; and, his 8th three cut Houston's lead to 6 (72-66) with 1:47 remaining in the game. Shead answered with a jumper; and, Utah did not score the rest of the game.
Arceneaux and Emanuel Sharp each split 2 free throws to close out the scoring. Houston missed 9 of 16 free throws in the second half and made only 50% (12 of 24) of the foul shots in the contest.
Sharp scored 15 points to lead Houston while Shead and Cryer were next with 14 points each. J'Wan Roberts scored 11 points and grabbed a game-high 13 rebounds.
Sharp's 15 points off the bench helped the Coogs' reserves outscore the Utes' reserves 27-2. Houston also capitalized on Utah's turnovers to outscore Utah 19-10 in points off turnovers.
Gabe Madsen shot 8 for 15 from three-point range. His teammates made 2 of 16 threes.
The Coogs were called for 21 fouls compared to 15 fouls on the Utes; however, Utah only attempted one more free throw (25 to 24) than Houston.
Houston's next game is Sunday, November 19, against the Dayton Flyers, in the championship game of the 2023 Charleston Classic. Tip is set for 7:30 p.m. CT on ESPN.
---
SUPPORT The Houston Roundball Review:
Purchase your Coogs' gear at Fanatics.com via this link;
Get ESPN+ via this link;
Save when you get the Disney bundle (ESPN+, Disney+ and Hulu) with this link;
OR, contribute via PayPal or the Cash App.
---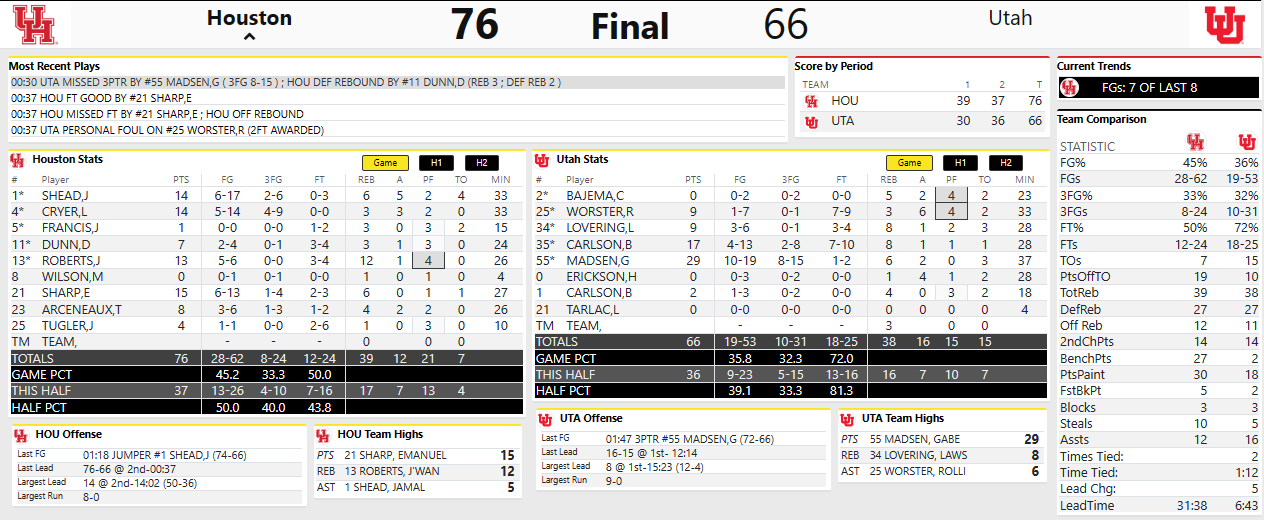 CLICK HERE for The HRR's write-ups of Coogs' men's hoops games.