LJ Cryer's 18 points leads Houston in 65-49 win over Towson

Buy Houston Cougars Gear at Fanatics.com
POSTED: November 16, 2023 -- 11:33 p.m. CT
CHARLESTON, SC -- (TD Arena)
The Houston Cougars men's basketball team had a change in the starting lineup but the end result was the same: a Houston victory. The Coogs improved to 4-0 Thursday night with a 65-49 win over the Towson Tigers. Veteran Damian Dunn started the game rather than redshirt-sophomore Emanuel Sharp.
Houston guard LJ Cryer scored 18 points to lead the Coogs in the win. Cryer scored 11 of his 18 in the first half. Dunn finished the game scoreless; however, Sharp scored 14 points off the bench including a three-pointer to end the first half and give Houston a 37-17 lead at intermission.
Houston's defense disrupted Towson in the first half forcing multiple shot clock violations and missed field goals. Towson made 5 of 20 field goal attempts in the opening 20 minutes.
Ja'Vier Francis, Houston's starting center, scored a layup to start the second half; Cryer followed with a three-point basket; and Francis answered with a lefty jump hook to increase Houston's lead to 44-19.
Towson's offense operated better in the second half; but, Houston kept them at arm's length the entire half. The Coogs led didn't get below 20 until the closing 2 minutes of the game.
Towson shot 50 fg% (11 for 22) and 43.8 ft% (7 for 16) at the foul line in the 2nd half.
Houston point guard Jamal Shead handed out a game-high 8 assists (just 1 turnover) to go along with his 9 points. J'Wan Roberts grabbed a game-high 11 rebounds. Francis finished the game with 10 points (5 for 6 fgs) to join Cryer and Sharp with double-digit points.
Houston's next game is Friday, November 17, against Utah, in semifinal game number 2 of the 2023 Charleston Classic. Tip is set for 3:30 p.m. CT on ESPN2.
---
SUPPORT The Houston Roundball Review:
Purchase your Coogs' gear at Fanatics.com via this link;
Get ESPN+ via this link;
Save when you get the Disney bundle (ESPN+, Disney+ and Hulu) with this link;
OR, contribute via PayPal or the Cash App.
---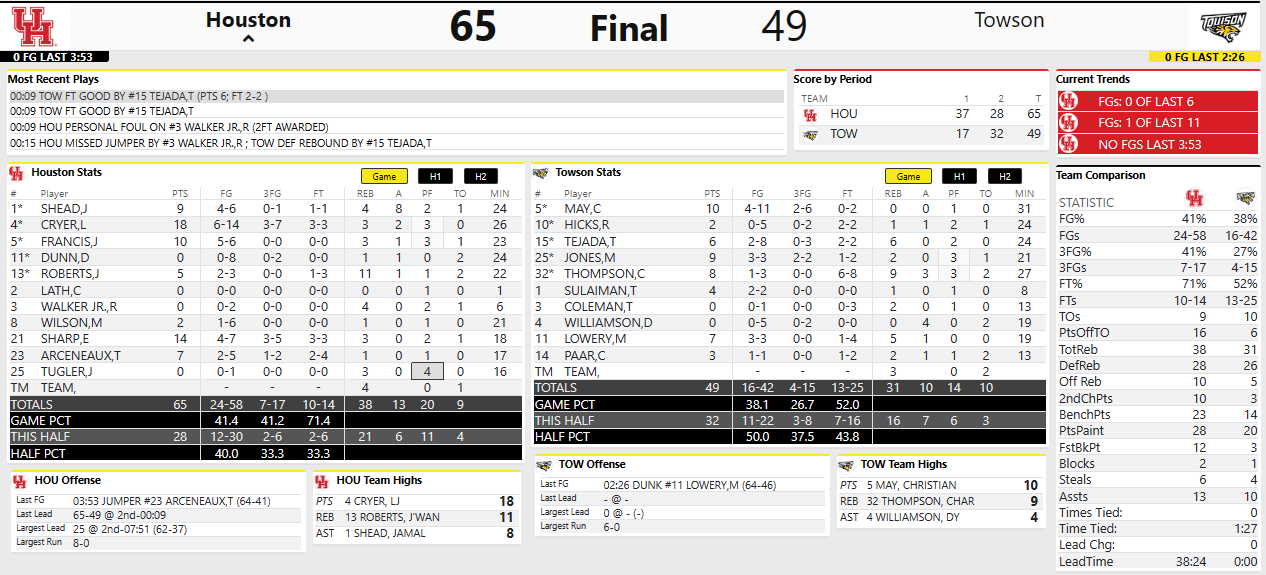 CLICK HERE for The HRR's write-ups of Coogs' men's hoops games.