LJ Cryer's 21 points leads Houston in 79-48 win over Stetson


Buy Houston Cougars Gear at Fanatics.com
POSTED: November 13, 2023 -- 11:33 p.m. CT
HOUSTON, TX -- (Fertitta Center)
The Houston Cougars men's basketball team improved to 3-0 Monday night with a 79-48 win over the Stetson Hatters. Houston guard LJ Cryer made 9 of his 15 field goal attempts, including 3 for 6 threes, to score a game-high 21 points. Cryer made 7 of 26 field goals (3 for 16 threes) in Houston's first 2 games this young season.
Houston's aggressive defense disrupted Stetson's offense in the first half big time. The Coogs picked up 9 steals in 10 minutes to change a 6-2 deficit into a 16-6 lead. Houston's Damian Dunn hit 3 three-pointers during the 14-0 blitz.
Houston led Stetson 21-11; and, all 21 of the Coogs' points came off Stetson turnovers. Ironically, when the Hatters did not turn over the ball, they had success from three-point range: Stetson made 4 of 7 three-pointers but trailed 29-14 due to 15 turnovers.
The Coogs led 38-16 at halftime. LJ Cryer scored 14 in the first half. Ten Coogs got minutes in the first half; seven scored.
Houston shot 15 for 31 from the floor (5 for 12 threes) and had 10 assists on the 15 baskets.
Cryer (7/11 fgs - 2/5 3s) and Dunn (4/7 fgs - 3/3 3s) combined for 27 of Houston's 47 points to increase Houston's lead to 47-16 with 15:16 remaining in the ball game. Houston had 15 steals at that point of the game.
Houston cruised to the victory; however, when Houston didn't get a steal, Stetson's quick passes and ball movement resulted in good shots. The Hatters finished the game with 8 layups (out of 13 attempts) and shot 50.0% (9 for 18 from three).
J'Wan Roberts played 8 minutes in the first half and didn't play any minutes in the second half. After the game, Houston Head Coach Kelvin Sampson said he opted to rest Roberts due to a bothersome knee.
"Not his back, his knee, I told J'Wan to sit this one out," Coach Sampson said. "That allowed me to get extended minutes for Terrance (Arceneaux) and Ramon (Walker, Jr.), and you play these games for those kinds of things."
Arceneaux finished the game with 10 points and 3 steals in 21 minutes while Walker tallied 2 points, 3 rebounds, and 1 assist in 13 plus minutes.
Damian Dunn scored 15 points in the game. Mylik Wilson, backup point guard, scored 11. Starting point guard, Jamal Shead had 8 assists and 5 steals in the game. Ja'Vier Francis pulled down a team-high 7 rebounds and had 2 of Houston's 17 steals.
Houston shot 52.6 fg% (30 for 57) and outscored Stetson 39-10 in points off turnovers. Dunn, Arceneaux, and Wilson helped the Coogs' reserve unit outscore Stetson's reserves 40-16.
Houston's next game is Thursday, November 16, versus Towson, in the 2023 Charleston Classic. Tip is set for 5:30 p.m. CT on ESPN2.
---
SUPPORT The Houston Roundball Review:
Purchase your Coogs' gear at Fanatics.com via this link;
Get ESPN+ via this link;
Save when you get the Disney bundle (ESPN+, Disney+ and Hulu) with this link;
OR, contribute via PayPal or the Cash App.
---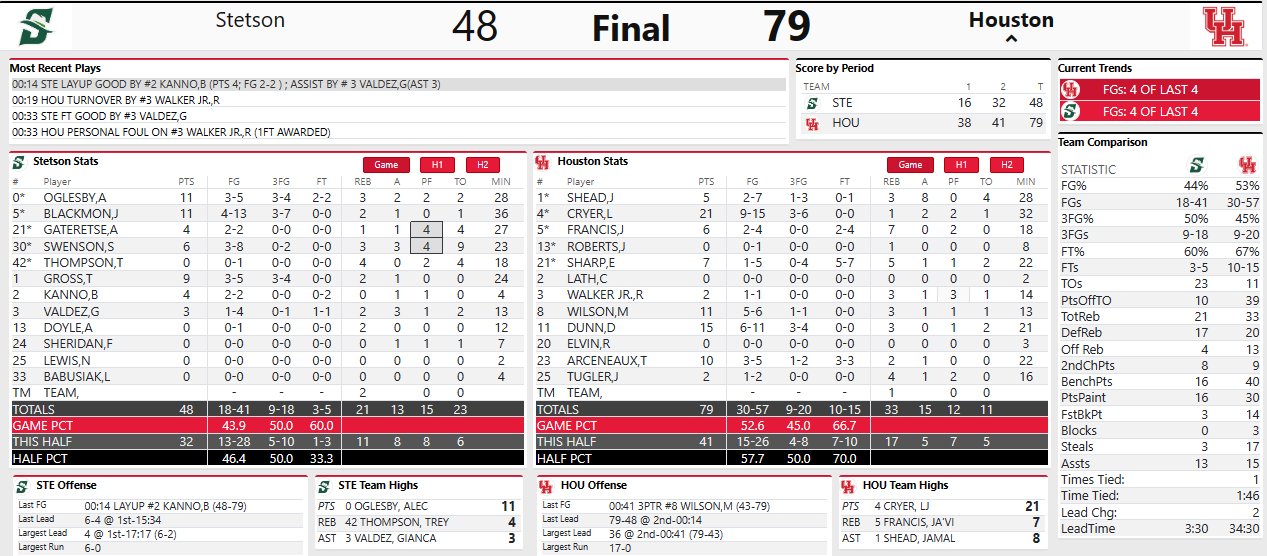 CLICK HERE for The HRR's write-ups of Coogs' men's hoops games.