3rd-ranked Houston wins 82-71 at UCF

Buy Houston Cougars Gear at Fanatics.com
POSTED: January 25, 2023 -- 10:52 p.m. CT
ORLANDO, FL -- (Addition Financial Arena)
The 3rd-ranked Houston Cougars defeated the UCF Knights 82-71 in Orlando, FL, Wednesday night with a balanced scoring attack. Redshirt-freshman Emanuel Sharp scored 18 points off the bench to lead 5 Coogs in double-digit scoring. Sharp made 4 of his 6 three-point shots.
"That's what he (Sharp) does," Kelvin Sampson, Houston Head Coach, said after the game about Sharp's three-point shooting. "Marcus (Sasser) is probably the best shooter on the team; but, (Sharp) is right there with him."
"When I'm on the floor, just knowing that Coach Sampson has the confidence in me," Sharp said the game.
Houston freshman forward Jarace Walker scored 17 points and was much more assertive early in the ball game. Walker scored 7 of Houston's first 13 points. J'Wan Roberts scored the remaining 6 points as Houston led the Knights 13-8 five minutes into the ball game.
Houston senior guard Marcus Sasser sank back-to-back three-pointers to increase Houston's lead to 19-10. Walker made 2 free throws for a 21-12 Houston lead. Houston did not lead by more than 9 points in the first half.
Taylor Hendricks, UCF's stellar freshman, matched Walker point for point in the opening. Hendricks kept the Knights close with 12 first half points. Teammate Ithiel Horton scored 13 points in the opening half to lead all scorers.
Houston led 38-34 at the half. Both teams shot made 5 of 11 three-pointers in the first half and both shot above 50% from the floor (UH - 53.6fg%, 15/28; UCF - 52.2fg%, 12/22).
Hendricks was whistled for his 4th foul with 14:07 on the game clock. Johnny Dawkins, UCF Head Coach, argued the call and was assessed a technical foul. Marcus Sasser made the technical free throws then Jarace Walker made both personal foul shots.
Houston enjoyed its largest lead of the game (65-52) when point guard Jamal Shead scored a driving layup with just over 10 minutes remaining in the game.
Jayhlon Young made 3 of 4 free throws and Hendricks scored a layup and made a free throw to cap a 6-0 UCF run and trim Houston's lead to 67-62 with 7:02 remaining.
With Marcus Sasser on the bench with 4 fouls, Emanuel Sharp made a three-point shot; then, UH freshman Terrance Arceneaux finished a strong baseline drive with a reverse layup. Sharp added 2 more free throws after a flagrant 1 foul was called on Ithiel Horton.
"Arceneaux drove baseline. That was a big play because we were starting to leak oil a little bit," Coach Sampson commented.
Sharp's free throws extended Houston's lead to 74-64 with 3:09 to go in the ball game. The Knights pulled within 8 (75-67) before Shead drained a tough three-pointer to beat the shot clock. Then, Shead picked up his 10th assist with a dish to Jarace Walker for a jumper in the paint.
Shead finished the game with 14 points and 10 assists. Marcus Sasser added 14 points and 4 assists. J'Wan Roberts contributed 10 points and a game-high 9 rebounds.
The Coogs made 29 of 57 field goal attempts (50.9 fg%) - including 11 for 27 on threes (40.7 3pt%). Houston had 18 assists in the game.
"I thought our defense was good enough - not great," Coach Sampson said. "But, our rebounding, sharing the ball. We had the best player on the floor: Jamal Shead.
"Jamal Shead was the best player. His leadership. His toughness gave our kids something to follow."
With the win, Houston moves to 19-2 overall and 7-1 in the American Athletic Conference. UCF is now 13-7, 4-4.
NEXT: The Coogs' next game is Saturday, January 28, at home, versus the Cincinnati Bearcats. Tip is set for 1:15 p.m. CT on CBS.
---
SUPPORT The Houston Roundball Review:
Purchase your Coogs' gear at Fanatics.com via this link;
Get ESPN+ via this link;
Save when you get the Disney bundle (ESPN+, Disney+ and Hulu) with this link;
OR, contribute via PayPal or the Cash App.
---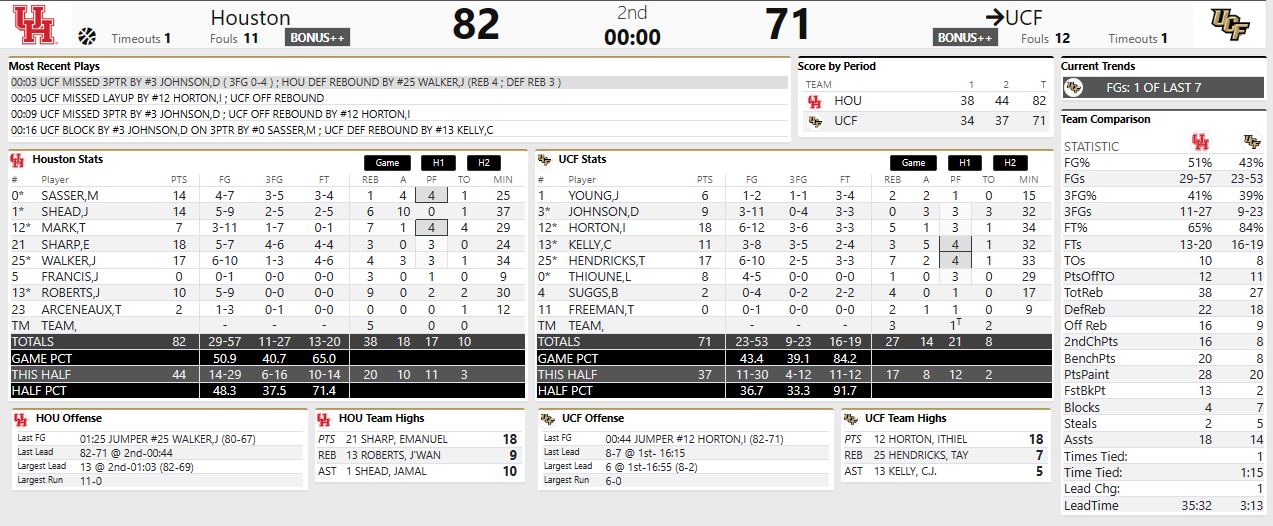 CLICK HERE for The HRR's write-ups of Coogs' men's hoops games.