Top-ranked Houston loses 56-55 at home to Temple


Buy Houston Cougars Gear at Fanatics.com
Temple's win ends Houston's 9-game winning streak
POSTED: January 22, 2023 -- 8:00 p.m. CT
HOUSTON, TX -- (Fertitta Center)
The Temple Owls defeated the top-ranked Houston Cougars 56-55 inside Houston's Fertitta Center Sunday afternoon. Houston's loss snaps a 9-game winning streak and moves Houston's record to 18-2 overall and 6-1 in the American Athletic Conference. Temple improves to 12-9, 6-2.
Temple entered today with a NET ranking of 143 which makes Houston's loss a Quadrant 3 loss. Houston was ranked number 1 in the NET.
The Owls won today despite making just 5 of 21 field goals in the second half.
"Their team won a road game from a team shooting 5-for-21 in the second half," Kelvin Sampson, Houston Head Coach,. They made five baskets (in the second half)."
Houston only led the game for 7 minutes and 4 seconds. Temple held the lead for 27 minutes, 29 seconds. Neither team led by double-digits. Temple's largest lead was 7 while Houston's largest lead was only 3 points.
The Coogs' largest lead in the second half was just 1 point on 4 separate occasions.
Temple matched Houston's three-point makes in the first half. The Owls made 5 of 12 three-pointers while Houston made 5 of 10 from long range. Houston struggled from the foul line in both halves. Houston made 3 of 7 free throws in the first half and 8 of 14 foul shots in the second half.
The difference in made free throws cost Houston the victory. Temple shot 90.9% (20 for 22) from the line while Houston shot 52.4% (11 for 21) at the charity stripe.
"It is frustrating for sure," Coach Sampson said of Houston's missed free throws. "When you start missing like that as a team, especially some of the younger guys, they will probably start pressing. Free throws can get mental like anything else. I do know that they weren't trying to miss them. They were trying to make them. It's not a fair fight when one team is going 20-for-22, and the other one goes 11-for-21."
Temple led by as much as 6 points in the first half and as much as 7 (55-48) in the second half. Houston trailed 24-18 in the first half when Tramon Mark scored a driving layup. Marcus Sasser hit a three-pointer to pull the Coogs within 24-23. Houston freshman Jarace Walker scored a putback layup to cap a 7-0 Houston run and put the Coogs ahead 25-24 with 3:23 remaining.
Twenty seconds later, Temple guard Khalif Battle sank a pull-up 3 to put the Owls on top 27-25. Battle did not make another basket the rest of the game. He finished the game 1 for 9 from the floor.
Houston freshman Emanuel Sharp hit a corner 3 to put the Coogs ahead 28-27. Neither team scored the next 100 seconds when Houston guard Jamal Shead scored a layup to stretch Houston's lead to 30-27 with 59 seconds remaining in the opening half.
Temple guard Damian Dunn tied the game when he nailed a wide open three-pointer.
The score was tied at 30 at the half. The tie game at halftime was the first time this season Houston did not lead at halftime.
Marcus Sasser began the second half scoring splitting 2 foul shots. Temple scored 5 straight points to lead 35-31. Houston trailed 39-35 when Sasser rebounded a missed three-pointer by Jamal Shead and scored a reverse layup. Sasser sank the free throw to complete the 3-point play. Sixty seconds later Sasser nailed a pull-up jumper for a 40-39 Houston lead; however, a mere 18 seconds later,Temple's Nick Jourdain scored an uncontested dunk for a 41-40 lead
Jarace Walker made up for his matador defense against Jourdain and scored Houston's next 4 points. Houston led 44-43 when Marcus Sasser was called for a foul. Sasser dove on the floor and made contact with Temple's Hysier Miller. Coach Kelvin Sampson disagreed (vociferously) with the foul and was given a technical foul. Khalif Battle sank both technical free throws and Miller made his 2 free throws from the foul called on Sasser.
Houston trailed 44-41 after the 4 made free throws.
Houston continued to struggle to score but Jamal Shead made 2 free throws to tie the game at 47. Nick Jourdain converted a three-point play to kick start an 8-1 Temple run. Temple's Zach Hicks hit his 4th three-pointer of the game during the spurt and Jourdain made 2 more free throws to end the run.
Houston trailed 55-48 with 6:37 to go in the game. Temple did not make a field goal the rest of the game.
After Marcus Sasser was called for an offensive foul, Coach Kelvin Sampson called a timeout to regroup his squad; and, his players responded. Tramon Mark hit a pull-up jumper in the paint.
J'Wan Roberts
scored a layup to slice Houston's deficit to 3 (55-52) with 5:07 on the game clock.
Temple slowed down the pace to limit possessions down the stretch. However, the Owls' slower tempo resulted in zero points for nearly 3 minutes. Houston had numerous chances to tie the game during that 3 minute stretch but Houston continued struggle to put the biscuit in the basket. However, after Marcus Sasser had his layup attempt blocked, J'Wan Roberts stole the ball from Temple; scored a layup; got fouled; and made the free throw to tie the game at 55 with 90 seconds remaining in the game.
On Temple's possession, Roberts was whistled for his fifth foul when he tried to help defensively on Dunn. Dunn missed the first free throw and made the second free throw.
The Coogs trailed 56-55 with 66 seconds left in the game. After a thirty-second timeout, Jamal Shead missed a three-point attempt. The Owls grabbed the defensive rebound and utilized all of the 30-second shot clock before getting a shot clock violation.
Seven seconds remained. Jamal Shead caught the inbounds pass and raced up the court. His layup attempt was blocked by UCF big man Kur Jongkuch. The ball bounced out of bounds to Houston with 1.3 seconds remaining. After the refs checked the monitor to verify the call, Houston executed a great baseline out-of-bounds play to Tramon Mark in the paint. Mark caught a lob pass from Shead and launched a soft jumper that bounced of the rim to secure Temple's 56-55 win.
Houston made 19 of 56 field goals (33.9 fg%) including 6 for 17 three-pointers (35.3 3pt%) and 11 of 21 free throws (52.4 ft%). Temple made 14 of 45 field goals (31.1 fg%) including 8 for 24 three-pointers (33.3 3pt%) and 20 of 22 free throws (90.9 ft%).
"The inbounds play. You're not going to get a better one that," Coach Sampson said. "I always have something in my back pocket for those kinds of situations. The execution was great; but, we missed the shot. That was a tough one."
"We just never made the big play," Coach Sampson remarked. "We never hit the big shot. We made that dozens of dozens of times over the years where we didn't have a very good offensive night; but, we still found a way to win. Tonight, we didn't. Even with all that, we called a timeout and drew up that little action that we ran. We got Tramon wide open for basically a layup and even that didn't go in.
"I don't overreact to wins; and, I don't overreact to losses. That's your job to tell everybody what we did wrong or did right. I don't worry about none of that. We got a big game Wednesday night against UCF. I'll watch this film as quick as I can; figure out what we can do to be better. And, then I'll move on to UCF. That becomes big game Wednesday night."
NEXT: The Coogs' next game is Wednesday, January 25, in Orlando, against the UCF Knights. Tip is set for 6 p.m. CT on ESPN+.
---
SUPPORT The Houston Roundball Review:
Purchase your Coogs' gear at Fanatics.com via this link;
Get ESPN+ via this link;
Save when you get the Disney bundle (ESPN+, Disney+ and Hulu) with this link;
OR, contribute via PayPal or the Cash App.
---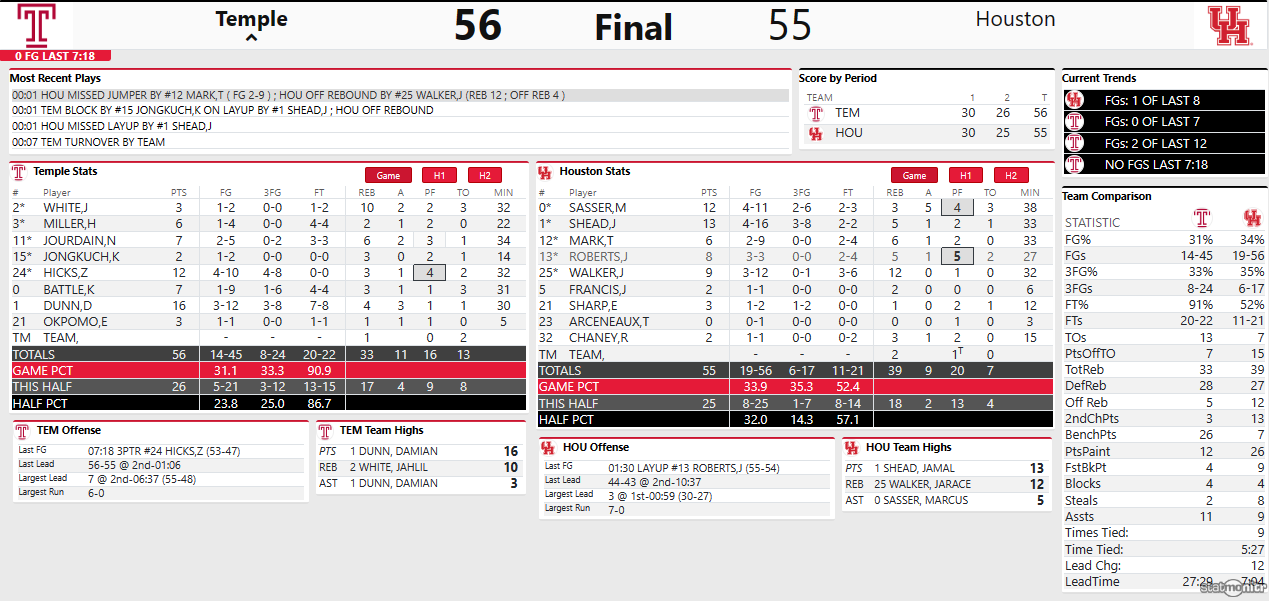 CLICK HERE for The HRR's write-ups of Coogs' men's hoops games.