Top-ranked Houston wins 80-60 at Tulane


Buy Houston Cougars Gear at Fanatics.com
Houston's Marcus Sasser scored 17 of his 23 points in the 2nd half
POSTED: January 17, 2023 -- 10:44 p.m. CT
NEW ORLEANS, LA -- (Devlin Fieldhouse inside Fogelman Arena)
In a battle for first place in the American Athletic Conference, the top-ranked Houston Cougars defeated the Tulane Green Wave 80-60 Tuesday night. Houston improves to 6-0 in The American and 18-1 overall. Tulane is 5-2 in conference and 12-6 overall.
J'Wan Roberts and Tramon Mark combined for Houston's first 16 points of the game. Houston's offense was red-hot to start the game. The Coogs made 13 of 16 field goal attempts before cooling off missing 6 consecutive field goals.
Houston led 33-24 with 3:47 remaining in the first half. Tramon Mark sank a jumper before Marcus Sasser hit a 3 then Jamal Shead added a driving layup for a 40-28 Houston lead with 28 seconds remaining in the first half.
Mark was whistled for a foul on Tulane's Jaylen Forbes' three-point attempt. Forbes hit the three and made the free to cut Houston's lead to 40-32 at halftime.
Marcus Sasser started the second half with 8 straight point. Sasser swished two 3-pointers and added a steal and layup for a 48-32 Coogs' lead with 18:18 on the game clock.
After a Tulane timeout, Forbes and teammate Jalen Cook combined for 9 points to slice Houston's lead to 53-41 with 15:44 remaining. Tulane's dynamic duo combined for 8 more points to cut Houston's lead to 5 (54-49) with 11:36 remaining in the game.
Houston went on a 7-0 run as Mark made a pullup jumper; freshman forward Jarace Walker sank a jumper for his first bucket of the game; and, Sasser knocked down another three-pointer.
Jalen Cook hit another three-pointer at the 9:10 mark; but, Jarace Walker got a dunk for a 63-52 Houston lead with 8:39 to go in the game.
Neither team scored for nearly three minutes before Jamal Shead banked in a three-point shot to beat the 30-second shot clock. After Kevin Cook hit a pull-up jumper for Tulane, Jarace Walker made a tough turnaround jumper; Jamal Shead scored a driving layup and Marcus Sasser splashed a corner three.
Houston led 73-54 with 3:28 to go in the contest.
Sasser's seventh three-pointer of the game sent the Green Wave fans to the exits.
Sasser scored 17 of his team-high 23 points in the second half. He also had 4 assists and 4 rebounds.
J'Wan Roberts finished the game with 15 points (6 for 9 shooting) and 6 rebounds.
Jamal Shead scored 14 points on efficient 6 for 10 field goals. Shead added 7 assists and 4 rebounds.
Tramon Mark chipped in 12 points, 7 rebounds, and 2 assists.
Houston shot 55.4 fg% (31 for 56) for the game including 12 for 24 (50.0%) from 3.
Jaylen Forbes' 23 points led Tulane. Jalen Cook was next with 15 points (6 for 19 field goals).
Houston scored 1.250 points per possession in the game compared to Tulane's 0.896 points per possession.
NEXT: The Coogs' next game is Sunday, January 22, at home, versus the Temple Owls. Tip is set for 2 p.m. CT on ESPN.
---
SUPPORT The Houston Roundball Review:
Purchase your Coogs' gear at Fanatics.com via this link;
Get ESPN+ via this link;
Save when you get the Disney bundle (ESPN+, Disney+ and Hulu) with this link;
OR, contribute via PayPal or the Cash App.
---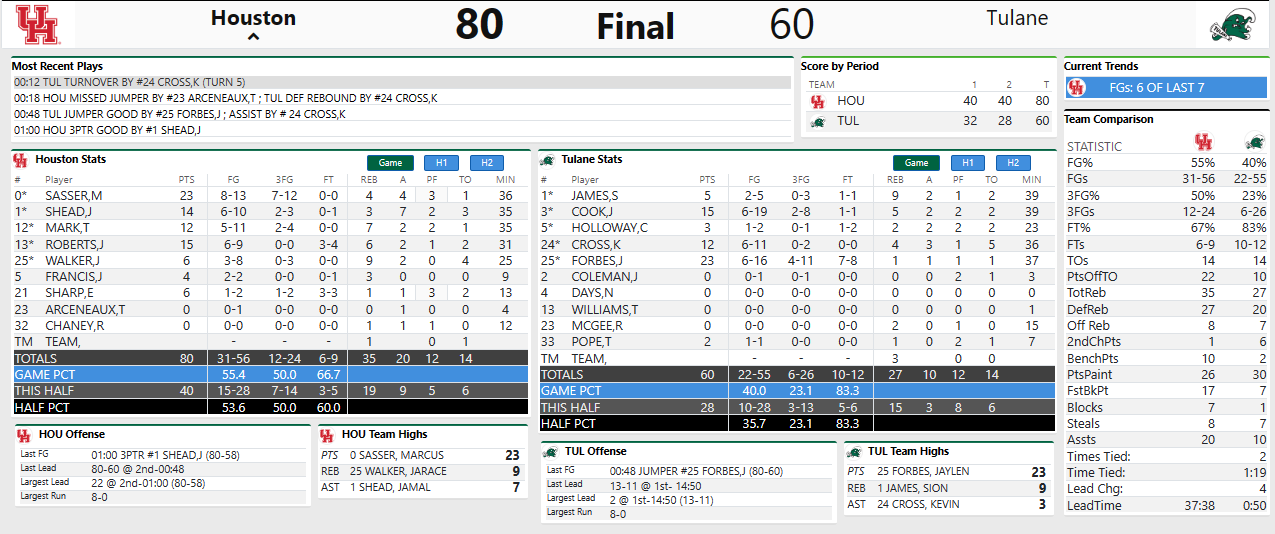 CLICK HERE for The HRR's write-ups of Coogs' men's hoops games.