2nd-ranked Houston tops Cincinnati, 72-59, on the road


Buy Houston Cougars Gear at Fanatics.com
UPDATED: January 8, 2023 -- 5:51 p.m. CT
POSTED: January 8, 2023 -- 5:23 p.m. CT
CINCINNATI, OH -- (Fifth Third Arena)
The 2nd-ranked Houston Cougars improved to 4-0 in the American Athletic Conference and 16-1 overall with a solid 72-59 road win over the Cincinnati Bearcats Sunday afternoon.
Houston freshman Jarace Walker had his second consecutive good game. Walker had a high temperature before the game; but, he told Houston Head Coach Kelvin Sampson he felt he could play in today's game.
In his postgame media session, Coach Sampson said "I told him, if you're 80 percent, I want 100 percent of your 80 percent. If you're 75 percent, I want 100 percent of your 75 percent.' "
Walker scored a game-high 21 points on 8 for 14 field goal shooting. Walker scored 11 points in the first half. and helped Houston lead 35-28 at halftime. J'Wan Roberts scored 8 in the opening half and Marcus Sasser and Tramon Mark each scored 7 in the first 20 minutes.
The Bearcats shot 6 for 17 from three-point range in the first half. Landers Nolley II (4 for 4) and Mika Adams-Woods (2 for 2) combined to make all 6 threes. They combined to score 24 of the Bearcats' 28 first half points.
Houston blitzed Cincinnati with a 15-2 run in the first 8 minutes of the second half to lead 50-30. Cincinnati (11-6 overall, 2-2 in The American) did not make its first field goal in the second half until the 12:04 mark.
Cincinnati big man Viktor Lakhin took advantage of a few poor defensive possessions by Houston which either led to him scoring a dunk, a layup, or trips to the foul line. Lakhin made his first 8 free throws in the second half to keep Cincinnati within range of Houston. However, Lakhin missed 2 fouls shots when Houston led 66-52 with 3:26 remaining in the game.
Cincinnati cut 10 points off Houston's 20 point lead and trailed 58-48 with 5:41 remaining in the game.
Tramon Mark hit a corner 3; then, Marcus Sasser closed the door on the Bearcats in the final 4 minutes.
Sasser stole a pass then dunked before swishing a 3 to beat the shot clock. After a dunk by Jarace Walker, Sasser got another steal and scored a driving layup to put Houston on top 70-54 with 2:22 remaining. Sasser added 1 more steal seconds later. Sasser finished the game with 5 steals -- 3 steals down the stretch.
"Our DNA remains the same but the faces change," Coach Sampson said after the game.
Houston outscored Cincinnati 26-4 in points off turnovers.
In addition to Jarace Walker's 21 points, Sasser scored 16; J'Wan Roberts scored 14 and pulled down a game-high 11 rebounds; and Tramon Mark scored 10 points to go along with 5 rebounds and 5 assists.
NEXT: The Coogs' next game is Wednesday, January 11, in Houston, against the USF Bulls. Tip is set for 7 p.m. CT on ESPN+.
---
SUPPORT The Houston Roundball Review:
Purchase your Coogs' gear at Fanatics.com via this link;
Get ESPN+ via this link;
Save when you get the Disney bundle (ESPN+, Disney+ and Hulu) with this link;
OR, contribute via PayPal or the Cash App.
---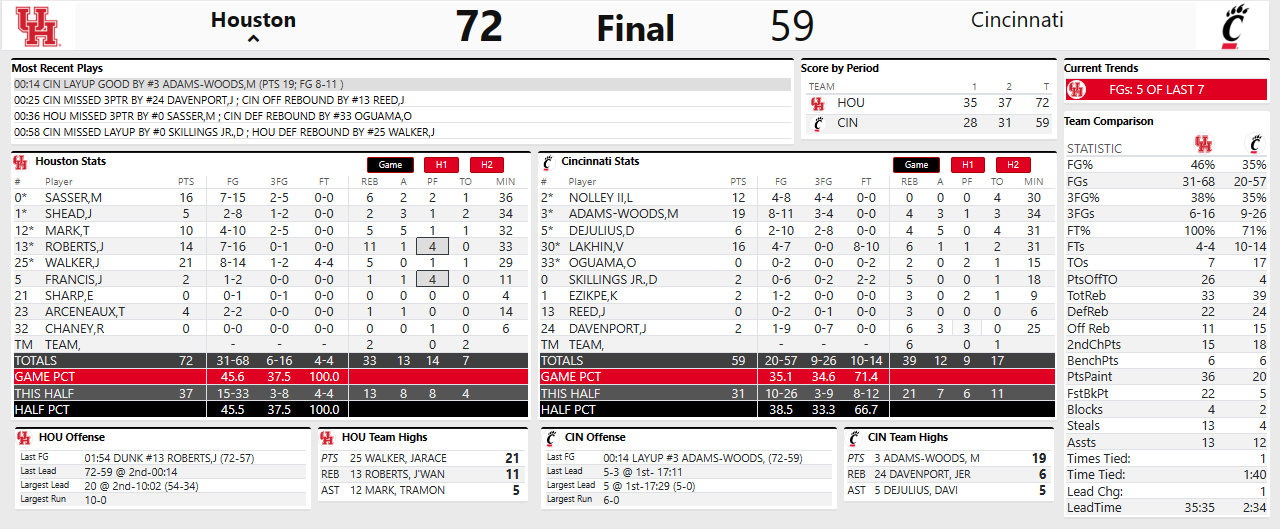 CLICK HERE for The HRR's write-ups of Coogs' men's hoops games.