2nd-ranked Houston crushes SMU, 87-53


Buy Houston Cougars Gear at Fanatics.com
POSTED: January 6, 2023 -- 7:58 a.m. CT
HOUSTON, TX -- (Fertitta Center)
The 2nd-ranked Houston Cougars cruised to an 87-53 victory over the SMU Mustangs Thursday night inside Fertitta Center.
Houston freshman forward Jarace Walker displayed much of his highly touted skillset with 18 of his game-high 23 points in a dominant first half. Walker airballed his first shot of the game before wreaking havoc on the mistakes with one dunk, followed by making 7 of his next 8 field goal attempts and adding 2 assists and 4 rebounds. All of that happened in the first half.
When Walker knocked down his seventh shot with 4:17 to go in the opening half, Walker reached 18 first half points. SMU had 17.
Houston (15-1 overall, 3-0 in The American) led SMU 42-17.
After the game, Walker commented, "In practice and in games, I just assert myself early but also make the right decision. Being aggressive doesn't always mean taking a shot. It can be running the ball down the hill, making a play for my teammate or myself. I feel like I did that well tonight."
Houston senior guard Marcus Sasser remarked, "He really took us to another level."
SMU scored the first 2 points of the game; then, Houston scored 24 consecutive points to lead 24-2 and never look back. Five different Coogs scored during the 24-0 blitz.
Houston led SMU 49-23 at halftime. The Coogs made 19 of 36 field goals (52.8%) while SMU made 7 of 25 shots (28.0%) in the opening half.
Marcus Sasser made 2 three-pointers to continue Houston's momentum early in the second half. SMU went on a 7-0 run to get within 26 (55-29); but, Walker swished his third 3 of the game which began a 9-0 Houston run. Houston's lead did not shrink below 30 points the rest of the second half.
Jarace Walker ended the game with 23 points (10 for 16 fgs); 10 rebounds and 3 assists -- in 25 minutes. The 23 and 10 is Walker's second double-double this season.
Walker's 23 points led 5 Coogs in double-digit points. Marcus Sasser scored 14 and handed out a team-high 7 assists. Houston forward J'Wan Roberts scored 11 points and added 8 rebounds, 2 steals, and 2 assists. Tramon Mark scored 10 and freshman Terrance Arceneaux chipped in 10 points and 6 rebounds off the bench.
Houston redshirt-freshman Emanuel Sharp pulled down a personal-best 9 rebounds off the bench.
The Coogs outscored the Mustangs 35-6 in second-chance points and 27-15 in bench points. Houston also out-rebounded SMU 54-26.
Houston missed 37 field goal attempts in the game -- 31 for 68 -- for 45.6 fg%; but, Houston grabbed 21 offensive rebounds.
"The 21 is not what floats my boat; it's the over 50 percent of misses we got," Kelvin Sampson, Houston Head Coach said in the postgame press conference. "People ask 'how many offensive rebounds do you have for an average game?' I have no idea. I can tell you what percentage of our misses we get; that's what we emphasize. We emphasize that beginning in June."
SMU (6-9, 1-1) scored a season-low 53 points in the game.
"The thing I liked about tonight was that our defense drove us," Coach Sampson commented.
"We're getting better; but, this game is over," Coach Sampson continued. "You don't get any carry over points. This has nothing to do with practice tomorrow. As soon as we get to practice tomorrow (Friday), we'll do our analytics, go through our goals, offensive team goals, rebounding, all that stuff and then we don't watch this game anymore. I'm focused on the next one."
NEXT: The Coogs' next game is Sunday, January 8, in Cincinnati, against the Cincinnati Bearcats. Tip is set for 2 p.m. CT on ESPN.
---
SUPPORT The Houston Roundball Review:
Purchase your Coogs' gear at Fanatics.com via this link;
Get ESPN+ via this link;
Save when you get the Disney bundle (ESPN+, Disney+ and Hulu) with this link;
OR, contribute via PayPal or the Cash App.
---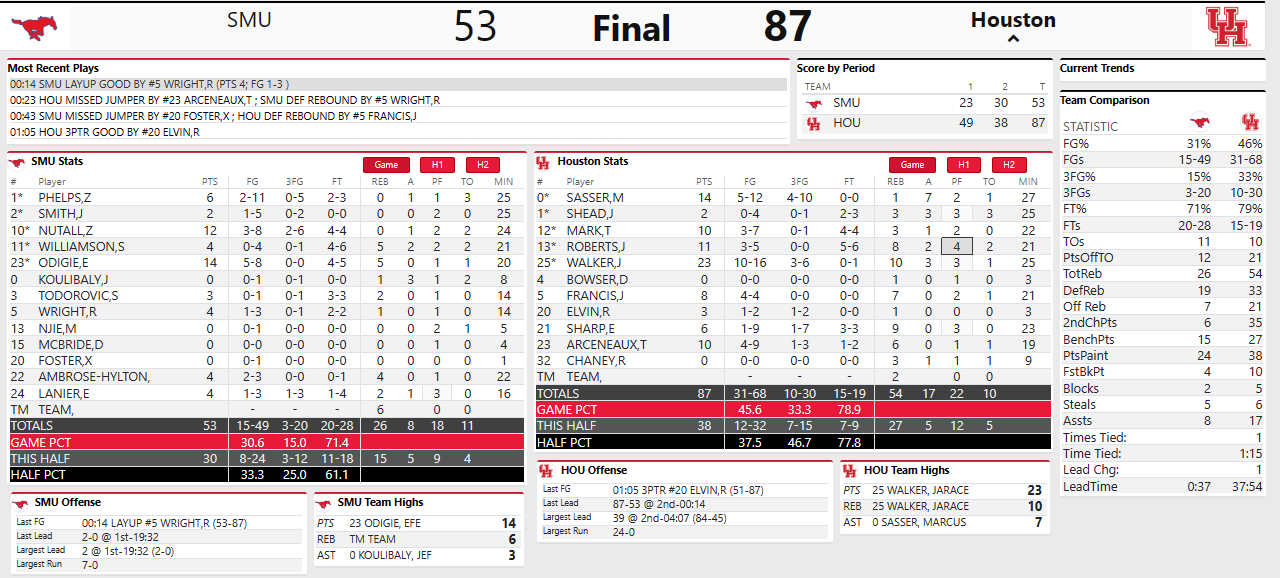 CLICK HERE for The HRR's write-ups of Coogs' men's hoops games.