3rd-ranked Houston defeats the Ducks 66-56 in Oregon


Buy Houston Cougars Gear at Fanatics.com
Byron L. Riley, CPA; 832-303-3995; Do you need tax help? IRS Tax help available- Free Consult
POSTED: November 20, 2022 -- 11:42 p.m. CT
EUGENE, OR -- (Matthew Knight Arena)
The 3rd-ranked Houston Cougars defeated the Oregon Ducks 66-56 Sunday night for Houston's 5th win this season. Marcus Sasser scored 13 of his team-high 16 points in the second half. Sasser picked 2 fouls early in the first half which limited to just 8 minutes of action in the opening half.
Houston freshman Terrance Arceneaux picked up the slack. Arceneaux scored 10 points in a 12-0 Houston run to turn a 15-15 tie to a 27-15 Houston lead.
Jamal Shead led the Coogs with 11 points in the first half. With Sasser on the bench due to foul trouble, Shead played the entire first half. In addtion to his 11 points, Shead added 3 assists and 2 rebounds in the half.
Houston led Oregon 31-24 at halftime. Oregon big man N'Faly Dante had 9 of Oregon's 25 rebounds in the first half. The Ducks dominated the Coogs 25-16 on the boards in the half. However, Houston scored 17 points off Oregon's 9 turnovers and had 17-5 points off turnovers edge in the half.
Oregon scored the first 5 points of the second half and cut Houston's lead to 2 points twice in the first two plus minutes of the half.
Houston freshman Jarace Walker made a three-point basket to increase Houston's lead to 36-31.
Oregon got within 3 points two more times before Arceneaux swished a stepback three-point shot to begin a 7-0 run and bump Houston's lead to 48-38 with 11:15 remaining in the second half.
Oregon's Nate Bittle scored a layup to end Oregon's scoring drought; however, Tramon Mark sank a three-pointer to begin a 10-2 Houston run to give Houston its largest lead of the game (58-42) with 7:20 remaining.
The Ducks scored six straight to trim Houston's lead to 58-48 at the 5:43 mark; but, Sasser picked off a pass and raced up the court for a slam dunk and 60-50 Houston lead with 4:50 on the game clock.
The Coogs went scoreless for 4 minutes; however, Oregon only scored 4 points during the stretch to trim Houston's lead to 60-54. Marcus Sasser ended Houston's scoring drought with a three-point basket in the corner. Tramon Mark sealed the win with a fast break layup and one free throw to complete the three-point play.
Oregon outrebounded Houston 37-28 in the game. Houston shot 42.9% (24 for 56) for the game while Oregon made 19 of 49 field goals (38.8%).
Terrance Arceneaux finished the game with 15 points and 5 rebounds. Jamal Shead added 13 points and 4 assists while Jarace Walker chipped in 10 points, 6 rebounds, and 3 assists.
Houston had 60 possessions in the game and scored on 28 for a scoring percentage of 46.7%. The Coogs' 66 points on 60 possessions equates to 1.1 points per possession.
Oregon had 27 scores on 59 possessions for a 45.8% scoring percentage. Oregon's 56 points equate to 0.949 points per possession.
NEXT: The Coogs next game is Saturday, November 26, vs Kent State. Tip is set for 1:30 p.m. CT on ESPN+.
---
Byron L. Riley, CPA; 832-303-3995; Do you need tax help? IRS Tax help available- Free Consult
---
SUPPORT The Houston Roundball Review:
Purchase your Coogs' gear at Fanatics.com via this link;
Get ESPN+ via this link;
Save when you get the Disney bundle (ESPN+, Disney+ and Hulu) with this link;
OR, contribute via PayPal or the Cash App.
---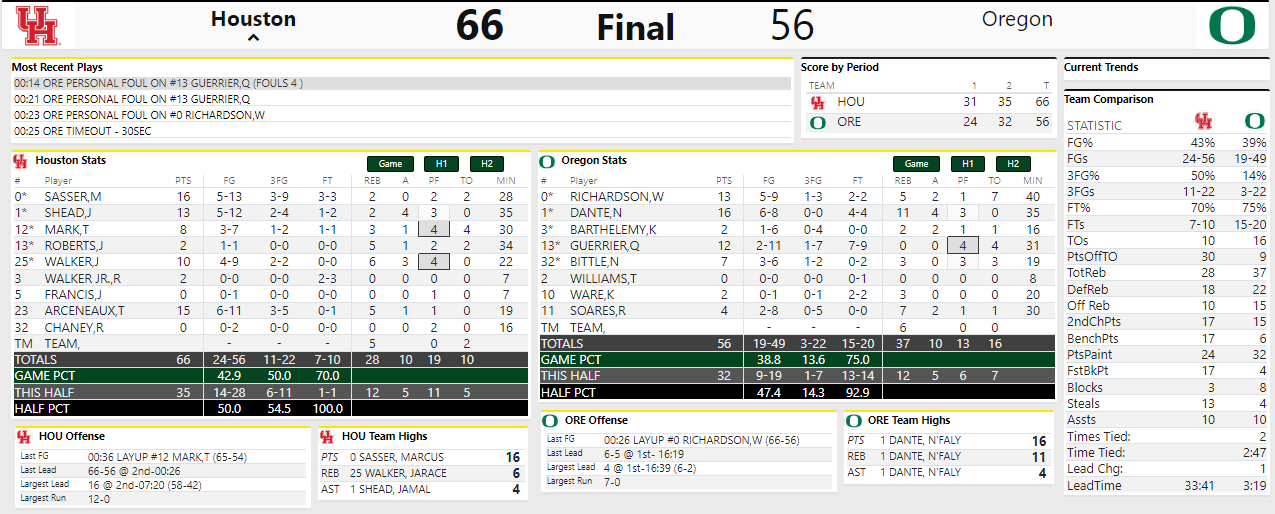 CLICK HERE for The HRR's write-ups of Coogs' men's hoops games.