Houston loses to Baylor 78-59 in Final Four semifinal

The Saxenian Family
POSTED: April 3, 2021 -- 8:55 p.m. CT
INDIANAPOLIS, IN (Lucas Oil Stadium) -- The Houston Cougars' sensational 2020-21 season ended in the semifinals of the NCAA Final Four with a 78-59 loss to the Baylor Bears. Houston ends the season 28-4 while Baylor (27-2) advances to the championship game Monday night.
Kelvin Sampson, Houston Head Coach, said after the game, "We're getting the next step. Once we got to the Elite Eight, that's where you want your program to be. You want it to improve, to get better. I know how difficult it is to get to a Final Four.
"One of my really, really good friends is Gene Keady from Purdue. He had a Hall of Fame coaching career. He never went to one Final Four. It shows you how difficult it is. John Chaney, Temple, Hall of Famer, never went to one Final Four.
"You just say, well, just make sure you can get back to the Final Four. May never go to a Final Four. Those are hard to get to. Look at all the teams that have never been to one. You don't ever think those things are -- that they owe you. Well, we got to one; we can get to another one. Maybe, maybe not.
"That's why you focus on the things you can control and keep recruiting good kids, work on improving your roster, establishing chemistry, keep creating the right kind of culture with the right kind of kids. And who knows? You may."
Marcus Sasser, Houston sophomore guard, sank a three-pointer to start the scoring. Baylor's Jared Butler tied the game with a 3. Teammate Davion Mitchell followed with a 3. Houston senior guard DeJon Jarreau made a jumper to pull Houston within 6-5. Then, Sasser sank his second three-pointer. Houston led 8-6.
The lead was short-lived. Baylor's Matthew Mayer knocked down a turn around jumper to tie the game at 8. Mayer swished a three for an 11-8 lead with 15:48 on the clock. Baylor never trailed the rest of the ball game. Baylor's offense sliced up Houston's defense with smart passes and Baylor splashed three-point shots throughout the first half.
Marcus Sasser was Houston's offense in the opening half. Sasser made 6 of 11 field goal attempts including 5 for 8 from long range. The rest of the Coogs made 1 basket in the half. Jarreau's basket at 17:18 of the half was the last basket by any Houston player in the first half other than Sasser. Houston finished the half making 7 of 26 field goals.
Baylor, on the other hand, was red-hot. The Bears made 8 of 15 three-point attempts -- in other words -- Baylor made more threes than Houston made field goals overall (7). Baylor shot 61.9 fg% (16 for 28). Davion Mitchell capped off Baylor's brilliant first half with a step back three-point basket for a 45-20 lead at halftime.
"That was an emotional locker room at halftime," Coach Sampson said. "And, we came out of the locker room and our kids competed."
---
SUPPORT The Houston Roundball Review via PayPal or via the Cash App.
Sign up to get ESPN+.
Or, get the Disney bundle: ESPN+, Disney+, and Hulu!!! Save when you bundle all three and get the best movies, shows & sports.
---
In addition to Baylor's great field goal shooting in the first half, Baylor dominated Houston 20-11 on the boards and outscored Houston 17-0 in bench points. Baylor outscored Houston 10-2 in the paint and 9-0 in fast break points.
"When you look at halftime, we've got two high-level rebounding guards in Grimes and Jarreau," Coach Sampson remarked. "At halftime they had the same amount as I did -- zero. That's a problem. When our guards aren't rebounding, we're going to struggle.
Baylor made Houston pay for its mistakes.
"Then offensively it was just the pressure and the turnovers," Coach Sampson continued. "And, we had so many four-point possessions. DeJon would lose control and next thing you know they'd go down and a five-point possession; they were hitting threes a lot. It went from four to 10 and then from 10 to 20 fast."
Houston did compete in the second half. Houston forward Reggie Chaney got early touches in the post and scored 6 points on 2 field goals and 2 free throws. Houston started the second half making 7 of their first 9 field goal attempts and Baylor cooled off with a 4 for 10 start (0 for 3 threes).
However, Houston did not get closer than 16 (52-36) in the second half. Baylor pushed the lead back to 23 points on two occasions before leading 76-54 with 2 minutes remaining in the game.
---
The Saxenian Family
---
After the game, Marcus Sasser reflected on this season.
"The three seniors we had, they led us and they taught us a lot for the upcoming years for the young guys," Sasser said. "We had a great run and just fell short this year."
Sasser added what Coach Sampson mentioned to the team after the game.
"He just told us he loved us and thank you," Sasser said. "But, we wouldn't be this far without him. So, he pushed us, like, to the limit. And you can see that it paid off. We just fell short. He was just telling us we had a legendary season, one of the best teams he had. Just a lot of love."
Coach Sampson added, "The people that care about our university and care about our teams, they'll never forget this group. I know I won't. I'll remember this team for a lot of reasons -- great kids, the love they had for each other, how tight knit the coaching staff was in supporting these kids. It was fun.
"I'm disappointed the season is over because I don't get to coach them anymore. But, what a run, what a ride. Final Four, 28-4. Two nets. We got a lot of memories. A lot of memories."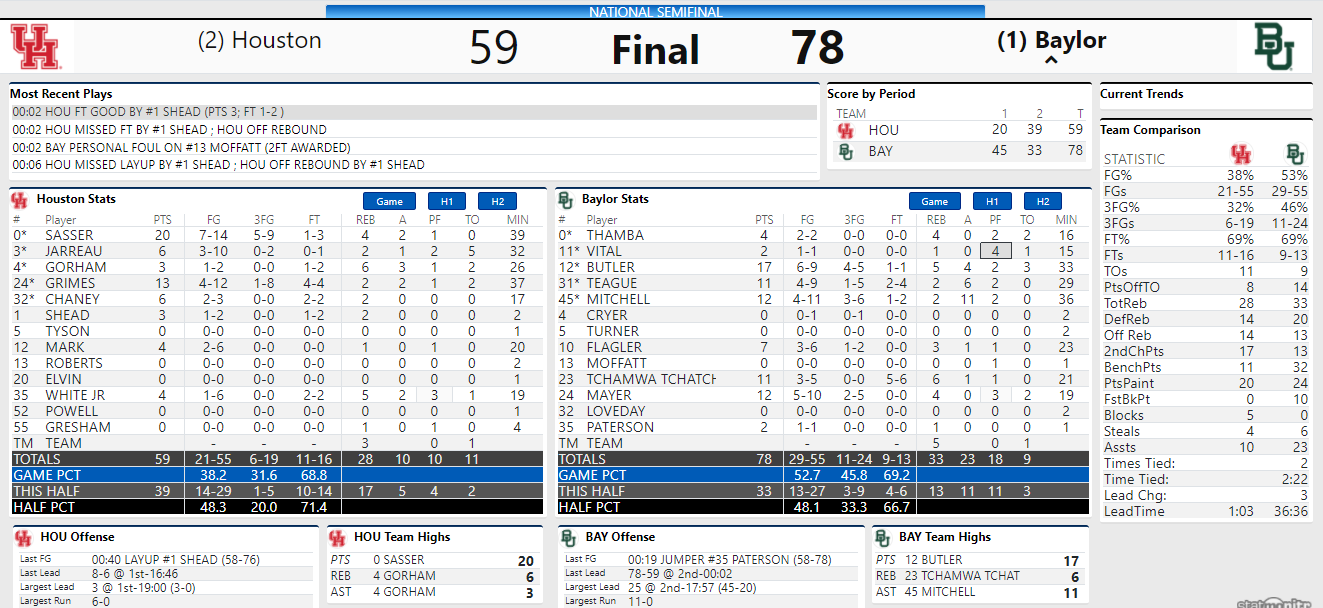 CLICK HERE for The HRR's write-ups of Coogs' men's hoops games.
Subscribe in a RSS feeds reader
Subscribe to The HRR provides news and info of UH Coogs' men's basketball by Email