2-seed Houston holds off 12-seed Oregon State 67-61 to advance to the Final Four


The Saxenian Family
POSTED: March 30, 2021 -- 1:40 a.m. CT
INDIANAPOLIS, IN (Lucas Oil Stadium) -- The 2-seed Houston Cougars made the plays down the stretch to hold off the 12-seed Oregon State Beavers 67-61 Monday night to advance to the Final Four. Houston will face the Baylor Bears Saturday, April 3, in a semifinal match-up.
Houston's style of play was displayed throughout the game: Houston's offense had solid stretches; Houston's defense was tenacious in stretches; Houston's offense bogged down; Houston's defense was carved up in the second half; and Houston was relentless on the offensive glass. All of those characteristics add up to a six point for Houston (28-3).
Houston sophomore guard, Marcus Sasser, started the scoring with a three-point basket off an Oregon State turnover. Houston led 16-10 when Sasser sank another three-point shot. Next, after a defensive rebound by Fabian White, Houston forward Reggie Chaney raced down the court and scored a transition basket for a 22-10 Houston lead.
Quentin Grimes and DeJon Jarreau each hit a three-pointer to boost Houston's lead to 28-17 with 4:13 remaining in the opening half. Houston closed the half scoring the final six points to lead 34-17 at halftime.
Houston didn't shoot the ball well in the first half (12 for 34 field goals) while Oregon State made only 7 of 20 field goal attempts in the first 20 minutes.
"We didn't have the greatest first half," Wayne Tinkle, Oregon State Head Coach said after the game. "It's very reminiscent of some of our issues throughout the year where we just weren't as assertive as we needed to be, a little bit of a fog on both sides. We didn't run our stuff offensively, and we carried that frustration over to the defensive end."
---
SUPPORT The Houston Roundball Review via PayPal or via the Cash App.
Sign up to get ESPN+.
Or, get the Disney bundle: ESPN+, Disney+, and Hulu!!! Save when you bundle all three and get the best movies, shows & sports.
---
Oregon State's offense heated up in the second half; and, Houston struggled to put points on the board.
Oregon's State's 1-3-1 zone defense caused problems for Houston in the second half.
"Oregon State, we knew was going to come back and make a run," Kelvin Sampson, Houston said after the game. "We got a little bit non-aggressive against the one-three-one; but, they made it like that. Not many teams can put a 7-footer at the top of the key and take away your interior pass. They forced us to go slot to slot, corner to corner, and our guys got a little bit stale, I guess."
Houston led 45-29 with 13 plus remaining in the second half when Oregon State began its comeback. Oregon State's Ethan Thompson made the first of 2 free throws; but, after he missed the second foul shot, Thompson rebounded his own miss and passed to teammate Jarod Lucas. Lucas swished the three pointer to cut Houston's lead to 45-33.
Jarreau made a wide open three-point shot to boost Houston's lead to 48-33 with 12:39 on the clock. Three minutes later, Jarreau sank a pull up jump shot for a 52-38 Houston lead with 9:29 remaining in the game.
Oregon State scored 10 straight points to slice Houston's lead to 52-48 with 6:23 left in the second half. Kelvin Sampson called a 30-second timeout to settle down his players and call a play. After the timeout, Quentin Grimes made a three-point shot to make the score 55-48 Houston.
"When I called the time-out," Kelvin Sampson mentioned after the game. "One thing you have to remind people, young men in these situations, don't be afraid to fail. Don't be afraid to miss the shot. You certainly can't be afraid to take it.
"So, we put Quentin in that other corner and put him on the same side as DeJon, and we tried to get the ball from Marcus to DeJon to Q and see if we can get the shot. They're good at running one-three-one. We've seen one-three-ones this year, but not ones that look like that."
---
The Saxenian Family
---
Oregon State's Gianni Hunt scored a driving layup. Next, after Marcus Sasser missed a jump shot, Beavers' forward Warith Alatishe dunked (assist Ethan Thompson) to cut Houston's lead to 55-52 with 4:47 on the game clock.
Houston committed a shot clock violation on its next possession -- DeJon Jarreau's 3 point basket was ruled a split second after the shot clock expired.
On Oregon State's next possession, Gianni Hunt banked in a 3 point shot to tie the game at 55.
Jarreau missed a jump shot; but, Fabian White pulled down the rebound. Three seconds later, Grimes hit a three-point shot to give Houston a 58-56 lead.
Thompson split 2 foul shots before Grimes missed another 3 point attempt. Once again, Fabian White grabbed an offensive rebound. Jarreau missed a three-point shot; but, this time, Grimes snared the offensive rebound. Grimes was fouled and made both free throws.
Houston led 60-56 with 2:22 remaining.
Gianni Hunt missed a step back three-point attempt. Jarreau got the defensive rebound. Houston missed two more jump shots but rebounded both misses. Fabian White was fouled and missed the front of a 1-and-1.
Oregon State called timeout with 1:17 left on the game clock. After the timeout, Jarod Lucas airballed a three-point shot; and, Justin Gorham hauled in the missed shot. Gorham split two free throws. Houston led by 5 (61-56) with less than a minute remaining.
Ethan Thompson tried to beat DeJon Jarreau off the dribble; however, Jarreau's quick feet beat Thompson to his spot. Thompson slipped and fell to the court. Jarreau pounced on the ball for a held ball with 47 seconds left in the game. Marcus Sasser was fouled after Houston called a 30-second timeout. Sasser split the free throws. Houston led 62-56 with 38 seconds left in Oregon State's season.
Gianni Hunt lost the ball on his drive to the basket. Quentin Grimes and Justin Gorham closed out the game with 5 for 6 free throw shooting in the final 27 seconds.
Marcus Sasser scored 20 points to lead Houston. Quentin Grimes was next with 18 points. Grimes and Sasser combined to make 9 of 23 three-point attempts. In addition to his great defense, DeJon Jarreau finished the game with 10 points, 8 rebounds, and 8 assists.
"Proud of the kids, proud of the heart," Coach Sampson said. "Proud of battling through so many things this year, whether it was injuries or transfers or a tough loss here or there. For this team to be 28-3 and going to the Final Four, this is one of the greatest accomplishments I've been around. And I have this group of players and this staff, everyone on this staff, all the players to thank for it. I'm glad they let me go along on the ride with them. It's been a fun ride with this group."
Houston reaches the Final 4 for the first time since 1984.
"You know what, tip our caps to Houston and Coach Sampson," Coach Tinkle said. "They did a great job and pulled this one out. It's something we can really build off of. We had a helluva run, and we'll keep building this thing moving forward."
"I'm grateful. That's it. I'm grateful," Jarreau remarked. "We're in the Final Four with one of the best coaches ever. Love my teammates, and we're here."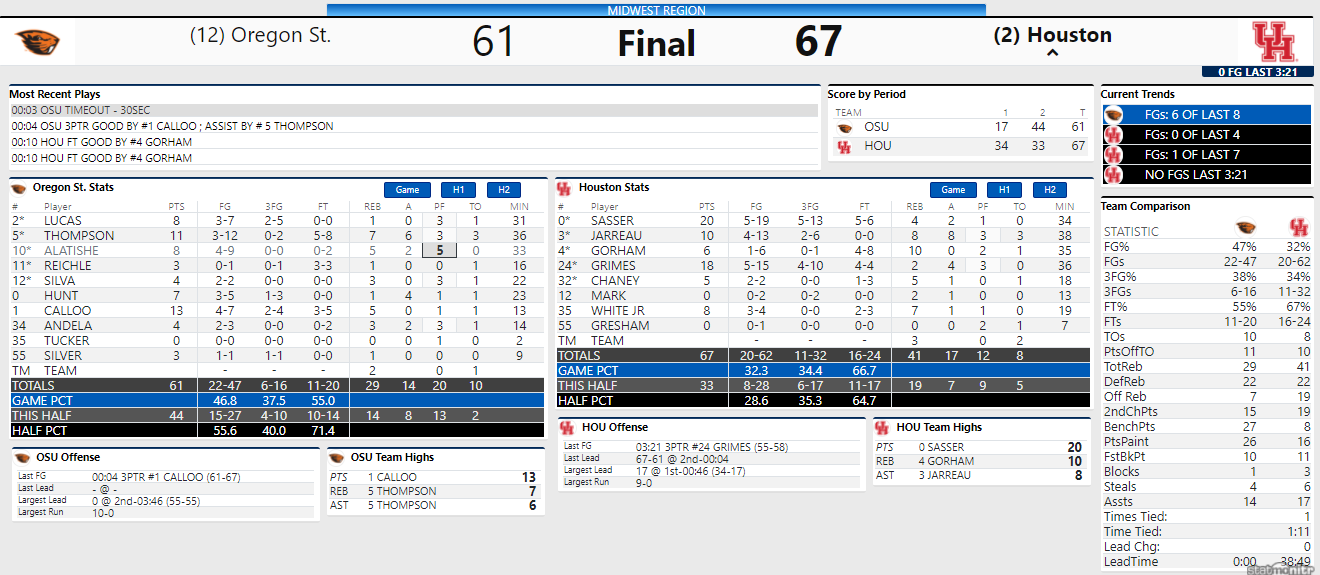 NOTE: Jarreau was named the Most Outstanding Player for the Midwest Region.
UP NEXT:
Houston's next game will be the Baylor Bears, Saturday, April 3, in a Final Four semifinal match-up. Time is to be determined. The game will be on CBS.
CLICK HERE for The HRR's write-ups of Coogs' men's hoops games.
Subscribe in a RSS feeds reader
Subscribe to The HRR provides news and info of UH Coogs' men's basketball by Email