2-seed Houston stymies 11-seed Syracuse 62-46 to reach Elite 8


The Saxenian Family
POSTED: March 28, 2021 -- 1:45 a.m. CT
INDIANAPOLIS, IN (Hinkle Fieldhouse) -- The 2-seed Houston Cougars put the defensive clamps on the 11-seed Syracuse Orange Saturday night in a 62-46 victory. Syracuse shot 28% (14 of 50) from the floor in the game. With the win, Houston advances to the regional final to face 12-seed Oregon State Monday evening.
Syracuse shot a season-low 28.0 percent (14-of-50) from the field, its lowest mark since making 23.6 percent (13-of-55) of its attempts against Virginia on November 6, 2019.
"I thought that Houston was tremendous defensively," Jim Boeheim, Syracuse Head Coach said after the game. "I thought we did a great job fighting back, getting back just before the half. And we gave them two buckets before the half. And it was two breakdowns. But their defense was just too much for us.
"We missed some opportunities. But I just give 90 percent of the credit to their defense. They're really a good defensive team.
"We did a good job on the boards. We hung in there for us. We did a pretty good job defensively for most of the game. The end we broke down a little bit. But we did a pretty good job defensively.
"But we scored 20 points in the half. We're not going to win. Again, that was a tribute to their defense. Their defense was really terrific. It's the best defense that we've seen this year. And they deserved to win."
Despite making 6 of their first 17 field goal attempts, Houston led 15-5. Syracuse made just 2 of their first 11 field goal attempts.
However, Syracuse went on a 15-5 run to tie the game at 20 with 4:57 left in the first half.
Syracuse did not score the rest of the half.
Quentin Grimes made a three-point shot with 2:48 remaining in the half to end Houston's scoring drought at 3 minutes 28 seconds.
Justin Gorham made a driving layup plus the free throw to increase Houston's lead to 26-20 with 1:47 remaining in the half.
Marcus Sasser scored a fast break layup with 1:18 on the clock. Syracuse called timeout; however, after the timeout, Houston big man Brison Gresham blocked a layup attempt by Robert Braswell. Then, on offense, Gresham finished off an alley-oop pass from DeJon Jarreau for a slam dunk to put Houston up 30-20 at halftime.
Syracuse made 6 field goals (24 attempts) in the first half including just 1 of 10 three-point attempts. Syracuse did make 7 of 9 free throw attempts to help offset their field goal shooting woes.
---
SUPPORT The Houston Roundball Review via PayPal or via the Cash App.
Sign up to get ESPN+.
Or, get the Disney bundle: ESPN+, Disney+, and Hulu!!! Save when you bundle all three and get the best movies, shows & sports.
---
Houston led 39-27 four minutes into the second half; but, Syracuse went on a 10-2 run to cut Houston's lead to four (41-37) with 12:37 remaining.
Gorham scored a driving layup; and, Grimes nailed a three-point shot to boost Houston's lead to 46-37 with 10:27 left in the game.
Fabian White's slam dunk from a nice assist from freshman guard Tramon Mark increased Houston's lead to 48-39. Next, Quentin Grimes pulled down a defensive rebound and raced up the court and scored a layup for a 50-39 lead with 6:48 remaining.
Syracuse scored 7 points the rest of the game; and, DeJon Jarreau's steal and emphatic slam dunk upped Houston's lead to 58-43 with 3:08 left in the ball game.
---
The Saxenian Family
---
Houston reaches the Elite 8 for the first time since 1984.
Houston's offense found the holes in Syracuse's vaunted zone defense and made clutch baskets or rebounded the missed shots to reset their offense.
"I thought we did a great job of playing down the middle versus their zone," Kelvin Sampson, Houston Head Coach said. "I thought we got the ball inside enough and that was important."
Coach Sampson praised his team's defense and limiting Syracuse's three-point attack.
"We just talked all week about five people guarding the ball. It's not one person or two people. It's five. Five people had to be in the right spot. And I thought for the most part we were. You're not going to shut them out. But holding that team to 28, what did they shoot from the floor? Wow, I didn't realize they shot 28 percent. And holding them to five threes, 5-for-23, that's tremendous, tremendous effort on our kids' part."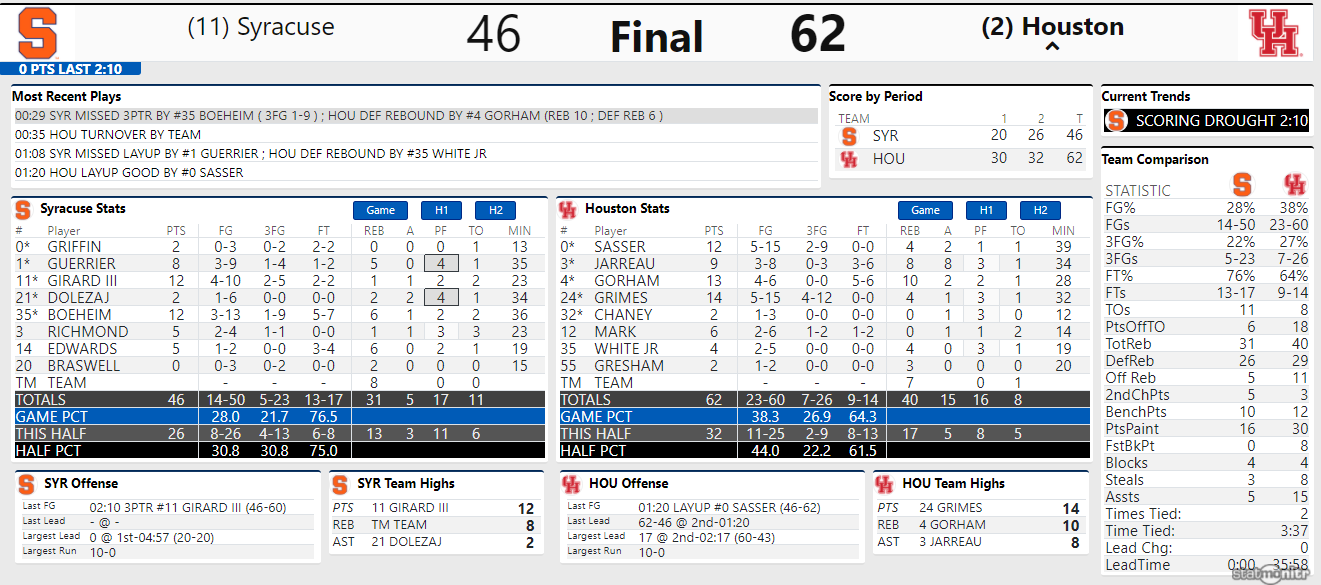 The Cougars won the rebounding battle, 40-31.
Houston outscored Syracuse in points in the paint by a 30-16 margin.
Quentin Grimes led Houston with 14 points. Justin Gorham added 13 points and 10 boards. Marcus Sasser scored 12 points. DeJon Jarreau finished the game with 9 points, 8 rebounds, and 8 assists.
"DeJon Jarreau, I thought, was tremendous," Coach Sampson said of his senior point guard.
"Just a great culture that Coach Sampson has built here," Jarreau said after the game. "Just getting guys to come here and buy into whatever plan he has for us to be successful. And we just have a group of guys who buys into his plan and listens to him and just try their best to execute whatever he says. We love Coach Sampson very much; and, we'll run through a wall for him."
UP NEXT:
Houston's next game will be versus 12-seed Oregon State, Monday, March 29, tip-off at 6:15 p.m. CT, inside Lucas Oil Stadium on the North Court, in the Midwest Regional Final of the 2021 NCAA Men's Basketball Championship.
CLICK HERE for The HRR's write-ups of Coogs' men's hoops games.
Subscribe in a RSS feeds reader
Subscribe to The HRR provides news and info of UH Coogs' men's basketball by Email