Houston loses to Wisconsin 65-63 in semifinal game at 2021 Maui Invitational


Houston Cougars Gear at Fanatics.com
UPDATED: November 23, 2021 -- 9:09 p.m. CT
POSTED: November 23, 2021 -- 7:07 p.m. CT
MAUI INVITATIONAL - Las Vegas, NV -- (Michelob Ultra Arena)
The Houston Cougars spotted the Wisconsin Badgers a 20 point halftime lead and made a valiant comeback in the second half. However, Wisconsin held on and defeated Houston 65-63 in the first semifinal matchup of the 2021 Maui Jim Maui Invitational.
Wisconsin (4-1) played a stellar first half on offense and on defense. Wisconsin guard Johnny Davis scored 8 points to help Wisconsin jump to a 13-0 lead before Houston's Reggie Chaney scored a layup to put Houston on the board.
Davis nearly outscored Houston in the first 20 minutes. Davis scored 18 points on 7 for 11 field-goal shooting including 4 for 5 from long range.
Houston struggled to make shots -- missing 20 of 27 field goals. In addition to poor shooting, Houston also had 7 turnovers while Wisconsin turned over the ball only three times.
Houston trailed Wisconsin 40-20 at halftime. Houston scored 0.667 points per possession in the opening half. Wisconsin scored a blistering 1.333 points per possession in the first half.
---
SUPPORT The Houston Roundball Review:
Purchase your Coogs' gear at Fanatics.com via this link;
Get ESPN+ via this link;
Save when you get the Disney bundle (ESPN+, Disney+ and Hulu) with this link;
OR, contribute via PayPal or the Cash App.
---
Houston scored the first 10 points of the second half to slice Wisconsin's 20 point lead in half with 16:05 remaining. Kyler Edwards heated up to make 3 three-point shots during the 10-0 run.
Wisconsin maintained a double-digit lead until sank another three-point shot to pull Houston within 9 (48-39) with 10:06 on the clock. Houston's Jamal Shead and Fabian White scored during a 6-3 spurt to get the Coogs within 6 (51-45) with 7:50 on the clock.
Shead stole a pass and scored a driving layup to trim Houston's deficit to 55-52 with 4:44 on the game clock. Johnny Davis answered with two free throws and a steal and slam dunk to boost the Badgers' lead to 7 (59-52) with 4:17 remaining.
Marcus Sasser and Shead helped claw the Coogs within three (63-60) with 95 seconds left in the ball game. Davis missed a long three-point attempt on Wisconsin's' possession. Sasser missed a contested three-pointer with 47 seconds remaining.
Davis snared the rebound and was fouled. Davis made both free throws for a 65-60 Wisconsin lead. Houston called timeout with 45.2 seconds remaining. Kyler Edwards knocked down a 3 after the timeout with 40 seconds left in the game.
Wisconsin did not call timeout and Houston opted to play solid defense rather than foul. Davis got the ball in the frontcourt and took his time before launching a tough jumper which bounced off the rim. Shead snared the rebound; raced up the court; and passed the ball to a teammate under the basket. The game clock expired before Houston got off a shot attempt.
Wisconsin picked up the win, 65-63, to advance to the championship game of the Maui Invitational.
Houston (4-1) will face Oregon, Wednesday afternoon, in the 3rd-place game, at 1:30 p.m. CT, on ESPN2.
In the second half, Wisconsin scored 0.781 points per possession while Houston scored 1.344 points per possession.
For the game, the Badgers scored 1.066 points per possession (63 possession, 65 points) while the Coogs scored 1.000 point per possession (63 possessions, 63 points).
Kyler Edwards scored 18 to lead Houston. Houston made 4 of 10 free throws in the second half and 8 for 15 for the game. Wisconsin made 12 of 15 foul shots in the game including 11 for 12 in the second half.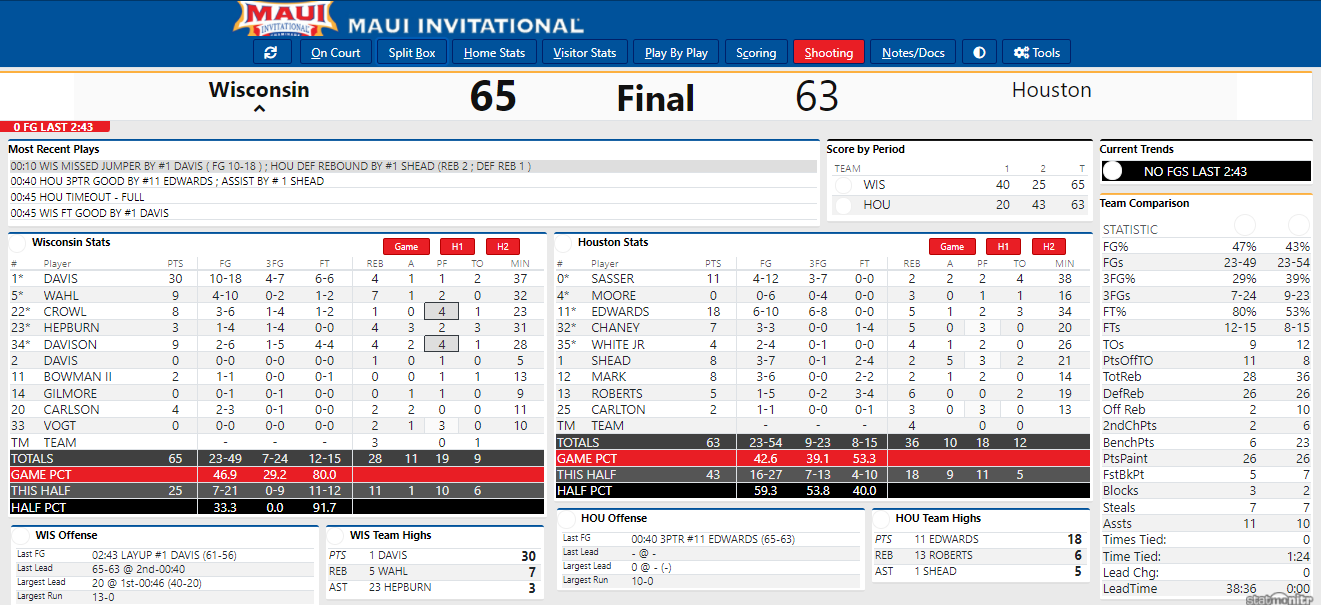 CLICK HERE for The HRR's write-ups of Coogs' men's hoops games.
Subscribe in a RSS feeds reader