Houston defeats Butler 70-52 in opening round game at 2021 Maui Invitational


Houston Cougars Gear at Fanatics.com
POSTED: November 22, 2021 -- 6:51 p.m. CT
MAUI INVITATIONAL - Las Vegas, NV -- (Michelob Ultra Arena)
The Houston Cougars men's basketball defeated the Butler Bulldogs 70-52 Monday night in an opening round game of the 2021 Maui Jim Maui Invitational.
Houston big man Fabian White set the tone early when he made three of his first 4 three-point attempts and added a layup during a 17-0 Houston to start the game.
Butler's Jair Bolden sank a three-pointer to end Butler's scoring drought. Bolden was Butler's offense in the first half: he scored 14 of the Bulldogs' 20 points.
Houston led Butler 41-20 at halftime.
---
SUPPORT The Houston Roundball Review:
Purchase your Coogs' gear at Fanatics.com via this link;
Get ESPN+ via this link;
Save when you get the Disney bundle (ESPN+, Disney+ and Hulu) with this link;
OR, contribute via PayPal or the Cash App.
---
Butler regrouped at halftime and brought more physicality in the opening minutes of the second half. The Bulldogs took advantage of some sloppy play from the Cougars to outscore Houston 12-3 to get within 12 points (44-32) with 14:03 left in the second half.
Fabian White made two foul shots to end Houston's scoring drought. White followed with a jump hook before teammate Jamal Shead ripped the ball away from Butler's D.J. Hughes under the basket. Shead raced up the court and scored a driving layup to boost Houston's lead to 50-32 with 12 plus minutes remaining.
Butler did not get closer than 14 points the final 12 minutes of the game.
Houston (4-0) led by as much as 24 (67-43) with nearly 2:30 remaining in the contest.
Fabian White scored a career-high 21 points in today's game to lead a balanced Houston scoring attack. Kyler Edwards scored 10 points; Marcus Sasser added 9 points. Jamal Shead added 8 points off the bench while Taze Moore chipped in 7 points.
The Coogs forced Butler into 20 turnovers and outscored the Bulldogs 27-7 in points off turnovers. Houston dominated points in the paint 36-12 and scored 1.148 points per possession while holding Butler to 0.852 points per possession.
Houston will face Wisconsin, Tuesday afternoon, at 4 p.m. CT, on ESPN. Wisconsin defeated Texas A&M 69-58 in the opening game of the Maui Invitational.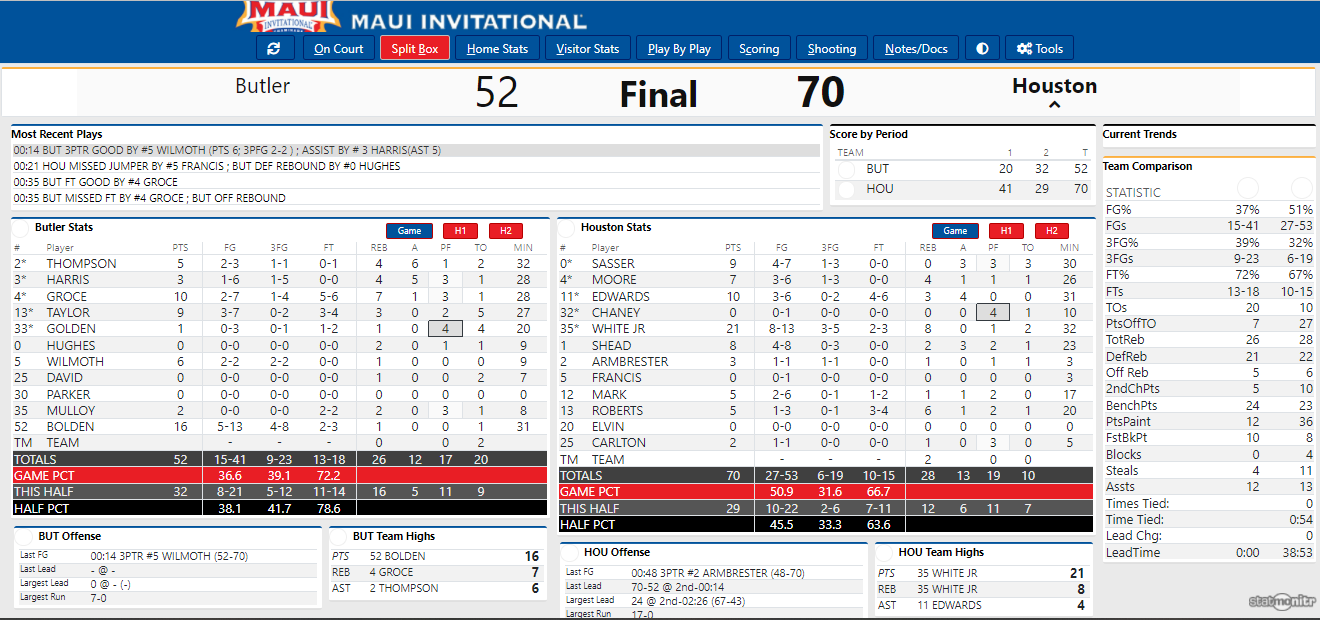 CLICK HERE for The HRR's write-ups of Coogs' men's hoops games.
Subscribe in a RSS feeds reader