Houston dominates Virginia in 67-47 victory


Houston Cougars Gear at Fanatics.com
POSTED: November 17, 2021 -- 8:41 a.m. CT
HOUSTON, TX (Fertitta Center) -- The Houston Cougars defeated the Virginia Cavaliers 67-47 Tuesday night in front of a sold out crowd gathered inside Fertitta Center. Houston's defense combined with three-point marksmanship from Houston's Marcus Sasser and Kyler Edwards turned a promoted marquee match-up into a rout.
Edwards sank a three-point shot 51 seconds into the game; then, 31 seconds later, Sasser followed with a three-point basket for a 6-0 Houston lead. Houston never trailed the rest of the game.
Houston's defense forced Virginia into 12 turnovers in the first half which helped Houston outscore Virginia 14-0 in points off turnovers in the opening half.
Fourteen points off of our turnovers," Tony Bennett, Virginia Head Coach said after the game. "They rattled us early."
Bennett also commented on Houston's shot making ability: "They can make some plays off the dribble and rise up - even when we did play good defense and had a hand in their face. They're hitting them."
Coach Bennett praised Houston's defense: "Maybe we'll play some teams that are as good defensively. I don't know if we'll play many better than this because they're special that way."
---
SUPPORT The Houston Roundball Review:
Purchase your Coogs' gear at Fanatics.com via this link;
Get ESPN+ via this link;
Save when you get the Disney bundle (ESPN+, Disney+ and Hulu) with this link;
OR, contribute via PayPal or the Cash App.
---
"We had a good plan," Kelvin Sampson, Houston Head Coach said during the postgame press conference. "Our kids really executed it."
Marcus Sasser scored a game-high 19 points while Kyler Edwards added 18 points. Sasser and Edwards combined to shoot 9 for 13 from three-point range. They made nine of Houston's 11 three-point baskets in the victory.
Houston scored 1.218 points per possession and limited Virginia to 0.758 points per possession in the ball game.
"We got Butler on Monday," Coach Sampson concluded. "As far as I'm concerned, that's a lot more important to me right now is getting ready for Butler."
Houston's next game will be November 22 versus Butler in an opening round game of the 2021 Maui Invitational taking place in Las Vegas. Tip time is scheduled for 3:30 p.m. on ESPN2.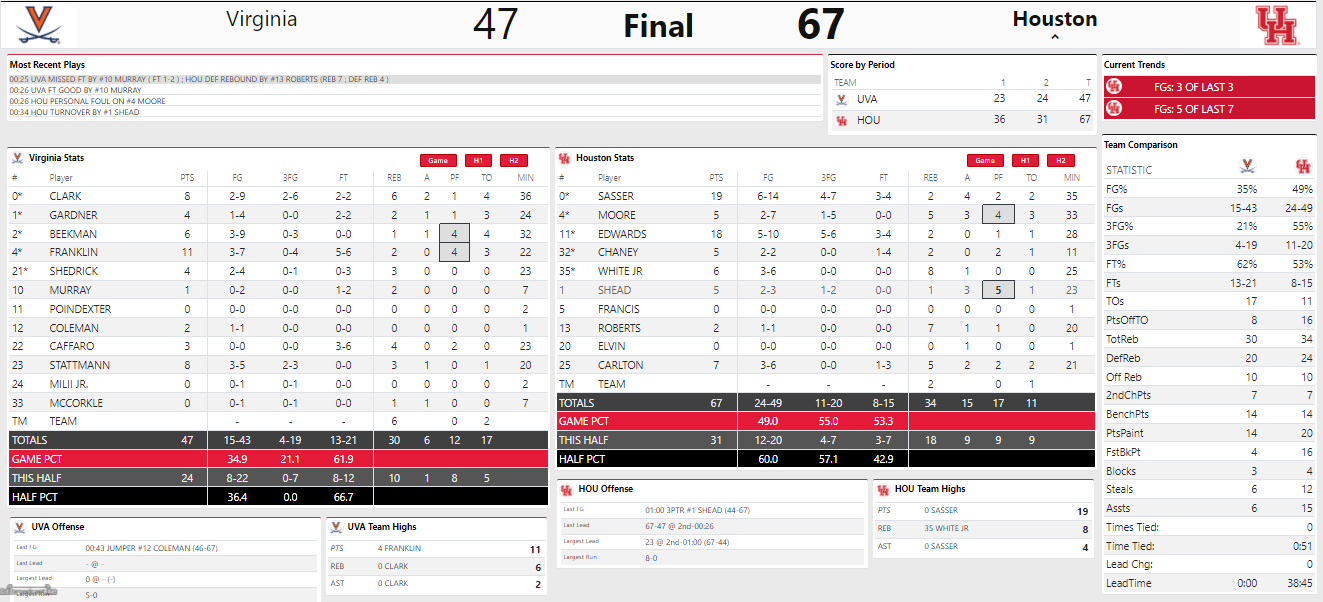 CLICK HERE for The HRR's write-ups of Coogs' men's hoops games.
Subscribe in a RSS feeds reader