Quentin Grimes' scoring explosion in 2nd half helps Coogs defeat Memphis; Fabian White Jr with 18 and 14

The Saxenian Family is a supporter of The Houston Roundball Review.
POSTED: March 8, 2020 -- 10:54 p.m. CT
HOUSTON, TX (Fertitta Center) -- The Houston Cougars defeated the Memphis Tigers 64-57 Sunday afternoon despite shooting 22.2% (8 for 36) from the floor in the first half. Houston missed 9 consecutive shots during a 1 for 15 end to the opening half and trailed 30-26 at halftime.
"They're aren't always going to make shots," Kelvin Sampson, Houston Head Coach said after the game. "We go into every game knowing we have to defend and rebound."
Memphis didn't set the scoreboard on fire in the opening 20 minutes. The Tigers shot 35.7% (10 for 28).
Houston forward Fabian White Jr scored Houston's first 5 points in the second half to slice Houston's deficit to 33-31. Redshirt-freshman guard, Caleb Mills made a step back jumper to tie the game at 33. Mills had missed his first 8 field goal attempts of the game prior to that basket.
Houston went ahead by 4 points (37-33). The Tigers scored six straight to lead 39-37. with 11:50 remaining in the second half.
Houston (23-8 overall, 13-5 in the American Athletic Conference) trailed 41-39 when Quentin Grimes caught fire. Grimes swished a three-pointer at the top of the key to put Houston ahead 42-41 with 9:24 left in the second half. Next, Grimes drained a tough turnaround jumper before nailing another three-point basket. Grimes wasn't finished.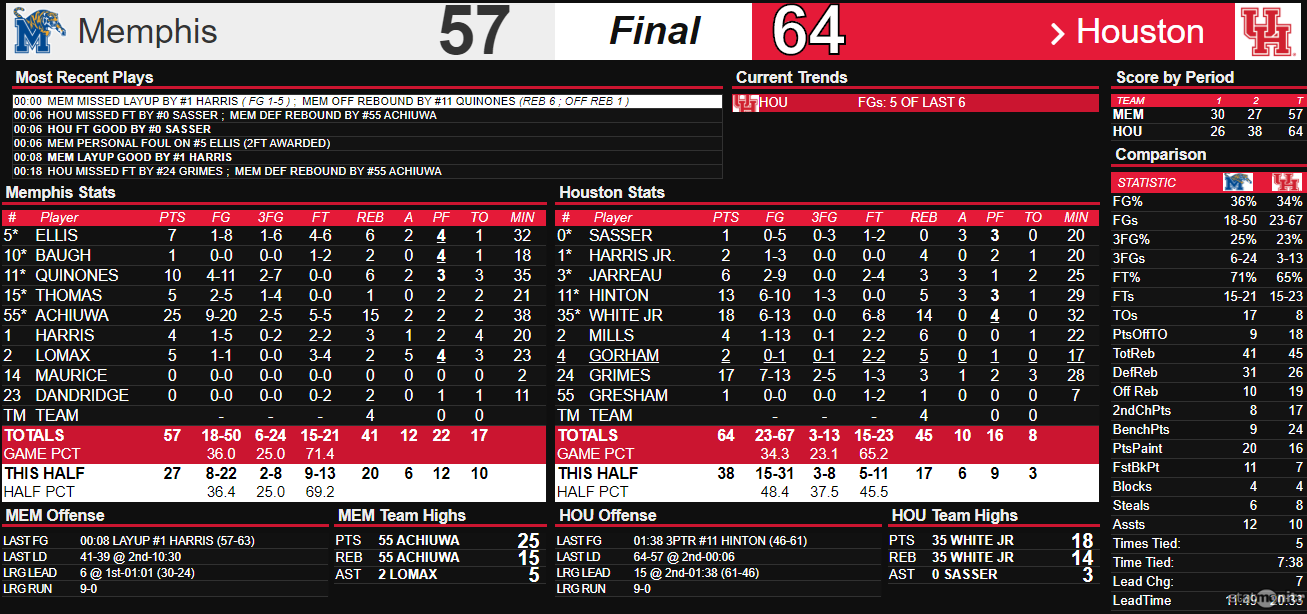 The Saxenian Family is a supporter of The Houston Roundball Review.
---
SUPPORT The Houston Roundball Review:
Purchase your Coogs' gear at Fanatics.com via this link;
Get ESPN+ via this link;
Save when you get the Disney bundle (ESPN+, Disney+ and Hulu) with this link;
OR, contribute via PayPal or the Cash App.
---
After Memphis' sensational freshman Precious Achiuwa scored a layup to end Grimes' personal 8-0 run, Grimes made another jumper for a 49-43 Houston lead. Fabian White sank a jump to end Grimes' 10-0 run; but, Grimes wasn't done.
Grimes nailed a long two point jumper and was fouled. He made the free throw to complete the three-point play. Then, he scored a driving layup to stretch Houston's lead to 56-43 with 3:15 on the game clock.
In six plus minutes, Grimes scored 15 of Houston's 17 points.
Nate Hinton rattled in a three-point shot attempt for a 61-46 Houston lead with 98 seconds left in the ball game. Houston missed 4 of 7 foul shots in the closing moments which helped Memphis stay close.
Memphis got as close as 6 points (63-57) with 8 seconds left in the game.
After shooting 1 for 4 from the floor in the first half, Grimes went 6 for 9 in the second half.
"My teammates always push me to keep shooting," Grimes remarked after the game.
Fabian White finished the game with 18 points and 14 rebounds for his third double-double this season.
"I was ready for my teammates," White said after the game. "Especially (senior big man) Chris [Harris],, since it's his last home game. And, we wanted to send him off right. We wanted to make sure we didn't lose two in a row and we haven't since I've been here; so, I wanted to send him off right."
Houston outrebounded Memphis 45-41 and outscored the Tigers 17-8 in second-chance points.
With today's win over Memphis, combined with Tulsa's loss at Wichita State, and Cincinnati's home win over Temple Saturday, the Coogs, Bearcats, and the Golden Hurricane each finish the conference regular season with 13-5 conference records. The Bearcats win the three-way tie and will be the top-seed in next week's American Athletic Conference Championship. Houston is the 2-seed; Tulsa the 3-seed.
Next: Houston will play in the American Athletic Conference Championships Quarterfinal this Friday, March 13, at 6:30 p.m. on ESPNU. The Coogs will play the winner of the First Round matchup between 7th-seed SMU and 10th-seed Temple.
The Saxenian Family is a supporter of The Houston Roundball Review.
NOTE:
Houston has not lost back-to-back games this season. Houston is 8-0 after a loss this season. Going back to 2017, Houston is 17-0 after losing a game. The Coogs will look to improve that to 8-0 / 18-0 versus Memphis.
CLICK HERE for The HRR's write-ups of Coogs' men's hoops games.