Coogs lose 77-71 at UConn; Third straight road loss for Houston

The Saxenian Family is a supporter of The Houston Roundball Review.
UPDATED: March 6, 2020 -- 7:20 a.m. CT
POSTED: March 6, 2020 -- 2:05 a.m. CT
Storrs, CT -- The 21st-ranked Houston Cougars road struggles continued Thursday night in a 77-71 loss to the UConn Huskies. Houston has lost 3 consecutive road games and is 3-3 in its last six games overall. With the loss, Houston (22-8 overall, 12-5 in AAC) is tied with the Cincinnati Bearcats for second place in the AAC. Both teams trail first-place Tulsa.
The Golden Hurricane clinched a share of the AAC regular season title with Houston's loss to UConn.
Quentin Grimes scored 24 points to lead Houston. Grimes missed his first 5 field goal attempts; but, he made his next 4 shots which helped Houston finish the first half on a 10-0 run and lead 37-30 at halftime.
Houston led 5-0 then went ice cold. UConn scored 16 unanswered points before Houston's Caleb Mills made a three-point basket to end a 7-minute scoring drought. Marcus Sasser scored a layup which pulled Houston within 16-10. Sasser's layup was his only basket of the game. He finished 1 for 12 and 0 for 7 on threes.
UConn led 27-20 when Grimes scored 7 straight points for Houston. Then, Mills made a three-point basket to tie the game at 30 with 1:59 remaining in the first half. Mills knocked a jumper for a 32-30 Houston lead which was Houston's first lead since 5-3. DeJon Jarreau followed with a basket; then, Grimes rattled in a three-pointer with 2 seconds left in the half.
Houston made its last 7 field goal attempts of the half and led 37-30 at halftime.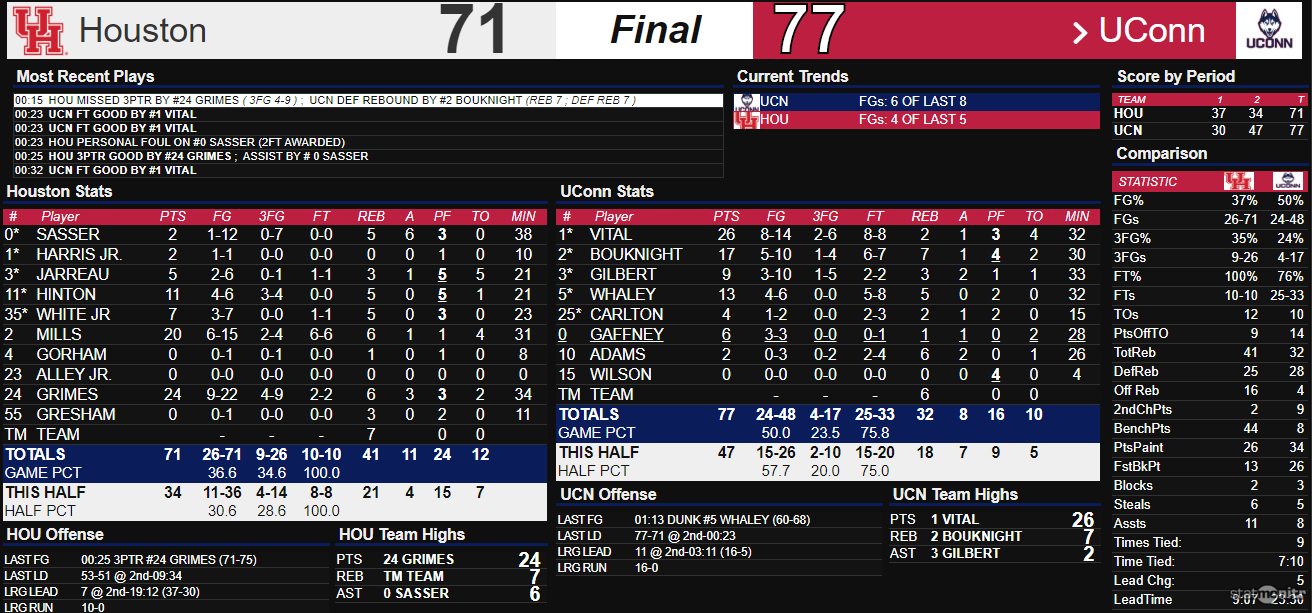 The Saxenian Family is a supporter of The Houston Roundball Review.
---
SUPPORT The Houston Roundball Review:
Purchase your Coogs' gear at Fanatics.com via this link;
Get ESPN+ via this link;
Save when you get the Disney bundle (ESPN+, Disney+ and Hulu) with this link;
OR, contribute via PayPal or the Cash App.
---
UConn's Isaiah Whaley scored the first points of the second half. Fabian White Jr answered with a jump hook. UConn's James Bouknight converted a four-point play to cut Houston's lead to 39-36. Houston's Nate Hinton picked up his third foul on the play.
The game was tied at 41, 43, 45, 47, 49, 51, and 53. Houston's offense stalled. The Coogs missed 6 consecutive shots and had two turnovers during a 9-0 UConn run.
Quentin Grimes rebounded his own missed shot and scored a layup to cut Houston's deficit to 62-55 with under 5 minutes remaining in the game. Next, Houston missed two more shot attempts and UConn increased its lead to 66-55 with 2:47 left in the ball game. The Coogs' buzzard-luck from the floor continued with four more missed field goals.
With 1:19 remaining, Nate Hinton ended Houston's field goal drought with a three-point basket. Prior to Hinton's 3-pointer, Houston missed 9 consecutive three-point shot attempts in the second half. Houston trailed 66-60.
Houston called a 30-second timeout to set up its defense. After the timeout, UConn broke Houston's pressure defense and Isaiah Whaley finished with a dunk for a 68-60 UConn lead with 1:13 on the clock.
Next, Whaley split two free throws and Hinton sank another three-point basket to give the Coogs some life and hope. Houston trailed 69-63 with 49 seconds remaining.
Grimes scored 8 points, with a jumper and two threes, in 16 seconds to bring Houston within 75-71 with 25 seconds remaining. However, UConn senior Christian Vital made two free throws to ice the game for UConn. Vital made 8 free throws in the final 48 seconds to secure the win for UConn.
Caleb Mills scored 20 points in the game for Houston. Houston made 4 of its last 5 field goal to end the 2nd half shooting 11 for 36.
DeJon Jarreau had 5 points, 3 rebounds, 5 fouls and 5 turnovers in 21 minutes.
UConn shot 50.0% (24 for 28) and 75.8% (25 for 33) from the charity stripe for the ball game. In the second half, UConn made 15 of its 26 field goal attempts (57.7%) and 15 of 20 from the foul line (75.0%).
Houston (Grimes and Mills) outscored UConn 44-8 in bench points.
UConn had a 34-26 points in the paint advantage and a 26-13 edge in fast break points.
Houston's regular season finale is Sunday, Mar. 8, versus Memphis inside Fertitta Center. Tip time is scheduled for 11 a.m. CT. CBS will broadcast the game.
The Saxenian Family is a supporter of The Houston Roundball Review.
NOTE:
Houston has not lost back-to-back games this season. Houston is 7-0 after a loss this season. Going back to 2017, Houston is 17-0 after losing a game. The Coogs will look to improve that to 8-0 / 18-0 versus Memphis.
CLICK HERE for The HRR's write-ups of Coogs' men's hoops games.