Marcus Sasser scores 21 in Houston Cougars' 68-55 win over Cincinnati

The Saxenian Family
POSTED: March 1, 2020 -- 9:25 p.m. CT
HOUSTON, TX (Fertitta Center) -- Marcus Sasser scored 9 consecutive points during a decisive 15-5 run to help the 25th-ranked Houston Cougars defeat the Cincinnati Bearcats 68-55 Sunday afternoon. With the win, Houston is now to 22-7 overall and 12-4 in the American Athletic Conference. Houston is tied with the Tulsa Golden Hurricane for first place in the AAC.
With the loss, Cincinnati is 18-10 and 11-5 in The American.
After making just 1 of its first 6 field goal attempts, Cincinnati made 8 of its 10 next field goals and led Houston 30-25 with 5:08 remaining in the first half. Houston's redshirt-freshman Caleb Mills swished a 3 point shot to bring the Coogs within 2 points. Mills scored 11 of Houston's first 28 points.
Cincinnati's offense stumbled the rest of the half with 3 turnovers and 2 missed shots. Houston finished the half with a 13-1 despite missing 8 of their last 10 field goal attempts. After Mills' 3-point basket, Houston missed 4 field goals and 2 free throws. However, Houston pulled down 5 offensive rebounds and made 6 consecutive free throws to lead 34-30 with 1:39 remaining in the half.
After Cincinnati's Tre Scott split two free throws to end the Bearcats' scoring drought, Marcus Sasser swished a 3 to end Houston's field goal drought and give the Coogs a 37-31 lead with 41 seconds left in the half. Jarron Cumberland missed the front end of a 1-and-1 free throw trip; and, Mills split two free throws for a 38-31 Houston lead at halftime.
Houston led at the half despite shooting 35.3% (12 for 34) from the floor. Cincinnati trailed despite shooting 50.0% (9 for 18) from the floor. Three of Cincinnati's 8 first half turnovers happened in the last 4 minutes of the half.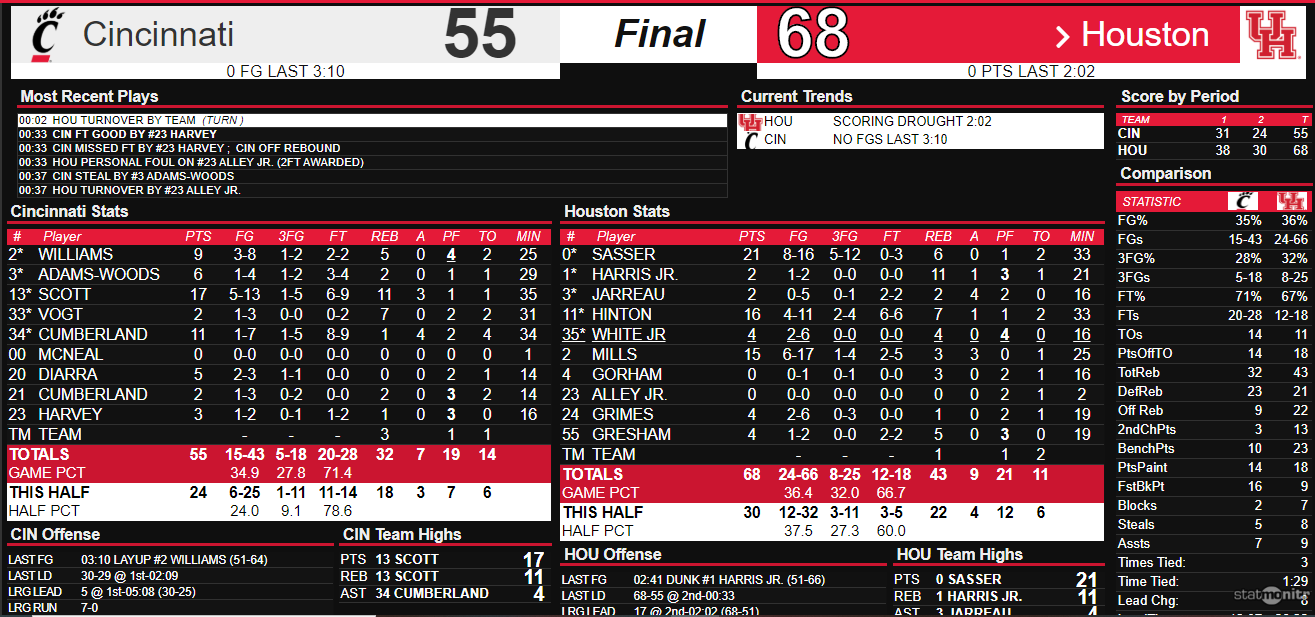 The Saxenian Family
---
SUPPORT The Houston Roundball Review:
Purchase your Coogs' gear at Fanatics.com via this link;
Get ESPN+ via this link;
Save when you get the Disney bundle (ESPN+, Disney+ and Hulu) with this link;
OR, contribute via PayPal or the Cash App.
---
Houston's Chris Harris Jr set the tone early in the second half. Harris grabbed 3 offensive rebounds and blocked 1 shot in the first 2:05 of the second half. Houston used a 7-0 spurt to lead 45-33 with 15:52 at the first media timeout in the half.
The Bearcats inched within 8 (45-37) at the 14:08 mark; but, Mills, once again, split two free throws. Then, Marcus Sasser sank a three-point shot for a 49-37 lead. Cincinnati scored 5 straight points on free throws before Bearcats' center Chris Vogt finished off an assist for Jarron Cumberland with a dunk to cap off a 7-0 run to slice Houston's lead to 49-44 with 9:03 on the clock.
Sasser answered the bell and scored a nice pull up jumper after a smooth shot fake. Next, he swished a three-point bucket from the top of the key to put Houston ahead 54-44. Tre Scott made a three-pointer. Sasser committed a turnover and Cinci's Zach Harvey scored a layup to trim Houston's lead to 5 (54-49) with 7:11 remaining in the ball game.
Once more, Sasser delivered for the Coogs. He scored a driving layup and was fouled. (Missed the free throw.) Then, Sasser nailed a pull up jumper for a 58-49 Houston lead. Cincinnati committed a shot-clock violation; and, Houston's Quentin Grimes drained a jumper for a 60-49 lead with 5:08 on the clock. Mills nailed a step back jumper and Nate Hinton followed with a sweet crossover dribble drive for two which increased Houston's lead to 64-49 with 3:37 to go in the game.
"He (Sasser) was critical. We needed someone to step up," Houston Head Coach Kelvin Sampson said. "Marcus Sasser has been in a good head space for a while now. He was a freshman for a long time; but, this time of year, there are no freshmen."
Houston led 68-51 with 2:02 remaining and cruised to the much needed victory.
Cincinnati shot 24.0% (6 for 25) from the floor and 11 for 14 from the line in the second half. Houston made 12 of 32 field goal tries and 3 of 5 foul shots in the second half.
Sasser (21 points), Hinton (16 points), and Mills (15 points) combined for 52 of Houston's 68 points. Chris Harris finished the game with 11 rebounds - 9 in the second half - and 4 blocked shots.
"We knew this was a game that we needed to win," Harris said after the game. "We came out and handled business. That could've been a difference in our season. It was a must-win game, and so, we came out and executed."
"We also know the stakes that are at hand," Nate Hinton added. "We wanted to go out there and make winning plays. Winning plays was the emphasis this week. We just took that to have that mindset. We have to go out there and focus on winning plays."
"That's a good team," Sampson said of Cincinnati. "For us to beat them is good; and, obviously, our kids expect to win. But, to win by shooting 36 percent with 22 offensive rebounds is great. Our kids have learned to win without making shots. That's something we preach from day one."
Houston's next game is Thursday, Mar. 5, at UConn. Tip time is scheduled for 6 p.m. CT. CBSSN will broadcast the game.
The Saxenian Family
NOTE:
At one point in the first half, Cincinnati owned 13-12 rebounding edge. Houston finished the half with a 21-14 edge on the boards. Houston outrebounded Cincinnati 43-32 for the game and had a 13-3 edge in second-chance points.
Houston has not lost back-to-back games this season. Houston is 7-0 after a loss this season. Going back to 2017, Houston is 17-0 after losing a game.
CLICK HERE for The HRR's write-ups of Coogs' men's hoops games.