Coogs demolish Wichita State 76-43

POSTED: February 9, 2020 -- 6:09 p.m. CT
HOUSTON, TX (Fertitta Center) -- The 25th-ranked Houston Cougars improved to 19-5 and 9-2 in the American Athletic Conference with a 76-43 demolition of the Wichita State Shockers. The 33 point loss is the Shockers' most-lopsided loss since Feb. 1, 2003 (94-59 loss to Southern Illinois).
Houston led for 39 minutes and 14 seconds. The game featured one tie at 3. Houston's Quentin Grimes scored a layup to put Houston ahead 5-3; and, Houston never trailed the rest of the ball game.
"Wichita State is a great program," Houston Head Coach Kelvin Sampson after the game. "One team was playing uphill today and one was playing downhill. When you're playing uphill, it's tough, especially on the road. There's no one I respect more in this conference than I do Greg (Shockers Head Coach) Gregg Marshalland his program. I know how tough it is to have really tough loss and then come in today."
"I've been over there where Gregg is," Sampson continued. "We played them the very first night of the conference; and, I felt like it was 50-5 at halftime. Their five men were making three's all over the place but that was a tough game for Wichita State today. If you think about it, they came in here, Tulsa throws one in at the buzzer to beat them, that's a tough loss. Then, they had another one there at the buzzer at Cincinnati, that's tough to do. Then, they have to go on the road to play us today. We came out there sharp defensively."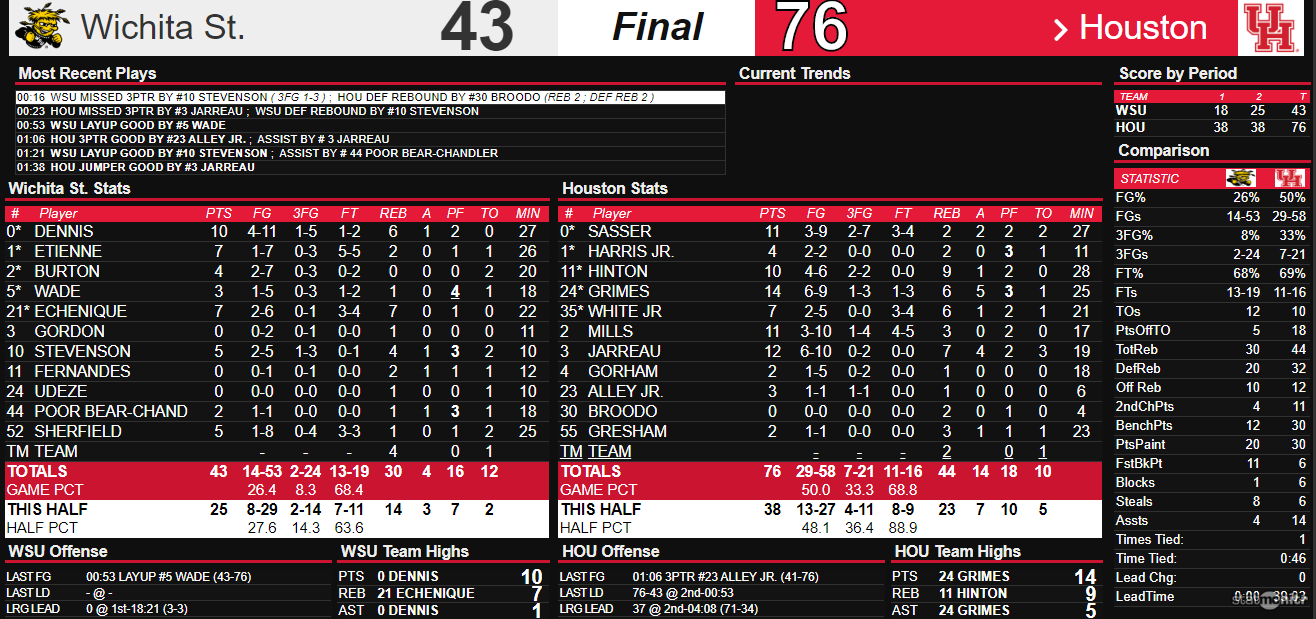 ---
SUPPORT The Houston Roundball Review:
Purchase your Coogs' gear at Fanatics.com via this link;
Get ESPN+ via this link;
Save when you get the Disney bundle (ESPN+, Disney+ and Hulu) with this link;
OR, contribute via PayPal or the Cash App.
---
Caleb Mills delivered one of many Houston highlights in the game. Mills chased down Grant Sherfield and swatted Sherfield's layup attempt. Then, Mills raced down the court to bury a three-point shot to put Houston ahead 16-7. Houston led 22-7 before Jamarius Burton ended a 10-0 Houston run with a tough finish at the basket.
Grimes' steal then assist to DeJon Jarreau for a layup extended the Coogs' lead to 31-12.
Houston led 38-18 at halftime. Houston's defense limited Wichita State 6 for 24 field goal shooting in the first half -- including 0 for 10 three-point attempts. The Shockers finished the first half with more than turnovers (10) than made baskets (6).
The Coogs shot 51.6% (16 for 31) from the floor in the first half.
Grimes continued his solid play in the second half with 2 nice passes to big men Chris Harris Jr and Fabian White Jr for 4 points and a 42-23 Houston lead.
Marcus Sasser swished a 3 from the top of the key for a 47-26 Houston lead with 14:46 on the clock.
Houston did not make a field goal for nearly three minutes but still led 53-28 with 11:39 remaining in the game. At that point, Houston had twice as many baskets (20) than Wichita State (10).
Houston's defense forced a Shockers' shot clock violation; then, Grimes lobbed an alley-oop to Chris Harris for a two-hand slam dunk. The Shockers missed twice more again; and, Nate Hinton scored a layup before Grimes scored in the paint to put the Coogs ahead 71-34. Coach Marshall called a 30-second timeout with 4 minutes remaining in the game.
Houston cruised to the victory; and, with Cincinnati's 72-71 overtime road loss to UConn, Houston moved into sole position of first place in the American Athletic Conference.
Quentin Grimes' 14 points led 5 Coogs in double-figure points. 12 for DeJon Jarreau; 11 for Caleb Mills; 11 for Marcus Sasser; and 10 for Nate Hinton.
"I don't overreact to it," Sampson said. "Again, I think you're playing against a team that was wounded today because of their last few games. I thought our defense was really good, they were missing shots they normally make. I was proud of our kids' effort; I have no idea what statement it makes; and I couldn't care less about statements. We're not here to make statements. We're here to win games."
Houston's next game is Wednesday, Feb. 12, in Tampa, against the USF Bulls. Tip time is scheduled for 8 p.m. CT. ESPNU will broadcast the game.
CLICK HERE for The HRR's write-ups of Coogs' men's hoops games.