Coogs use big run in first half to defeat Tulane 75-62

POSTED: February 7, 2020 -- 3:20 p.m. CT
HOUSTON, TX (Fertitta Center) -- The 25th-ranked Houston Cougars defeated the Tulane Green Wave 75-62 Thursday night. Houston trailed Tulane 6-5 with 14:35 to go in the first half when Caleb Mills swished a three-point shot for an 8-6 Houston lead.
Houston never trailed the rest of the ball game. Mills' three-point basket began a 24-4 run which changed a one point Tulane lead to a 19 point Houston lead.
Houston (18-5 overall, 8-2 in AAC) limited Tulane (10-12, 2-8) to 4 made free throws from the 14:35 mark to the 4:40 mark of the first half. Tulane missed 9 consecutive field goals during Houston's huge run.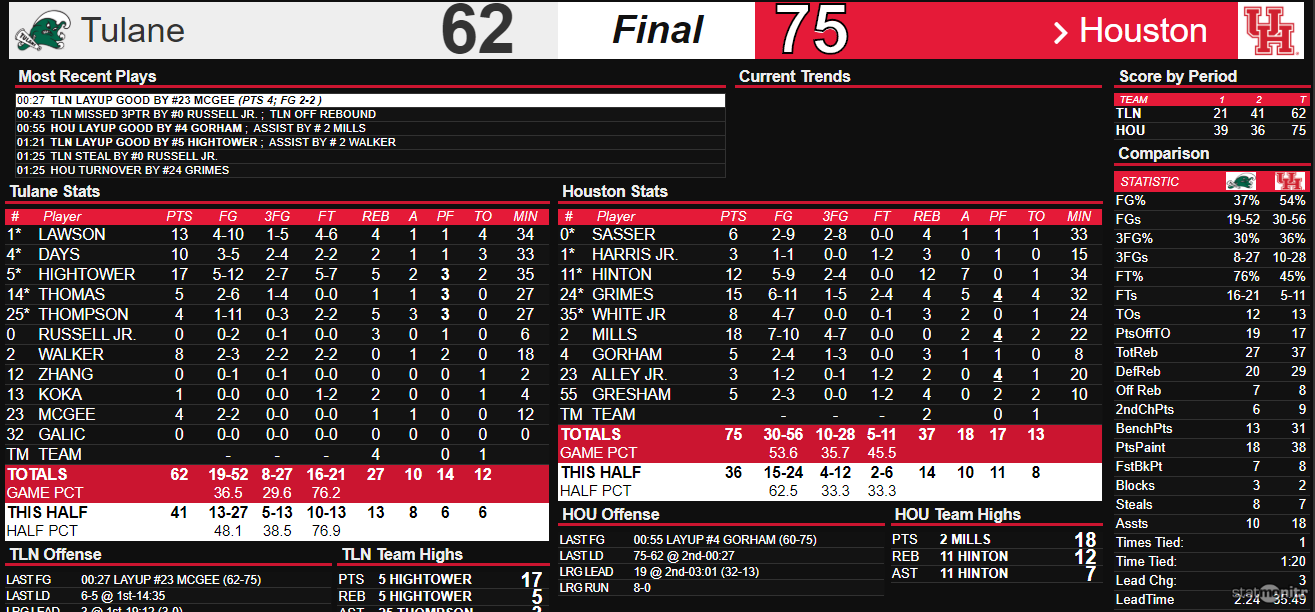 ---
SUPPORT The Houston Roundball Review:
Purchase your Coogs' gear at Fanatics.com via this link;
Get ESPN+ via this link;
Save when you get the Disney bundle (ESPN+, Disney+ and Hulu) with this link;
OR, contribute via PayPal or the Cash App.
---
Houston's Quentin Grimes scored 9 points during the decisive run. Grimes finished the first half with 11 points to lead Houston to a 39-21 halftime lead.
Tulane shot 24.0% (6 for 25) in the opening half while Houston made 15 of 32 field goal attempts including 6 threes on 16 attempts.
Tulane scored the first 7 points of the second half to trim Houston's lead to 11 (39-28) before Grimes scored a bucket in the paint at the 18:07 mark in the half.
Tulane's K.J. Lawson scored 4 of the Green Wave's next 6 points to get within 10 points (44-34) of the Coogs; however, Houston maintained a double-digit lead the entire second half.
Caleb Mills scored five straight points to boost Houston's lead to 49-34. Tulane responded with 10-5 spurt; but, Mills, once again, scored five consecutive points. Mills swished a three-pointer then scored a reverse layup on a smooth drive to the basket.
Mills scored a team-high 18 points on 7 for 10 field goal shooting (4 for 7 on threes).
Quentin Grimes added 15 points (6 for 11 field goal shooting); 5 assists and 4 rebounds.
"I really just do whatever coach needs from me out on the court," Grimes commented. "For the last four or five games, he has really been on me about going out there and doing what he wants. Whether it be points, assists, just go out there with the right mindset and play hard. Everything else will just fall in place."
Grimes pulled down an offensive rebound and scored a putback which pleased Head Coach Kelvin Sampson.
"Not only did he get an offensive rebound," Sampson said as he and Grimes touched fists. "He got an offensive rebound and a putback."
Nate Hinton was 3 assists shy of a triple double. Hinton had 12 points, 12 rebounds, and 7 assists.
Houston led by as much 19 points in the game. Houston has not lost back-to-back regular season games since January 2017.
"We don't want to lose two in a row," Hinton remarked. "And, we know losing has repercussions to it. We have to keep moving forward, it's a mindset. Coach gets us right and we go in there and look into everything we did wrong and try to fix it."
Houston's next game is Sunday, Feb. 9, at home, versus the Wichita State Shockers. Houston defeated the Shockers 65-54 last month in Wichita. Sunday's tip time is scheduled for 2 p.m. CT. ESPN will broadcast the game.
CLICK HERE for The HRR's write-ups of Coogs' men's hoops games.