Coogs lose 60-59 at Memphis

Byron L. Riley, CPA; 832-303-3995; Do you need tax help? IRS Tax help available- Free Consult
POSTED: February 22, 2020 -- 5:12 p.m. CT
MEMPHIS, TN (FedEx Forum) -- The 22nd-ranked Houston Cougars lost 60-59 at Memphis Saturday afternoon. Houston's redshirt-freshman Caleb Mills missed a step back jump shot over Memphis freshman big man Precious Achiuwa with 4 seconds remaining. With the loss Houston is now to 21-7 overall and 11-4 in the American Athletic Conference. With the win, Memphis 19-8 and 8-6.
Mills scored a game-high 21 points on 7 for 14 field goal shooting. Mills and fellow freshman guard Marcus Sasser led Houston's scoring attack. Sasser scored 18 points in the game on 6 for 15 field goal shooting. The rest of the team made 8 of 32 field goal attempts.
Sasser scored 9 straight points to change a 46-45 Houston deficit into a 54-51 Houston lead with 3:36 remaining in the game.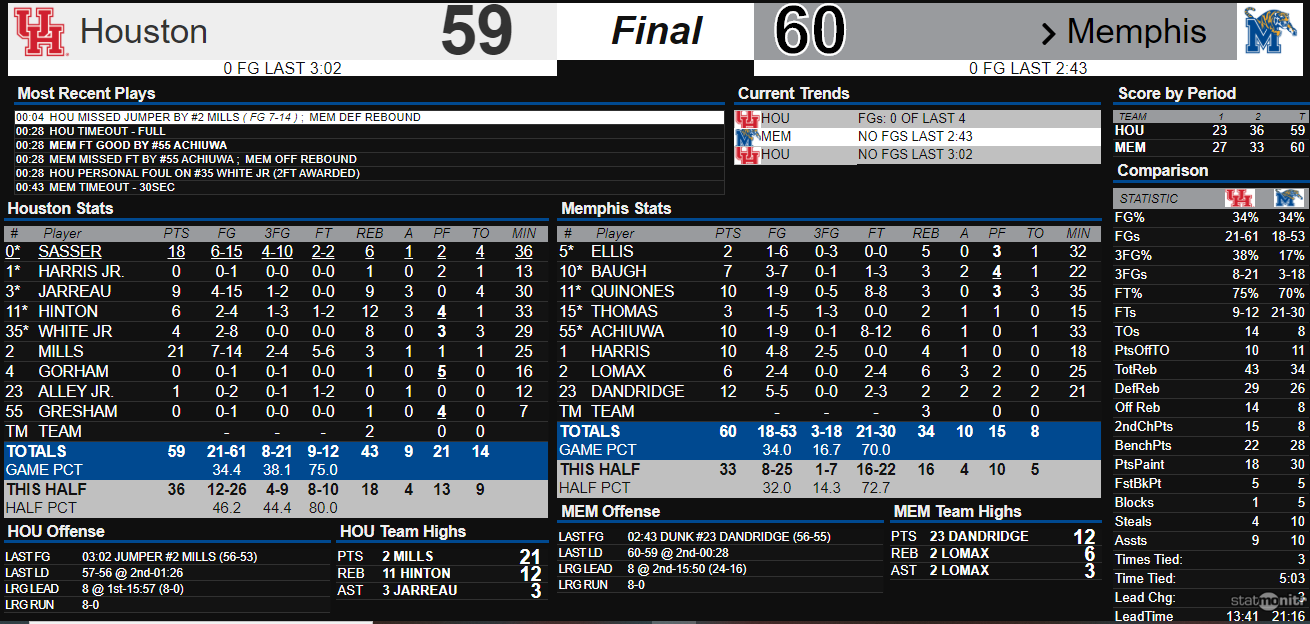 Byron L. Riley, CPA; 832-303-3995; Do you need tax help? IRS Tax help available- Free Consult
---
SUPPORT The Houston Roundball Review:
Purchase your Coogs' gear at Fanatics.com via this link;
Get ESPN+ via this link;
Save when you get the Disney bundle (ESPN+, Disney+ and Hulu) with this link;
OR, contribute via PayPal or the Cash App.
---
Sasser drained two 3-point shots to put Houston up 6-0. Houston led 8-0 before Memphis Head Coach Penny Hardaway called a timeout with 15:49 on the clock. The Tigers did not score for 2 more minutes; however, Houston did not capitalize. Houston missed 5 shots in a row before Alex Lomax made a layup to put the Tigers on the scoreboard.
Houston's cold shooting continued. Houston missed 7 of its next 8 field goal attempts while Memphis warmed up to take a 13-10 lead with 7:33 until halftime.
Houston trailed 22-14 when Mills sank a jumper. After a basket by Memphis, Mills hit a three-pointer to cut Houston's deficit to 24-19. The Coogs trailed 26-20 when Sasser swished a 3 to slice their deficit to 3 with 40 seconds remaining in the opening half.
Memphis led 27-23 at halftime. Houston shot an icy 9 for 35 from the floor in the opening half. Sasser and Mills each scored 9 points in the first half.
Memphis shot only slightly better. The Tigers shot 10 for 28 from the floor and 5 for 8 from the foul line.
After poor shooting in the first half, Houston shot the ball well in the second half. Houston made 12 of its 26 field goal attempts in the second half. However, the Coogs turned over the ball far too many times. Houston had 9 turnovers in the second half; and, Memphis scored 14 points off the turnovers.
Memphis spent a lot of time at the free throw line in the second half. The Tigers went 16 for 22 from the line in the second half which helped to cover up their 8 for 25 field goal shooting in the half.
Mills nailed a jumper for a 56-53 Houston lead. Memphis' big man Malcolm Dandrige got a dunk to trim Houston's lead to 56-55 with 2:43 on the clock. After a timeout, Houston got the ball to Mills. Mill was fouled. He made the first and missed the second foul shot. Fabian White picked up a bad foul when Tigers' guard Lester Quinones grabbed the missed shot and White reached in and made contact with Quinones.
Quinones made both free throws to tie the game at 57 with 1:26 on the clock. After a timeout, Sasser missed a 3 point shot attempt. Nate Hinton was whistled for a loose ball foul against point Alex Lomax. Lomax made both free throws. Houston trailed 59-57. On Houston's possession, Mills attacked the basket and was fouled. He made both free throws to tie the game at 59.
After a Memphis timeout, Mills got a deflection near halfcourt. Memphis maintained possession. Ultimately, Achiuwa caught a pass and drove to the basket. Achiuwa was fouled by Fabian. Achiuwa missed the first free throw but made the second attempt.
Houston Coach Kelvin Sampson called timeout to set up a final play. Mills got the ball with about 12 seconds on the clock; he stutter dribbled and went left to attempt a tough step back over Achiuwa. The shot missed; White got the rebound before Lomax was able steal the ball from White. The ball bounced out of bounds to Memphis with 0.3 seconds on the clock.
After a review by the refs to confirm time remaining and possession, Memphis got the ball. The Tigers tossed the ball into the frontcourt for anyone to touch and run off the 0.3 seconds.
Houston's 4 conference losses this season have been by a total of 6 points: 63-61 at Tulsa (Jan. 11); 65-63 at Cincinnati (Feb. 1); 73-72 at SMU (Feb. 15); and 60-59 at Memphis (today, Feb. 22).
Houston's next game is Sunday, Mar. 1, at home, versus the Cincinnati Bearcats. Tip time is scheduled for 12 p.m. CT. ESPN will broadcast the game.
Byron L. Riley, CPA; 832-303-3995; Do you need tax help? IRS Tax help available- Free Consult
NOTE:
Houston has not lost back-to-back games this season. Houston is 6-0 after a loss this season. Going back to 2017, Houston is 16-0 after losing a game.
CLICK HERE for The HRR's write-ups of Coogs' men's hoops games.