Coogs' offense goes cold in 64-62 loss at Cincinnati

POSTED: February 1, 2020 -- 11:20 p.m. CT
CINCINNATI, OH (Fifth Third Arena) -- The Houston Cougars lost 64-62 to the Cincinnati Bearcats Saturday. Houston's offense went ice cold the final 11 minutes of the game. Houston big man Brison Gresham scored a layup for a 55-42 lead with 11:31 on the game clock. Houston didn't make another basket until 44 seconds remained in the game.
Houston (17-5 overall, 7-2 in AAC) missed 14 consecutive field goal attempts which helped Cincinnati (14-7, 7-2) erase a 15 point second half deficit (53-38) and pick up a much needed victory.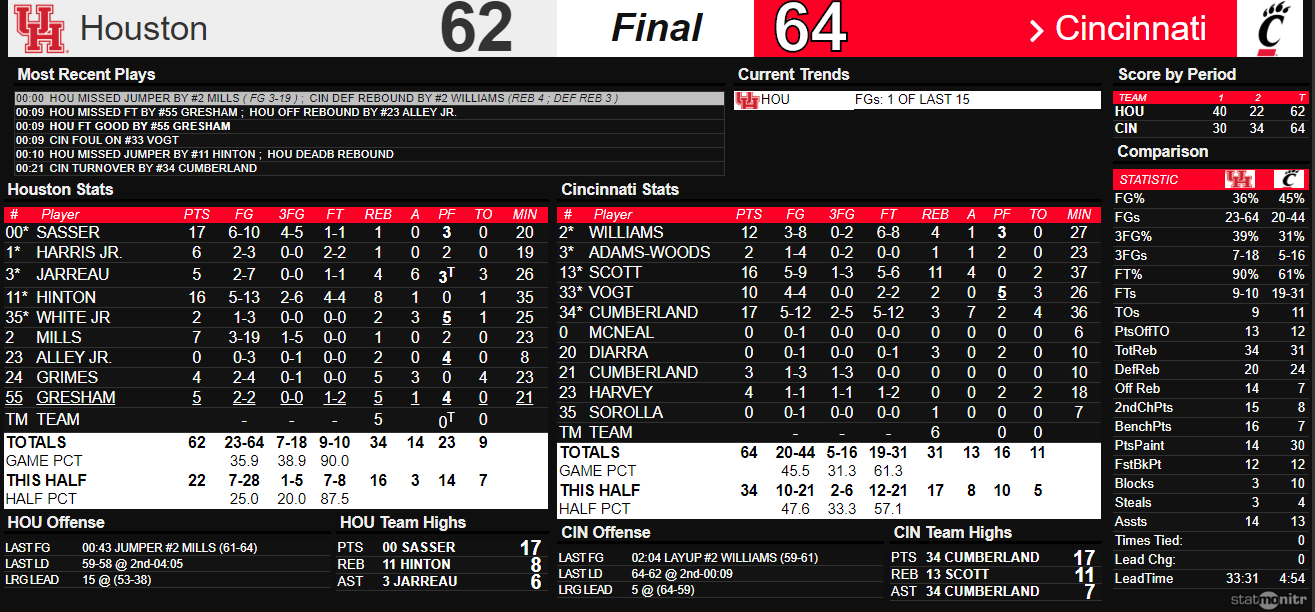 ---
SUPPORT The Houston Roundball Review:
Purchase your Coogs' gear at Fanatics.com via this link;
Get ESPN+ via this link;
Save when you get the Disney bundle (ESPN+, Disney+ and Hulu) with this link;
OR, contribute via PayPal or the Cash App.
---
Houston's offense was clicking to start the game. Freshman guard Marcus Sasser scored 11 of the Coogs' first 15 points on perfect 4-for-4 shooting to give Houston a 15-8 lead. Sasser picked up his second foul and went to the bench; but, redshirt-freshman Caleb Mills checked into the game and knocked down a jumper for a 19-11 Houston lead.
Houston led 23-13 and Cincinnati called timeout. Houston's torrid shooting tailed off the next three minutes; but, Cincinnati didn't score until Jarron Cumberland split two free throws.
Nate Hinton heated up for Houston and scored 14 points in the first half to help Houston lead 40-30 at halftime.
Houston made 16 of 36 field goal attempts in the opening half including 6 for 13 from three-point range. Cincinnati shot 10 for 23 from the floor (3 for 10 on threes).
Cincinnati big man Chris Vogt scored the first 4 points of the second half; but, Sasser nailed his fourth three-point basket of the game. Then, DeJon Jarreau knocked down a jumper. Houston led 47-36 with 14:46 on the clock.
Jarreau converted a three-point play; then, Sasser followed with layup and free throw for a 53-58 Houston lead.
Caleb Mills missed a three-point shot. Gresham scored for a 55-42. After Gresham's basket, Houston's offense began to struggle.
Jarreau missed a layup. Mills missed another jumper. Senior Chris Harris sank two free throws for a 57-45 lead.
Nate Hinton took a bad shot and missed. Jarreau turned over the ball.
Cincinnati didn't take advantage of these struggles; but, once Zach Harvey made his second of two free throws, Tre Scott nailed a three-pointer from the top of the key to slice Houston's lead to 57-51.
Houston's Quentin Grimes committed a turnover which led to slam dunk by Keith Williams. Next, Mills had a layup attempt roll off the rim. After Harvey had a turnover, Sasser missed a jumper which Jarron Cumberland rebounded and tossed a sensational bounce pass to Williams in the frontcourt for a slam dunk.
57-55, Houston.
Then, with 6:16 on the clock, the game entered Bizarro World. After losing the ball, DeJon Jarreau, Keith Williams, and Mamoudou Diarra dove on the floor for the ball. After the scrum, the refs huddled for a few minutes; checked the monitor and determined Jarreau had bitten a Cincinnati player.
The initial replay indicated this:
However, a different angle indicated this:
A flagrant-2 foul was called on Jarreau and he was ejected from the game. Jarron Cumberland split two free throws.
Nate Hinton's hustled after another Houston missed field goal attempt and was fouled. Hinton was fouled and made both free throws for a 59-56 Houston lead.
Mills missed another jumper and Jarron split free throws at two more visits to the foul line.
Houston continued missing jumpers. Keith Williams split 2 free throws to tie the game at 59. Williams scored a layup with 2:06 remaining for the Bearcats' first lead since they led 8-5 early in the first half.
Mills another jumper then Quentin Grimes was picked clean by Williams. Williams was fouled and made both free throws for a 63-59 lead. Mills missed yet again which led to Jarron Cumberland's being fouled once more. As he did for most of the game, Jarron split the 2 free throws.
Mills finally made a jumper to end to Houston's field goal drought to trim Houston's deficit to 64-61. Jarron Cumberland was whistled for an offensive foul which gave Houston life with 22 seconds remaining. Nate Hinton missed badly on a jumper near the free throw line; but, Gresham was fouled by Chris Vogt with 10 seconds on the clock.
Gresham made the first free throw but missed the second attempt. Cedrick Alley Jr got the offensive rebound and passed the ball to Mills. Mills got a decent look at the basket; however, he missed the shot to seal the win for Cincinnati.
Mills finished the game 3 for 19 from the floor.
Houston made only 7 of 28 field goal attempts in the second half. Houston shot 23 for 64 from the floor for the game and 9 for 10 from the free throw line.
Cincinnati was 20 for 44 from the floor and 19 for 31 from the line.
Houston's next game is Thursday, Feb. 6, at home, versus the Tulane Green Wave. Tip time is scheduled for 8 p.m. CT. ESPNU will broadcast the game.
CLICK HERE for The HRR's write-ups of Coogs' men's hoops games.