Caleb Mills scores 27 in Coogs 76-43 win over Tulsa

Byron L. Riley, CPA; 832-303-3995; Do you need tax help? IRS Tax help available- Free Consult
POSTED: February 20, 2020 -- 6:50 a.m. CT
HOUSTON, TX (Fertitta Center) -- The 22nd-ranked Houston Cougars improved to 21-5 and 11-3 in the American Athletic Conference with a 76-43 rout of the Tulsa Golden Hurricane. This is the second consecutive home game Houston has won 76-43. The Coogs demolished Wichita State 76-43 on Feb. 9. Tulsa is now 17-9 overall and 9-4 in The American.
Houston scored the final 7 points in the first half to turn a 20-19 deficit to a 26-19 lead at the intermission.
Caleb Mills started the second half in place of Quentin Grimes. Grimes injured his hip in the first half and was unable to continue playing. The second half began as "The Caleb Mills Show". Mills sank a basket outside the paint then knocked down three consecutive three point shots for 11 points in the first 3:39 of the half. Next, Mills split two free throws before nailing another 2-point basket and his fourth 3-point shot of the half. Lastly, after Mills was fouled on a three-point shot attempt, he made 2 of 3 free throws for 19 consecutive points for Houston.
NINETEEN. Nineteen points on six field goals: 4 threes made, 2 twos, and 3 free throws. "The Caleb Mills Show" indeed. Mills' light show gave Houston a 45-28 lead over Tulsa with 13:52 left in the second half. Therefore, in the first 6:08 of the second half, Mills outscored Tulsa 19-8.
After the game, Mills was asked about the zone he was in early in the second half.
"It was really just me making shots," Mills responded very nonchalantly. "My teammates were getting me the ball. They wanted me to go make plays."
Mills finished the game with 22 of his game-high (and season-high) 27 points in the second half. Mills made 9 of his 16 field goal attempts (5 for 9 threes) and 4 for 7 from the line. In Houston's 3 previous games, Mills made 6 of 31 field goal tries including 1 for 12 on threes.
"I came into the game, not wanting to settle for threes," Mills said. "It (his three-point shot) has been off; but, I started getting my shots off midrange and they just started coming to me easily."
"Freshmen hit that wall a little bit," Houston Head Coach Kelvin Sampson said. "They haven't played basketball this long, this intense, this many games. The youngster over here (Mills) was hitting that wall a little bit. He struggled here lately. I told him at shootaround, he needed to start mixing some makes with his misses."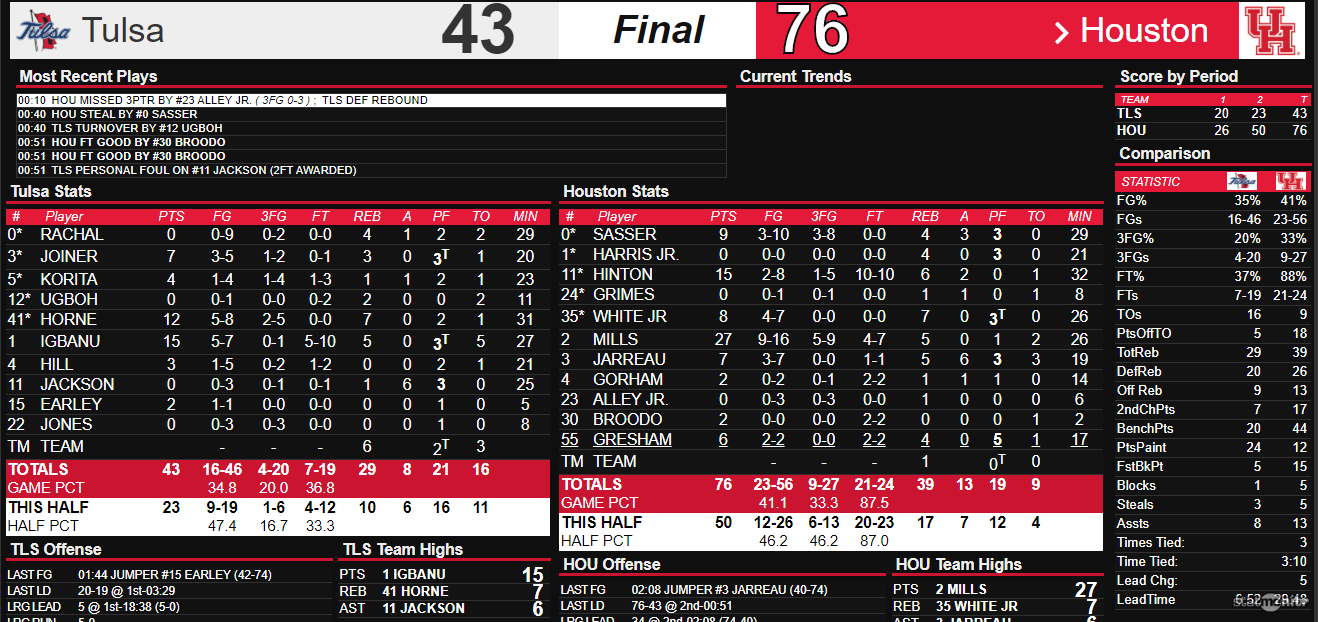 Byron L. Riley, CPA; 832-303-3995; Do you need tax help? IRS Tax help available- Free Consult
---
SUPPORT The Houston Roundball Review:
Purchase your Coogs' gear at Fanatics.com via this link;
Get ESPN+ via this link;
Save when you get the Disney bundle (ESPN+, Disney+ and Hulu) with this link;
OR, contribute via PayPal or the Cash App.
---
Nate Hinton made two free throws to end Mills' 19-0 run. Houston center Brison Gresham made two foul shots. Then, DeJon Jarreau was fouled by Tulsa big Martins Igbanu. Tulsa Head Coach Frank Haith didn't agree with the foul call and made his opinion known to the official. Haith was given a technical foul which sent Hinton back to the line. Hinton made both free throws for a 51-28 Houston lead.
Then, after Gresham and Igbanu were issued a double-foul, Haith was given a second technical foul which means he was ejected from the game. Hinton made two more free throws to put Houston up 53-28.
Five seconds later, Igbanu committed a turnover; then, when Fabian White Jr tried to take the ball from Igbanu, Igbanu shoved White. White fell to the court. Tulsa's Elijah Joiner joined the fray to defend his teammate and was whistled for a flagrant 2 foul which is an automatic ejection. Nate Hinton made 2 more free throws. White and Igbanu each picked up a technical foul.
After the commotion died down, Hinton was a perfect 8 for 8 from the foul line and Houston led Tulsa 55-28 with 12:45 remaining in the game.
Tulsa did not get closer than 24 points the rest of the half. Hinton finished the game with 15 points on 2 for 8 field goal shooting and a perfect 10-for-10 on free throws.
Neither team shot the ball well in the first half. Tulsa shot 25.9% (7 for 27) while Houston shot 36.7% (11 for 30). Both teams made 3 of 14 three-point shots in the first 20 minutes.
Houston finished the game 23 for 56 on field goals (9 for 27 on threes) and 21 for 24 on free throws. Tulsa was 16 for 46 from the floor (including 4 for 20 from three) and 8 for 19 from the line.
Houston's next game is Saturday, Feb. 22, in Memphis, against the Memphis Tigers. Tip time is scheduled for 1 p.m. CT. ESPN2 will broadcast the game.
Byron L. Riley, CPA; 832-303-3995; Do you need tax help? IRS Tax help available- Free Consult
NOTES:
Kelvin Sampson didn't have a medical update on Grimes; however, Sampson did describe Grimes' injury: "I do know it's his pelvis. His ball - the covering that goes over the top of it. He fell on top of that and hurt himself. I don't have an update."
With the win, Houston improves to 6-0 after a loss this season. Going back to 2017, Houston is 16-0 after losing a game.
CLICK HERE for The HRR's write-ups of Coogs' men's hoops games.