Coogs hold off South Florida, 62-58, for 20th win this season

POSTED: February 12, 2020 -- 11:13 p.m. CT
TAMPA, FL (Yuengling Center) -- The 20th-ranked Houston Cougars never trailed in a gritty 62-58 road win over the USF Bulls Wednesday night. With the win, Houston improves to 20-5 and 10-2 in the American Athletic Conference. USF is 11-13 and 4-7.
For the second straight game, Houston never trailed in the ball game. The score was tied at 0 for the first 73 seconds of the game until Houston's Quentin Grimes sank a three-point shot for a 3-0 Houston lead.
Houston led by as much as 10 points (24-14) in the opening half; however, USF scored 9 consecutive points to pull within 1 (24-23) with 3:55 remaining in the opening half. Houston guard DeJon Jarreau knocked down a jumper to end Houston's field goal drought and give Houston a 26-23 lead.
The Coogs led 29-23 when USF's Justin Brown nailed a three-pointer to cut the Coogs' lead in half; but, Fabian White Jr drained a jumper to close out the scoring and send the teams to the locker room with Houston ahead 31-26 at the half.
Houston shot 50.0% (13 for 26) in the first half while USF made only 7 of 22 field goal attempts. However, Houston was whistled for 11 fouls in the first half which resulted in the Bulls shooting 14 free throws in the half. USF made 10.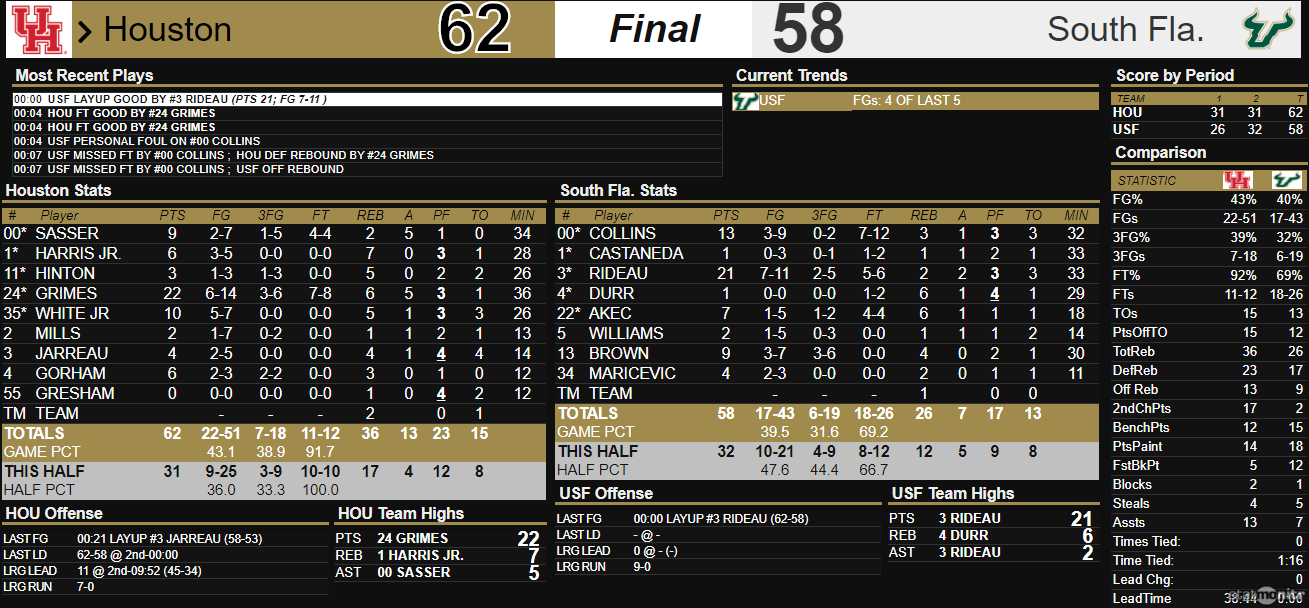 ---
SUPPORT The Houston Roundball Review:
Purchase your Coogs' gear at Fanatics.com via this link;
Get ESPN+ via this link;
Save when you get the Disney bundle (ESPN+, Disney+ and Hulu) with this link;
OR, contribute via PayPal or the Cash App.
---
Houston did not score until the 15:59 mark of the second half when Fabian White knocked down another jumper shot. Fortunately for Houston, USF only scored 2 points before White's basket.
White's basket ended Houston's field goal drought and began a 5 for 5 hot streak for the Coogs which helped Houston lead 43-32 at the 12:08 mark of the second half. Quentin Grimes went 3 for 3 during the hot streak.
Houston missed 9 of its next 10 field goal attempts. USF got within 49-56 when, once again, Fabian White delivered. White caught the ball in the post with his back to the basket. Instead of trying to back down his defender, White turned and face up to the basket before knocking down a jump shot.
The teams exchanged making 2 free throws when USF's Justin Brown nailed a line-drive three-pointer to cut Houston's lead to 53-51 with 3:08 left in the game.
On Houston's possession, Jarreau nearly lost the ball before passing to White in the post. White almost turned over the ball; but, he passed to Grimes and Grimes got a friendly roll on a three-point shot for a 56-51 Houston lead 2:39 remaining.
USF guard Laquincy Rideau was fouled and made both free throws. Both teams missed a three-point shot attempt. Jarreau took an ill-timed pull up jumper and missed. USF's David Collins grabbed the rebound; dribbled quickly up the court; and was fouled. Collins went to the line but missed both free throws.
Houston led 56-53 with less than 1 minute remaining. Houston called timeout with 43 seconds on the clock. After the timeout, Jarreau attacked the basket; missed a floater; and, from my view, teammate Brison Gresham tipped in the miss. (Play-by-play lists Jarreau as tipping in his own miss.) Regardless of who tipped in the shot, Houston lead 58-53 with 19.6 seconds remaining.
Rideau got open from behind the line and swished a three-pointer to trim Houston's lead to 58-56 with 10.9 seconds remaining. Grimes was fouled. He made both free throws to put Houston up 60-56 with 9.7 seconds on the clock.
Next, Grimes fouled David Collins. Collins missed both foul shots. Grimes rebounded the second missed free throw and was fouled. Grimes iced the game at the line by making two more foul shots. Rideau scored a layup at the buzzer for the final score.
Quentin Grimes scored game-high 22 points. Grimes added 6 rebounds and 5 assists. Fabian White was next with 10 points.
Laquincy Rideau scored 21 points to lead USF.
Houston's next game is Saturday, Feb. 15, in Dallas, against in-state rival SMU. Tip time is scheduled for 5 p.m. CT. ESPNU will broadcast the game.
NOTE:
With the win, Houston Head Coach Kelvin Sampson moved past Alden Pasche as the third-winningest coach in school history behind Guy Lewis (592) and Pat Foster (142). Sampson is 136-57 in six seasons with the Coog, whose 80 victories over the past three seasons are the fourth most in the nation behind Gonzaga, Virginia and Duke. Pasche was 135-116 from 1946-56.
CLICK HERE for The HRR's write-ups of Coogs' men's hoops games.