No. 6 Houston defeats Temple 76-50 to begin AAC play

The Saxenian Family is a supporter of The Houston Roundball Review.
POSTED: December 22, 2020 -- 11:55 p.m. CT
HOUSTON, TX (Fertitta Center) -- The 6th-ranked Houston Cougars men's basketball team defeated the Temple Owls 76-50 Tuesday evening to improve to 6-0 this season.
Houston's Quentin Grimes scored a game-high 22 points. Grimes added 7 rebounds. Three other Houston players scored in double-digits in the game: Justin Gorham scored 14 points and snared 12 rebounds for the first double-double of his UH career; newcomer Reggie Chaney scored 13 points in 21 minutes on 6 for 8 field goal shooting; and true freshman, Tramon Mark, scored 12 points on 4 for 9 shooting from the floor.
Houston never trailed in the ball game.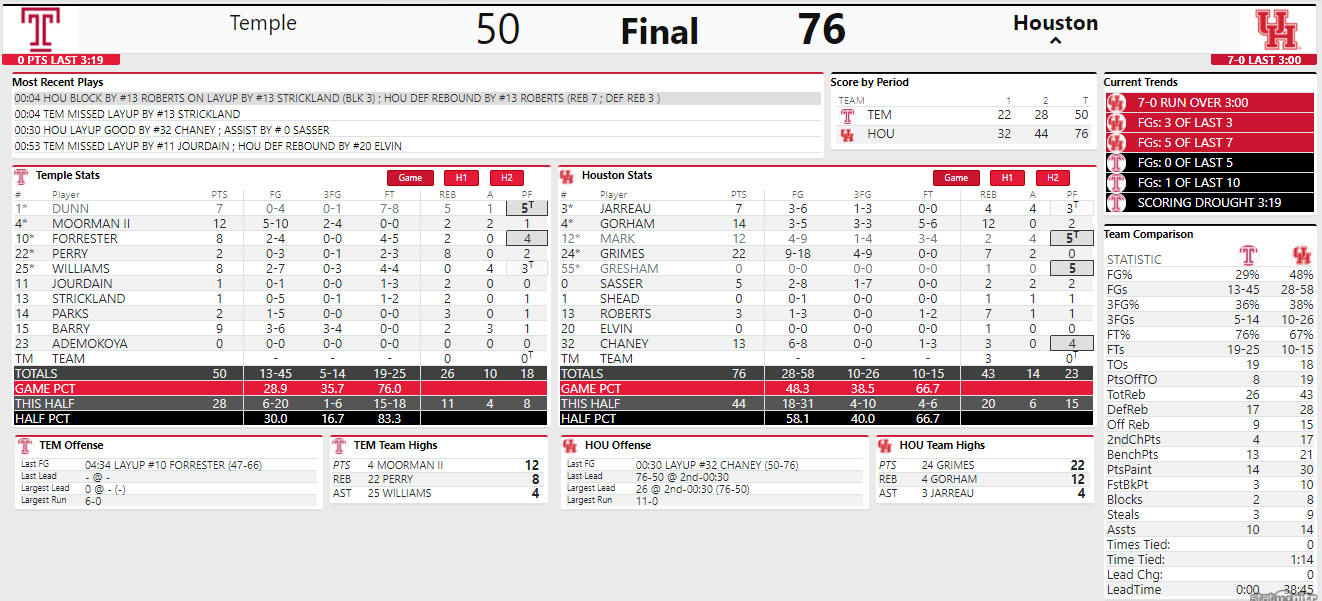 Grimes sank a three-point basket to get Houston on the scoreboard. Then, Gorham sank his first of 3 three-point baskets in the game for a 6-1 Houston lead with 17:25 remaining in the opening half. Grimes was a perfect 3 for 3 from three-point range in the game. The 3 made threes is Gorham's most as a Coog.
"Justin's got a swagger about him," Kelvin Sampson, Houston Head Coach Kelvin Sampson said after the game. "He's not afraid."
With his 12 rebounds tonight, Gorham has 50 boards in Houston's six games this season for an average of 8.3 rebounds per game.
"Obviously, he's never rebounded at this level," Coach Sampson remarked. "But, he's never had it shoved down his throat everyday like he does either."
Grimes nailed his second three-point shot for a 9-3 Houston lead.
"I just like to play tough, physical," Gorham acknowledged after the game. "Really, the Houston culture. I just go out there; do my thing with the rebounding. I like rebounding. You just got to play with that swagger. I mean it's always good to play with swagger.
"The swagger that nobody can keep you off the offensive boards. The swagger that you can do whatever you can do; so, that's the swagger I play with."
Houston senior DeJon Jarreau swished a three-point shot for Houston's largest lead of the first half at 25-10.
Despite not making a field goal in the final 4:56 of the half, Houston led Temple 32-22 at the half.
---
SUPPORT The Houston Roundball Review:
Purchase your Coogs' gear at Fanatics.com via this link;
Get ESPN+ via this link;
Save when you get the Disney bundle (ESPN+, Disney+ and Hulu) with this link;
OR, contribute via PayPal or the Cash App.
---
Temple's Jake Forrester made 2 free throws to reduce Houston's lead to 32-24 at the 19:18 mark of the second half; however, Grimes drained another three-point shot followed by a pullup jumper by Tramon Mark and a pullup jumper by DeJon Jarreau for a 39-26 Houston lead.
The Coogs led 44-30 before scoring 11 straight points for a 55-30 lead with 12:20 to go in the game. Temple managed to get within 18 points (61-43) with 6:07 remaining; however, Grimes knocked down his 4th three-point shot of the game to boost the margin to 21. Houston outscored Temple 15-7 down the stretch to earn the 76-50 victory.
Houston had 18 turnovers in the game with a turnover percentage of 26.9 (18 turnovers on 67 possessions). However, Temple only scored 8 points off the 18 turnovers.
The Coogs scored 19 points off Temple's 19 turnovers.
Reggie Chaney scored 13 of Houston's 21 bench points.
"Of all the guys I saw on the transfer wire, the guy I really, really wanted was Reggie because he fit us the best," Coach Kelvin Sampson said. "We have to get kids in here that understand how hard we want to play; the toughness we want to play with; and, we also thought we could develop Reggie around the basket."
Coach Sampson added, "I love Reggie Chaney; and, I think he's going to continue to get better."
Houston redshirt-freshman J'Wan Roberts had 3 of Houston's 8 blocked shots. In 15 minutes of action, Roberts had 7 rebounds in addition to the 3 blocks.
"My job when I came in is to rebound, block shots, run the floor," Roberts said after the game. "That's what I try to do and be as aggressive as I can."
UP NEXT:
Houston's next game is Saturday, December 26, at 1 p.m., at UCF, in Orlando, FL. ESPN2 will broadcast the game. This game was originally scheduled to be played Dec. 15 in the Fertitta Center but COVID-19 issues forced the game to be rescheduled to this date and location.
CLICK HERE for The HRR's write-ups of Coogs' men's hoops games.