No. 10 Houston uses strong second half to defeat South Carolina

The Saxenian Family is a supporter of The Houston Roundball Review.
UPDATED: December 6, 2020 -- 10:38 a.m. CT
POSTED: December 5, 2020 -- 11:51 p.m. CT
HOUSTON, TX (Fertitta Center) -- The 10th-ranked Houston Cougars men's basketball team earned a "culture win" Saturday evening over the South Carolina Gamecocks. Despite Head Coach Kelvin Sampson and assistant coach Kellen Sampson missing the game because of COVID-19 protocol AND leading scorer Marcus Sasser and Caleb Mills, American Athletic Conference Preseason Player of the Year, sitting out the game because of sprained ankles, Houston defeated South Carolina 77-67 to improve to 4-0 this season.
Assistant Coach Quannas White was the Cougars' acting head coach against South Carolina.
"It was our culture," Kelvin Sampson said after the game via Zoom from his home. "It was a great culture win. I hope you don't get tired of me saying that; but, that's what we've built here: a great culture.
"When I talked to the guys before the game, I said, 'You don't have to win the game; but, our culture does. And, I thought our second half was a great indicator of that."
"Coach Sampson has done a great job and building an unbelievable culture - not just at Houston; but, everywhere he's been," Coach Quannas White said during his postgame press conference. "Our guys played their hearts out. The first half wasn't like we liked. It wasn't Cougar basketball; but, at halftime, our guys went in (to the locker room); they listened. They came out and played Cougar basketball."
Houston struggled to make baskets in the first half. Houston went 9 minutes without making a basket and trailed by as much as 7 points in the first half. Senior DeJon Jarreau ended the field goal drought and went on a personal 9-0 run; however, the Gamecocks 32-25 with less than 2 minutes remaining in the opening half. The Coogs made 3 of their last 4 field goal attempts and trailed 35-31 at halftime.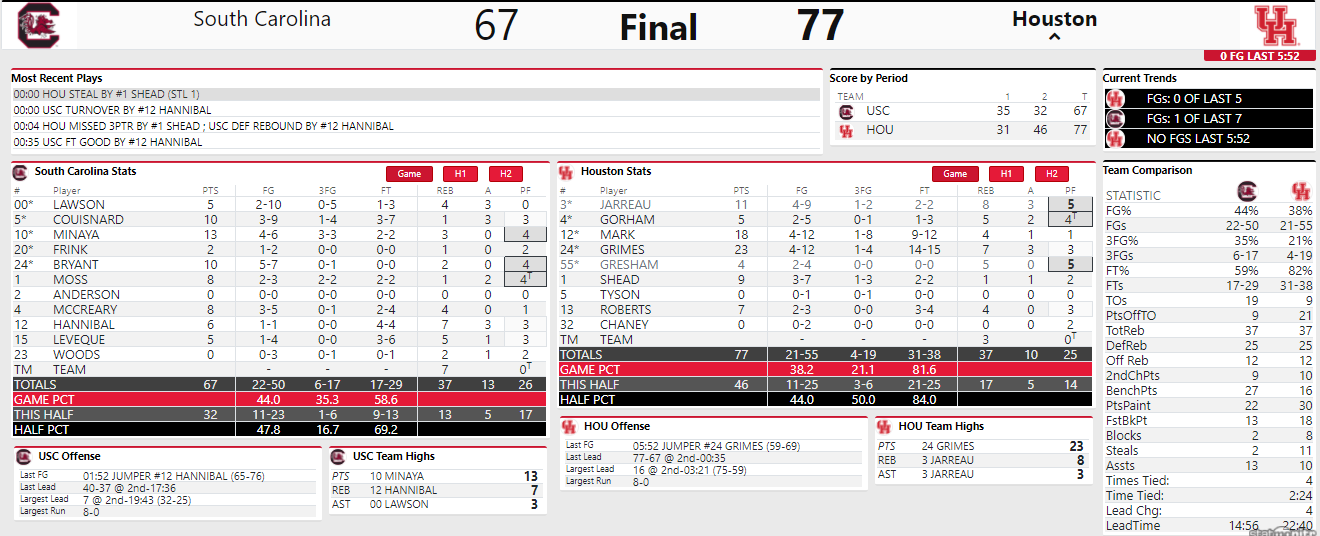 South Carolina's Justin Minaya sank a three-point shot to put the Gamecocks ahead 38-31. Houston's Quentin Grimes answered with a three-point basket to bring Houston within 4; however, the Coogs failed to get back on defense and the Gamecocks capitalized with an alley-oop slam dunk in transition.
Timeout, Houston. Barely 1 minute into the second half.
Kelvin Sampson loved the timeout.
"We've prided ourselves; and, so has Quannas when he was a player. He's seen it on both sides. He's seen it as a player and as an assistant coach. We don't hesitate there.
"We hold our guys to standards. We require them to play up to the standards that we set for this program. And, there's a big difference in playing hard and competing. They finished the half playing hard; and, they started the (second) half playing hard. But, they didn't compete at any point in the first half; and, they sure didn't compete to start the second half. And, Coach Q called timeout to remind them of that; and, I thought it was a tremendous timeout by him. The timing was great. I can only imagine what he said in the huddle; but, the kids responded.
"And, I think that's a sign of great respect on both sides," Coach Sampson summarized.
---
SUPPORT The Houston Roundball Review:
Purchase your Coogs' gear at Fanatics.com via this link;
Get ESPN+ via this link;
Save when you get the Disney bundle (ESPN+, Disney+ and Hulu) with this link;
OR, contribute via PayPal or the Cash App.
---
Coach Quannas said, "I can't say everything that I said in the timeout (laughs); but, similar to Coach Sampson, when our guys are not doing what they need to do, we got to hold them accountable. That's what Coach (Sampson) has preached since he's been here.
"He holds guys accountable. They need to be dependable; and, I didn't think the first couple minutes (of the second half) we came out and showed what we needed to do to get back in the game. That's what was going on in that timeout. Accountability."
Houston responded with an 8-0 run to lead 42-40. South Carolina tied the game at 42; then, Houston freshman Jamal Shead made a pullup jumper for a 44-42 lead. Justin Gorham scored a layup and another Houston freshamn, Tramon Mark knocked down a pull up jumper for a quick 6-0 spurt and a 48-42 Houston lead.
South Carolina trimmed Houston's lead to 50-49 with 10:57 on the game clock.
Tramon Mark was fouled while shooting a three-pointer. He made all three foul shots for a 53-49 Houston lead. Then, Tramon blocked a shot which lead to Jamal Shead getting fouled while attempting a layup. As a result of the foul, Shead crashed to the floor. A flagrant 1 foul was called which meant 2 free throws and Houston maintained possession of the ball after the foul shots. Shead made both free throws; then, Houston redshirt-freshman J'Wan Roberts rebounded a missed layup by Justin Gorham. However, Roberts missed; but, he got rebounded his miss and scored a layup for a 57-49 Houston lead.
Houston's freshmen (Mark, Roberts, and Shead) combined to score all 7 of Houston's points in that 7-0 spurt.
South Carolina did not get closer than 5 points in the final 8:53 of the game.
Quentin Grimes and Tramon Mark combined to go 14 for 15 from the foul line in the last 8:36.
Grimes scored 19 of his game-high 23 points in the second half: 12 of his 19 came at the line. Grimes also had 7 rebounds, 3 assists, and 2 steals. He played 39 of a possible 40 minutes.
---
SUPPORT The Houston Roundball Review:
Purchase your Coogs' gear at Fanatics.com via this link;
Get ESPN+ via this link;
Save when you get the Disney bundle (ESPN+, Disney+ and Hulu) with this link;
OR, contribute via PayPal or the Cash App.
---
In his first college start, Tramon Mark scored 18 points in the game -- 11 in the second half. He added 4 boards, 2 steals, 1 assist, and 1 blocked shot. After the game, Mark was upset about the 3 free throws he missed.
"The importance of getting to the free throw line is getting there and MAKING THEM. You've got to make your free throws. I don't know what shooting right now; but, I know I could be shooting way better. I go there and miss a couple."
Tramon has a skill to get to the foul line. He's attempted 36 free throws in his first 4 college basketball games and made 28.
"It's pretty easy for me to get there. I just got to go there and get them all. I feel like I shouldn't miss any free throws."
DeJon Jarreau battled foul trouble much of the game; however, before he fouled out, Jarreau produced 11 points, 8 rebounds, 3 assists, and 1 blocked shot in 25 minutes.
Houston finished the game with 8 blocked shots.
The game featured 51 fouls and 67 free throws. Houston made 31 of 38 foul shots (21 for 25 in the second half) while South Carolina made 17 of 29 attempts (9 for 13 in the second 20 minutes).
"I want to give credit to the culture that we've established here," Kelvin Sampson concluded.
Tramon Mark summed up Cougar Culture: "Cougar Culture is tough. That's how we win games. We come with that every game. We execute everything Coach wants us to do through the Cougar Culture. That's just how we win games. Everybody plays hard. He holds everybody accountable. Literally, everybody on the team is held accountable. You gotta do your job; and, we love that. That's why we go out and execute what we do and win."
NOTE:
After the game, Kelvin Sampson detailed what happened regarding the COVID-19 protocol involving him and Kellen Sampson.
"I'm feeling fine," Coach Kelvin Sampson began. "When we tested 4 days last week: Monday. Three required days: Monday, Wednesday, Thursday. We all tested negative Monday. We all tested negative Wednesday. On Thursday, Kellen tested positive; and, then, we went back through the contact tracing with our doctors and John Houston and then they called me and told me that I was contact traced.
"And, I said, 'Okay. I don't want to put anybody in jeopardy. I want to do everything that's by the rules; follow all the protocols; do all what's safe for our kids.' And, they told me that I would miss - that I would have to sit out two games; so, Kellen is going to be out 10 days. He'll be back the day before Central Florida. I think on that Monday; and, I'll be back the day before Rice. I miss tonight also against Sam Houston State."
UP NEXT:
Houston's next game is Wednesday, December 9, at 7 p.m., versus Sam Houston State, inside Fertitta Center. ESPN+ will show the game.
CLICK HERE for The HRR's write-ups of Coogs' men's hoops games.