No. 17/18 Houston tops No. 13/14 Texas Tech, 64-53

The Saxenian Family is a supporter of The Houston Roundball Review.
UPDATED: November 30, 2020 -- 1:33 p.m. CT
POSTED: November 29, 2020 -- 8:51 p.m. CT
FORT WORTH, TX (Dickies Arena) -- The Houston Cougars (17th / 18th-ranked) defeated Texas Tech 64-53 Sunday to improve to 3-0 on the young season. Houston defeated a top 25 team at "technically" a neutral site -- much, much more Red Raiders' fans inside Dickies Arena than Houston fans -- by double digits despite not making a field goal the final 12:27 of the game.
Houston won with defense and making free throws. The Coogs shot 12 for 16 from the line in the second half -- including 11 for 15 in the final 6:43 of the game.
"There's no difference in a layup and two free throws. We were scoring," Kelvin Sampson, Houston Head Coach said after the game. "The object of the game is to score whether it's at the free throw line or getting baskets."
Houston never trailed in the ball game. Quentin Grimes made a three-point shot to open the scoring and put Houston on top 3-0. Texas Tech pulled within 1 point twice (3-2 and 6-5) in the first half; however, Marcus Sasser scored 8 straight points for a 14-5 Houston lead.
Texas Tech narrowed Houston's lead to 16-9; but, Houston erupted for an 11-0 run. Grimes scored 5 points during the run. Caleb Mills scored 4 and DeJon Jarreau scored 2 to begin the run.
Houston led 37-19 at halftime. Texas Tech made 7 of 21 field goal attempts in the opening half and turned over the ball 12 times. Houston converted the Red Raiders' 12 turnovers into 17 points.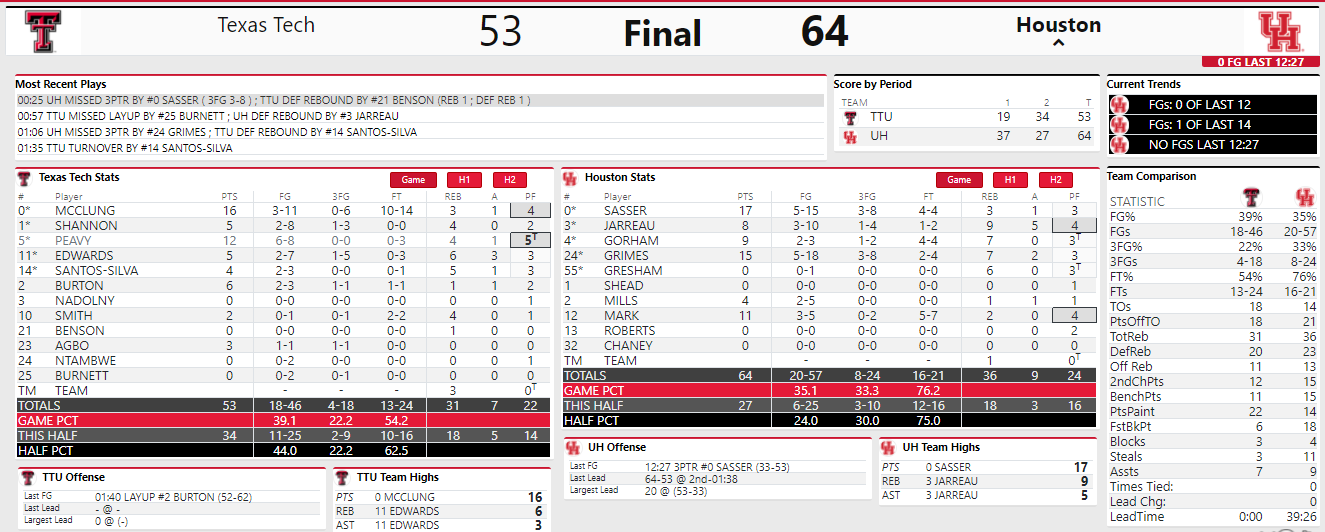 ---
SUPPORT The Houston Roundball Review:
Purchase your Coogs' gear at Fanatics.com via this link;
Get ESPN+ via this link;
Save when you get the Disney bundle (ESPN+, Disney+ and Hulu) with this link;
OR, contribute via PayPal or the Cash App.
---
The Red Raiders cut 4 points off Houston's lead in the first 2:17 of the second half; however, DeJon Jarreau hit a corner 3 and Quentin Grimes followed with a putback layup to stretch the Coogs' margin to 19 points (44-25) with 16:10 remaining in the game.
Houston led by 20 points (53-33) at the 12:27 mark of the 2nd half. Texas Tech outscored Houston 9-0 to cut Houston's lead to 53-42. Seven of the Red Raiders' 9 points came at the foul line.
Kelvin Sampson said, "They (the referees) were calling fouls on us; and, we were probably fouling. But, the thing that I said, 'If that's the way it's going to be called, then, I'm going to adjust as a coach."
Sampson's adjustment was to spread the floor on offense with 4 guard lineups.
"We're going to space the floor," Sampson said. "And, we're going to drive."
"We kept our composure. We knew they would come back; and, our kids made some mistakes. All those mistakes are things we'll bring down on film. It's our third game of the year. We're not a seasoned, veteran team that's been through the wars.
"Texas Tech is good. I was proud of the way we handled adversity. I was proud of Quentin, Tramon, Marcus; and, then, I thought Brison and Justin were warriors today. It's easy to look at kids can't do. But, in my business, I focus on they can do; and, what they can do is help us win. That's what's most important."
Grimes commented, "I really liked how poised we were and our composure."
Justin Gorham finished the game with 7 rebounds including 3 on offense.
"Every game, we're going to battle on the boards," Gorham said after the game. "I just did what Coach Sampson and what the program wants me to do."
Brison Gresham added 6 rebounds and 3 blocked shots in 29 minutes.
Marcus Sasser led Houston with 17 points. Quentin Grimes finished with 15 points and 7 rebounds. Tramon Mark added 11 points off the bench. DeJon Jarreau stuffed the stat sheet with 8 points, 9 rebounds, and 5 assists.
NOTE:
Houston's Caleb Mills continues to battle banged up ankles. At halftime, Coach Sampson decided to not play Mills in the second half Sunday.
"People forget, Caleb's both ankles were hurting him before the game. I appreciate him even trying to play tonight. I thought that was a gutsy effort; but, once we got to halftime, I said, 'You know what, Caleb, you're a tough kid. I love you. But, we're going to shut you down (for the second half)."
Sampson continued, "But, that just shows you the strength of our team. We have a lot of different guys that can make baskets. When your best scorer doesn't play in the second half, you find a way to win that says a lot about your team."
UP NEXT:
Houston's next game is Saturday, December 5, at 7 p.m., versus South Carolina, inside Fertitta Center. The game is part of the AAC / SEC Alliance.
CLICK HERE for The HRR's write-ups of Coogs' men's hoops games.