Number 17/18 Houston opens the season with 89-45 win over Lamar

The Saxenian Family is a supporter of The Houston Roundball Review.
POSTED: November 25, 2020 -- 7:39 p.m. CT
HOUSTON, TX (Fertitta Center) -- The Houston Cougars (17th / 18th-ranked) defeated the Lamar Cardinals 89-45 Wednesday afternoon in the season-opener for both teams. Marcus Sasser and Tramon Mark combined for 47 of Houston's 89 points.
Houston sophomore guard Marcus Sasser scored a team-high 25 points on 9 for 11 field goal shooting including a personal career-high 7 made three-point baskets on 9 attempts.
"I think my teammates did a good job finding me when I was wide open," Sasser said. "Just knocking down the open shot. Practice that a lot. Just being prepared and ready to shoot."
Houston freshman guard Tramon Mark bounced back from 2 fouls in 1 first half minute with a huge 22 points and 8 rebounds in the second half.
Senior DeJon Jarreau said of Tramon, "I'm one of the guys that guards Tramon. I see it every day. He's very crafty. He can shoot. He can pass. He can get in the lane and finish at the rim. He's a very good player. A three-level scorer. So, to come out and do it his first game. First half, he might have been nervous. Getting those quick 2 fouls; but, once he got comfortable, everything just came out."
Houston jumped to a 7-2 lead in the first 3 plus minutes of the game. Then, Sasser drained 2 threes during an 8-2 Houston run stretch the Coogs' lead to 15-4 with 12:47 remaining in the opening half.
Lamar answered with a 7-2 spurt to cut Houston's lead to 17-11 with 6:36 remaining in the half.
Sasser nailed another three-pointer and added a floater in the paint during a 7-0 burst to increase Houston's lead to 24-11 at the 4:20 mark of the first half.
Sasser scored 5 more points during an 11-4 Houston run to close the half with the Coogs up 20 (35-15).
Houston (1-0) made 5 of its last 6 field goal attempts to end the half; and, Houston's defense limited Lamar (0-1 this season) to 1 for 8 field goal shooting to close the half.
Marcus Sasser scored 19 points in the first half on 7 for 9 field goal shooting including 5 for 7 three-pointers.
The Coogs outrebounded the Cardinals 29-16 in the first half. Quentin Grimes had 7 of the 29 boards. Houston outscored the Cardinals 8-0 in second chance points and 14-0 in the paint.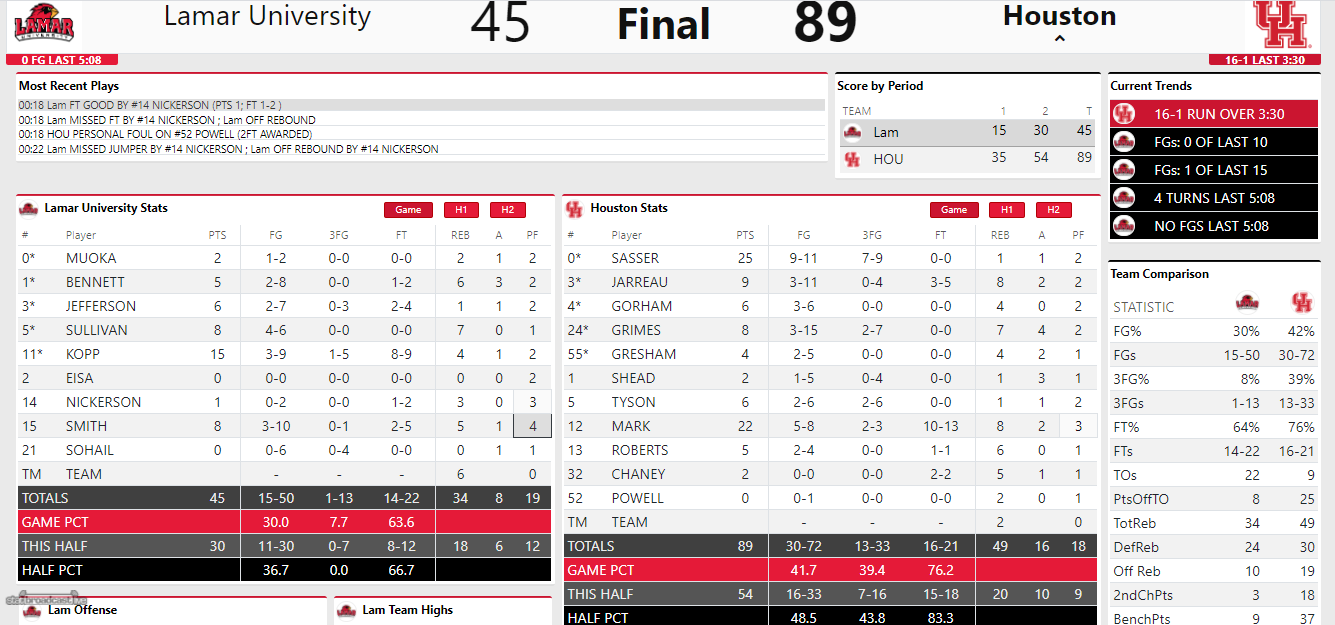 ---
SUPPORT The Houston Roundball Review:
Purchase your Coogs' gear at Fanatics.com via this link;
Get ESPN+ via this link;
Save when you get the Disney bundle (ESPN+, Disney+ and Hulu) with this link;
OR, contribute via PayPal or the Cash App.
---
Marcus Sasser led Houston in the opening half. Tramon Mark led the Coogs in the second half. Mark checked into the game early in the second half. He scored his first basket in his UH career with 17:04 remaining in the second half. Mark scored 20 more points in the second half. He made 5 of 8 field goal attempts including 2 for 3 from three-point range. He also made 10 of his 13 free throw attempts and added 8 rebounds, 2 assists, and 1 steal -- in 16 minutes of action.
In addition to Mark's stellar performance, Jamal Shead, another of Houston's talented freshman, was tenacious on defense. Shead blocked 4 of the team's 8 shots. By the way, Shead is 6'1".
"It's what he does. He is a ball hawk; and, he is a tough kid," Coach Sampson said of Shead after the game.
"Jamal is my match up in practice," Marcus Sasser remarked after the game. "So, I know how he good he is as a defender. He blocks shots in practice; so, I'm not surprised."
Sasser added, "Tramon is a very good scorer. He's going to help us a lot this season. They do it in practice; so, I wasn't really surprised. But, I'm very proud of them."
Houston finished the game with a 49-34 rebounding edge and an 18-3 advantage in 2nd-chance points. The Coogs limited Lamar to 15 of 50 field goal shooting including 1 for 13 from three-point range. Lamar also committed 22 turnovers in the game which Houston converted into 25 points.
"Anytime you hold a team to 30 percent and plus 15 on the boards and single-digit turnovers" Coach Sampson said. "Those are kind of our holy trinity: defend, rebound, take care of the ball.
"We held them to 30 percent. Plus 15 on the boards; and, we only had 9 turnovers. So, we were pretty good in those three areas."
NOTE: Caleb Mills, Houston's redshirt-sophomore shooting guard and American Athletic Conference Preseason Player of the Year, sat out the game due to a sore ankle.
Coach Sampson gave update on Mills after the game: "He could have played today. I made the decision not to play him on Monday. He, actually, had a good workout yesterday another good one today (Coogs had a workout Wednesday morning.). I think he was out 10 days. It was a pretty nasty sprain that he had.
"He had some swelling that we wanted to look at; so, we just gave him a quick MRI to make sure that there was nothing there. Last couple of days, he's been pretty good. But, when you've sat out that long, we've got other guys that can go out there and play."
UP NEXT:
Houston's next game is this Friday, November 27, at 2 p.m., versus Boise State inside the Fertitta Center in the first game of the Southwest Showcase.
CLICK HERE for The HRR's write-ups of Coogs' men's hoops games.