Mills and Grimes combine for 33 points in Houston's 69-59 road win over ECU

UPDATED: January 30, 2020 -- 7:35 a.m. CT
POSTED: January 29, 2020 -- 8:50 p.m. CT
GREENVILLE, NC (Williams Arena at Minges) -- Caleb Mills scored 12 of his team-high 18 points in the second-half of the Houston Cougars' 69-59 road win over the ECU Pirates. Mills also dished out a season-high 6 assists.
Quentin Grimes scored 15 points and added 6 rebounds. Houston center Chris Harris produced a double-double with 10 points and 10 rebounds. Harris also blocked 4 shots.
Mills and Grimes combined to score 33 of Houston's 40 bench points.
Both teams struggled to make shots throughout the ball game.
Houston (17-4 overall, 7-1 in AAC) shot 9 for 24 on field goals in the first half; however, Houston finished the half with a 12-1 to turn a 21-20 lead to a 33-21 lead at halftime. ECU (9-12, 3-5) shot 9 for 31 in the first half including 1 for 13 on three-point attempts.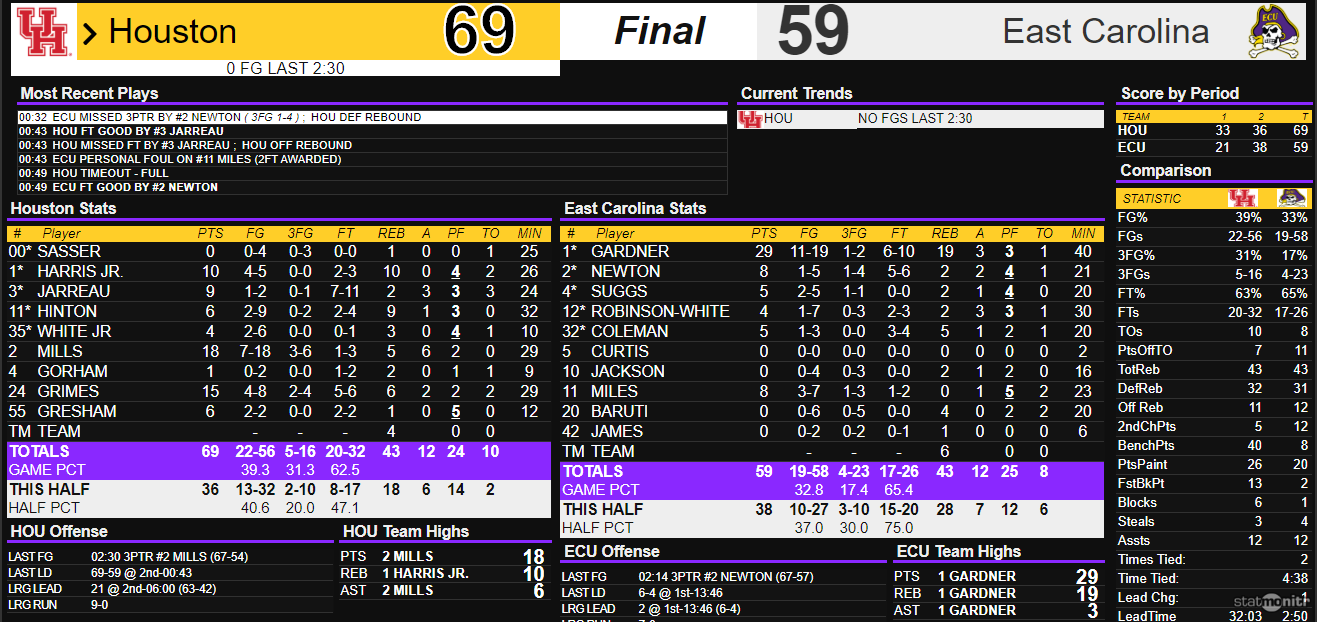 ---
SUPPORT The Houston Roundball Review:
Purchase your Coogs' gear at Fanatics.com via this link;
Get ESPN+ via this link;
Save when you get the Disney bundle (ESPN+, Disney+ and Hulu) with this link;
OR, contribute via PayPal or the Cash App.
---
Mills started the second half for teammate DeJon Jarreau; and, Mills nailed a three-point shot for a 36-21 Houston lead. Houston led by double-digits until ECU had a 6-2 spurt to trim Houston's lead to nine (42-33).
Jarreau scored a driving basket to return the margin back to double digits.
Two minutes later, ECU's Brandon Suggs made a three-point shot to pull ECU within 46-38 of Houston; however, Jarreau, once again, had an answer. He was fouled on a drive to the basket and made both free throws for a 48-38 Houston lead.
Caleb Mills scored a driving layup; and, Grimes followed a basket by ECU's Tremont Robinson-White with a three-point play for a 55-40 lead with 9:26 remaining.
After Houston's Nate Hinton scored a layup, Mills had his hands involved in Houston's next 6 points: Mills knocked down a step back jumper; dished to Brison Gresham for a slam dunk; then buried another jumper for a 63-42 Houston lead with 6 minutes left in the ball game.
Houston struggled from the foul line in the closing minutes which helped ECU pull within 10 points.
The Coogs went 8 for 17 from the free throw line in the second half.
Houston had three players (Grimes, Harris, and Mills) score double-digit points to counter a stellar performance from ECU forward Jayden Gardner. Gardner scored 29 points (11 for 19 field goals) and snared 19 rebounds.
Houston's next game is Saturday, Feb. 1, on the road, against the Cincinnati Bearcats. Tip time is scheduled for 5 p.m. CT. ESPN2 will broadcast the game.
CLICK HERE for The HRR's write-ups of Coogs' men's hoops games.