Houston improves to 6-1 in AAC with 68-49 win over USF

POSTED: January 26, 2020 -- 8:58 p.m. CT
HOUSTON, TX (Fertitta Center) -- Defense is constant for any team coached by Kelvin Sampson. This year's Houston Cougars' men's basketball squad is no exception; and, today, the Coogs' defense was key in a 68-49 win over the USF Bulls. Houston improves to 16-4 overall and 6-1 in the American Athletic Conference.
"Coach (Sampson) talks to us a lot about, and he's right, sometimes we let our miss shots dictate how we play defense," Houston guard Caleb Mills mentioned after the game. "It shows our maturity tonight. We didn't make a lot of shots; but, we continued to defend. We work on this every day in practice; and, we continue to emphasize it every day."
Despite shooting just 37.5% in the first half, Houston's defense turned a 17-16 lead into a 31-23 halftime lead. Then, as part of a 13-5 run, Houston held the Bulls to five points in the first 7:18 of the second half to increase its lead to 44-28 with 12:42 remaining.
USF (8-12, 1-6) got as close as 12 points three separate times in the second half; however, Houston's defense led to its offense which led to Houston's largest lead of the game (65-43) with 3:06 on the game clock.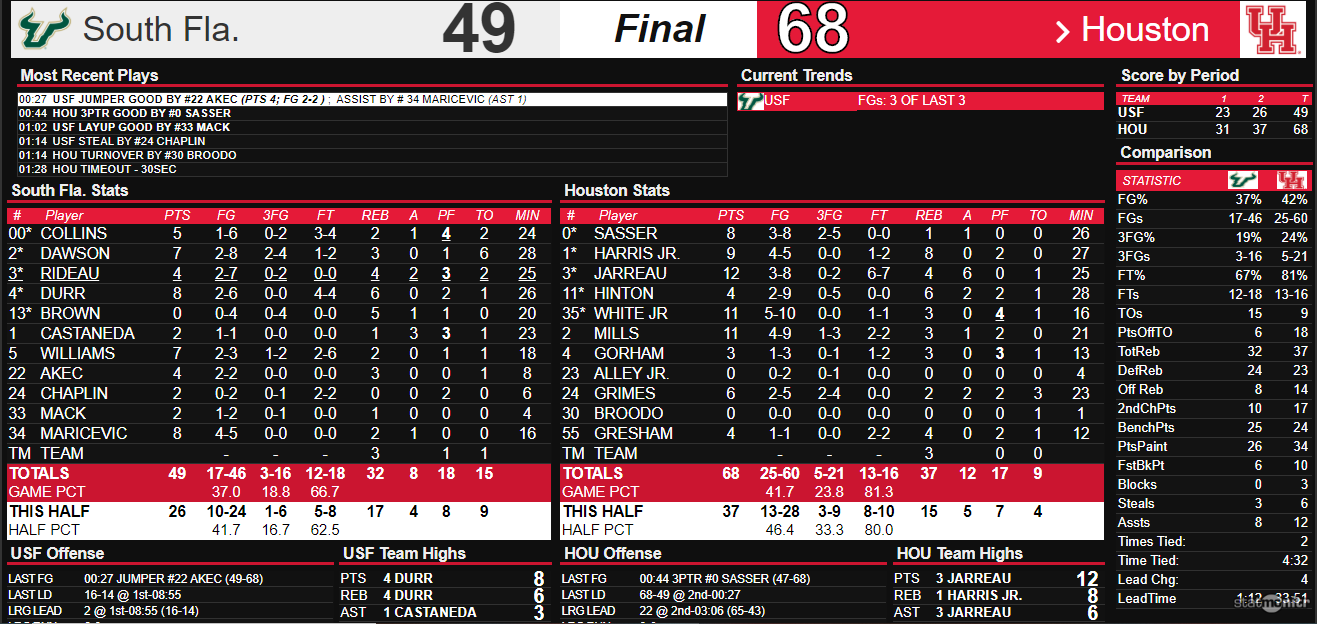 "To be good defensively, you have to be able to adjust," Coach Sampson remarked. "That's where scouting comes in. Teams do a great job at scouting us. You can tell how much they scout by how well they guard ball screens or defend the post. Our guys were well prepared today."
---
SUPPORT The Houston Roundball Review:
Purchase your Coogs' gear at Fanatics.com via this link;
Get ESPN+ via this link;
Save when you get the Disney bundle (ESPN+, Disney+ and Hulu) with this link;
OR, contribute via PayPal or the Cash App.
---
Houston missed its first 7 three-point shots of the game before sophomore guard Quentin Grimes sank a 3 for a 17-16 Houston lead. Later in the first half, Grimes made another three-pointer to put the Coogs ahead 27-19. Grimes finished the game 2 for 4 from three.
Houston, as a team, shot 5 for 21 on three-point shot attempts.
Another factor in Houston's success today was limiting the turnovers. Houston only committed 9 turnovers: 5 in the first half and 4 in the second half (2 occurred in the final 2:44 of the half). DeJon Jarreau only had 1 turnover today. Jarreau had 7 turnovers in Thursday's game.
Jarreau led the team with 12 points and 6 assists today.
"I thought that he really tried to get better today from the other night. That's a tribute to his character.," Coach Sampson acknowledged.
Houston junior forward, Fabian White, scored 11 points today on 5 for 10 field goal shooting. White missed 4 of his first 6 field goal attempts; however, he did not lose confidence in his shot which is something he used to do when he missed a few shots in a row.
"Earlier in the season, I didn't have any confidence," White admitted. "But, after the second miss, I probably wouldn't have taken the shot again; but, Coach Sampson and my teammates always keep me confident. So, now I miss a couple of shots and keep shooting."
White also said a key to Houston's winning 10 of 11 games is the players are listening rather than hearing Coach Sampson.
"The biggest difference from earlier in the year and now is that we started listening to coach and actually hear what he's saying," White said candidly. "And, just buying into the culture and trusting the system. Earlier in the year we was young and didn't trust the system. We was hearing coach but wasn't listening; but, now, we are all starting to figure it out now. And, starting to realize Coach is right all the time."
Caleb Mills finished the game with 11 points (4 for 9 field goal shooting) and 3 rebounds. Senior Chris Harris Jr scored 9 points, pulled down 9 rebounds, and blocked 2 shots.
"Another high character kid is Chris Harris," Coach Sampson commented. "He is a tremendous young man. He had six internship credits left to get his degree, so he's basically graduated. He will graduate as a Houston kid with a degree from the University of Houston, that's a big deal."
Houston's next game is Wednesday, January 29, at 6 p.m., in Greenville, NC, against the ECU Pirates. The game will be shown on ESPN3.
Coogs comment on the passing NBA legend Kobe Bryant
Coach Sampson began today's postgame press conference and shared his thoughts on the passing of Kobe Bryant.
"The definition of an icon to me influences the generation in their given sport or profession," Sampson said. "When I was growing up as a young boy, the basketball icons were Wilt Chamberlain, Oscar Robertson, Bill Russell, and Jerry West. They were bigger than life. For this generation, that was Kobe Bryant. It's such a sad day when a life is taken so soon and impacted so many. We offer our prayers, as helpless as that sounds, to him and his family and all the people whose lives he's impacted. It's a sad day."
"There's not many words to explain it," Fabian White Jr said. "I know for me growing up in elementary school when you're throwing paper in the trash can and always yelling 'KOBE'. If he's playing, you're watching him on TV. It's a big loss; but, there's nothing you can do about it."
"It's eye-opening and it shows how anything can happen," Caleb Mills remarked. "You have to take it day-by-day and be grateful. Be grateful for what you have every day."
CLICK HERE for The HRR's write-ups of Coogs' men's hoops games.