Jarreau and Mills lead Houston's come-from-behind win over UConn

UPDATED: January 24, 2020 -- 8:22 a.m. CT
POSTED: January 24, 2020 -- 12:28 a.m. CT
HOUSTON, TX (Fertitta Center) -- The Houston Cougars came from behind to defeat the UConn Huskies 63-59 Thursday night in a hard fought, foul-filled, physical game. With the win, Houston improves to 15-4 overall and 5-1 in the American Athletic Conference.
Houston did not play its 'A' game; however, down the stretch, Houston's DeJon Jarreau and Caleb Mills carried the team to the victory. Mills (18) and Jarreau (10) combined to score Houston's last 28 points in the final 11 minutes of the game.
"Sometimes when you don't have your best stuff and you're in a fight like that, you have to find a way to win," Kelvin Sampson, Houston Head Coach said after the game. "That's where your culture comes in and how you practice every day."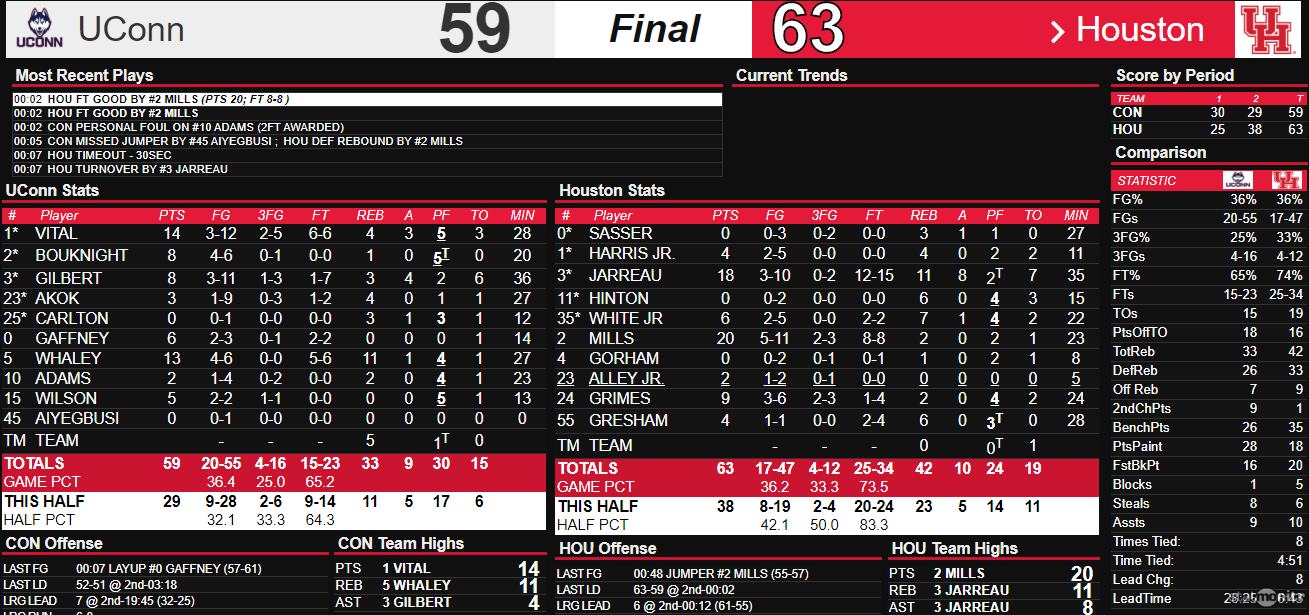 Houston led 15-13 with 8:53 remaining in the first half. Houston trailed 30-25 at halftime. The Coogs continued to trail UConn until 2:53 remained in the second half when Jarreau made two free throws to put Houston on top 53-52.
UConn's Alterique Gilbert split two free throws for a 53-53 tie. Seconds later, Mills was fouled and sank both free throws. UConn tied the game at 55 on an offensive rebound and putback layup by Isaiah Whaley.
---
SUPPORT The Houston Roundball Review:
Purchase your Coogs' gear at Fanatics.com via this link;
Get ESPN+ via this link;
Save when you get the Disney bundle (ESPN+, Disney+ and Hulu) with this link;
OR, contribute via PayPal or the Cash App.
---
On Houston's next possession, Jarreau airballed a shot from the baseline which UConn rebounded; however, guard Christian Vital missed a layup which Houston's Nate Hinton rebounded. Instead of attempting to score in transition, Houston Head Coach Kelvin Sampson called timeout to set up a play for Caleb Mills.
After the timeout, the left side of the floor was cleared for Mills to get the ball. After a few seconds, Mills nailed a step back jumper for a 57-55 lead with 48 seconds left in the ball game.
"We ran a lot of stuff exclusively for him [Caleb Mills]," Sampson acknowledged. "We had two or three different calls. One time when he didn't get it, we were going to him and he took a wild shot that was uncalled for. We finished the game on a 19-9 run and finished with 10 consecutive free throws."
"I knew if I didn't make the shot that we'd get the rebound," Mills said very matter-of-fact. "Fabian (Fabian White Jr) and Brison were in the game so there wasn't much pressure at all."
UConn did not call timeout. Christian Vital attacked the basket off a high-screen. Vital attempted a layup; however, Houston's Brison Gresham rotated to Vital and blocked Vital's layup attempt.
Sampson said, "He (Gresham) was tremendous tonight in everything we asked him to do with his coverage calls, help side, rim protecting and made his two free throws in the second half."
"It was just really instincts," Gresham said of his big blocked shot. "In the huddle I kept telling my teammates that if they get blown by, don't foul, I'll step up and help; so, it was just my instincts."
Jarreau got the rebound and was fouled. Jarreau made both free throws for a 59-55 lead with 24 seconds remaining. Gilbert committed a turnover which resulted in Mills being fouled. Mills also made both free throws to increase the lead to 61-55 with 12 seconds remaining in the game.
UConn's Jalen Gaffney scored a quick driving layup and UConn called its last timeout. As both teams walked to their respective benches, Jarreau was whistled for an unsportsmanlike technical foul which meant UConn would 2 free throws after the timeout. Gaffney made both free throws to cut Houston's lead to 61-59 with 7 seconds left in the game.
"There was some cursing going on, and the referee got the second guy," Sampson remarked.
Jarreau tried to inbound the ball against UConn's pressure defense. However, he didn't get the ball inbounds; and, Houston was whistled for a 5-second violation.
Coach Sampson called timeout to set up his defense. After the timeout, UConn's Temi Aiyegbusi was wide open in the corner when he caught the ball. Aiyegbusi pump-faked a three-point shot before dribbling a few feet inside the three-point line. He launched an 18-foot jumper about 17 feet. The shot was short and bounced off the rim to Caleb Mills. Mills was fouled and sank to free throws to seal the 63-59 win for Houston.
Mills scored 18 of his game-high 20 points in the final 11 minutes of the second half. Jarreau finished the game with 18 points, 12 rebounds, 8 assists, 7 turnovers, 2 steals, and 1 technical foul.
Houston's next game is Sunday, January 26, at 1 p.m., at home, versus the USF Bulls. CBSSN will broadcast the game.
NOTES:
Jarreau missed a triple-double by 2 assists. The last Houston Cougar player to post a triple double was Charles "Bo" Outlaw on February 17, 1993, against the Texas A&M Aggies. Bo scored 10 points; grabbed 14 rebounds; and blocked 10 shots.
Houston and UConn combined for 54 personal fouls, including 23 fouls in the first half -- and five technical fouls. The UConn bench was whistled for a technical foul with 11:13 left in the second half. Gresham was also whistled for a technical foul, along with James Bouknight, with 5:56 left in the game.
CLICK HERE for The HRR's write-ups of Coogs' men's hoops games.