Nate Hinton does everything in Houston's 78-63 win over UCF

POSTED: January 4, 2020 -- 10:38 a.m. CT
HOUSTON, TX (Fertitta Center) -- The Houston Cougars began American Athletic Conference play with a 78-63 win over the UCF Knights Friday night. Houston improves to 11-3 overall and 1-0 in The American while UCF's record is now 9-5 overall and 0-2 in The American.
Houston's Nate Hinton had a superb all-around ball game. Hinton scored 20 points on 7 for 12 field goal shooting; pulled down a career-high 16 rebounds; picked up a career-high 5 steals; and, added 3 assists.
Kelvin Sampson, Houston Head Coach said, "When I recruited him, I said he was going to be a captain because he impacts winning in so many different ways. He affects winning in practice, in the classroom, in the community. He is a great representative of our program. If I could pick someone to be the face of University of Houston Basketball, I would pick Nate Hinton."
"I appreciate that," Hinton responded. "When he told me we were recruiting, he said I was going to be a captain by my sophomore year, and I didn't think anything of it. It sounded good and I stepped right into the role. It's all about getting better every day. Coach is hard on me, but I appreciate that. I know I have to be at my best or coach will sniff it out and get on me. I have to keep getting better, keep leading, and be a representative of Houston Cougar basketball."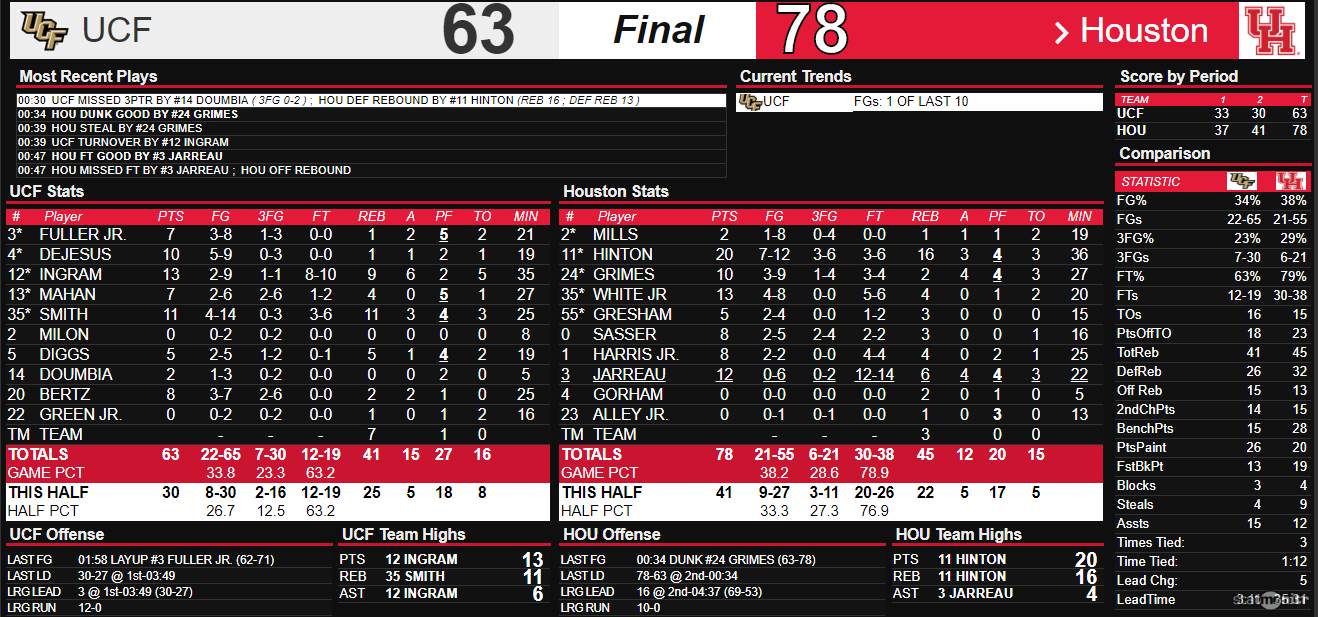 UCF played zone defense much of the game; and, since Houston doesn't have many lights out perimeter shooters, Houston's offense bogs down at times.
"Your offense is always going to look good against zone when you're shooting the ball in (the basket)," Coach Sampson acknowledged. "It's not the offense, it's the guys shooting the ball, don't get it twisted."
---
SUPPORT The Houston Roundball Review:
Purchase your Coogs' gear at Fanatics.com via this link;
Get ESPN+ via this link;
Save when you get the Disney bundle (ESPN+, Disney+ and Hulu) with this link;
OR, contribute via PayPal or the Cash App.
---
Houston trailed 6-5 before a 7-0 run put them ahead 12-5. Houston made 4 of its first 8 field goal attempts then cooled off. However, UCF didn't shoot well either. Houston led 26-17 before UCF went on a 13-4 run to lead 30-27 with 3:49 remaining in the first half.
Houston freshman Marcus Sasser sank a three-point shot to tie the game at 30 and begin a 10-0 run. Hinton got the assist on Sasser's basket; then, he stole the ball and dunked for a 32-30 lead. Next, he rotated on defense and picked up a charging foul on UCF guard Dre Fuller Jr. Hinton did all of that in 35 seconds.
The Coogs led 37-33 at halftime. Fabian White Jr scored 11 points in the half to lead Houston. Hinton had 7 points, 5 rebounds, and 3 assists in the opening half.
Hinton made two free throws after being fouled during a fast break chance for a 44-37 Houston lead with 17:03 remaining in the game. UCF scored 5 straight points to cut Houston's lead to 44-42 with 16:17 remaining.
Neither team scored the next two minutes. Hinton ended the scoring drought with a three-point basket; but, UCF's Frank Bertz answered with a 3 for a 47-45 Houston lead.
Houston went on a 12-1 run to lead 59-46 with 9:29 left in the game. DeJon Jarreau made 7 free throws during the run. Hinton scored a fastbreak lay-up to cap the run.
Houston's defense continued tightening the screws on UCF; and, when, Hinton made a three-point shot with 5:44 remaining, Houston led 67-52. Houston led by as much as points in the second half; but, UCF clawed within 9 points (71-62) with 1:58 on the game clock.
After Jarreau sank his 10th and 11th free throw of the game, UCF big Collin Smith missed a three-point shot which caromed off the rim near midcourt. Hinton made the play of the game when he tipped the loose ball over UCF's Dazon Ingram's head into the frontcourt; then, took one dribble and slammed with his left hand for a 75-62 lead with 59 seconds remaining.
Houston has won five straight games.
"We aren't even worried about the win streak," Hinton said. "We're worried about being 1-0 every time we go on the court."
"I'm playing hard," Hinton commented. "It's conference. We can't play the same way (like in non-conference). We have 17 more games -- eight more home games and nine more road games. We're taking the advantage of opportunity like Coach says. He told us before the game that we didn't get this back. There aren't any home playoff games. We have to go out there and play hard to win."
Houston's next game is Tuesday, January 7, at 6 p.m., on the road, against the Temple Owls. CBSSN will broadcast the game.
NOTES:
Houston outrebounded the Knights 45-41 and held UCF to only 26.7 percent (8-of-30) shooting in the second half.
Hinton has 7 double-doubles in 14 games this season.
CLICK HERE for The HRR's write-ups of Coogs' men's hoops games.
Subscribe to The HRR provides news and info of UH Coogs' men's basketball by Email