Coogs defeat SMU on Senior Night and clinch share of AAC title
Byron L. Riley, CPA; 832-303-3995; Do you need tax help? IRS Tax help available- Free Consult
UPDATED: March 8, 2019 -- 7:12 a.m. CST
POSTED: March 8, 2019 -- 1:50 a.m. CST
HOUSTON, TX (Fertitta Center) -- The Houston Cougars defeated the SMU Mustangs 90-79 Thursday night to clinch a share of the American Athletic Conference regular season championship. Houston is 28-2 overall and 15-2 in the AAC with one game remaining. Houston faces the Cincinnati Bearcats Sunday morning at 11 a.m. on CBS. The Bearcats are 14-3 in the AAC. If Houston defeats Cincinnati Sunday, Houston wins the AAC title outright. If Cincinnati wins, the two teams will be AAC co-champs.
However, Houston clinched the top-seed in next week's AAC Tournament because of a better record against a common opponent: ECU. Houston went 2-0 against ECU while Cincinnati went 0-1.
It is the first regular-season title for Houston since 1992 when Houston was a member of the Southwest Conference.
"We're 15-2," Kelvin Sampson, Houston Head Coach said. "Conference champions; and, I've only been here five years. So, I don't have a perspective of 27 years. I'm happy for our fan base, too, especially those fans who have been supporting us since day one."
Sampson added, "Gratifying personally. But, proud of our program. Proud of where we've come. Proud of our trainers. Our strength coaches. Our wives. Staff. We've got a really good basketball program."
The Mustangs shot an opponents' season-high 52.2% (24 for 46) from the floor for the game. However, SMU turned over the ball 15 times including 13 in the opening half. Houston converted SMU's turnovers into 21 points in the half and led 46-37 at halftime.
Houston also shot a higher percentage (53.1%) than SMU. Houston made 34 field goals out of 64 attempts.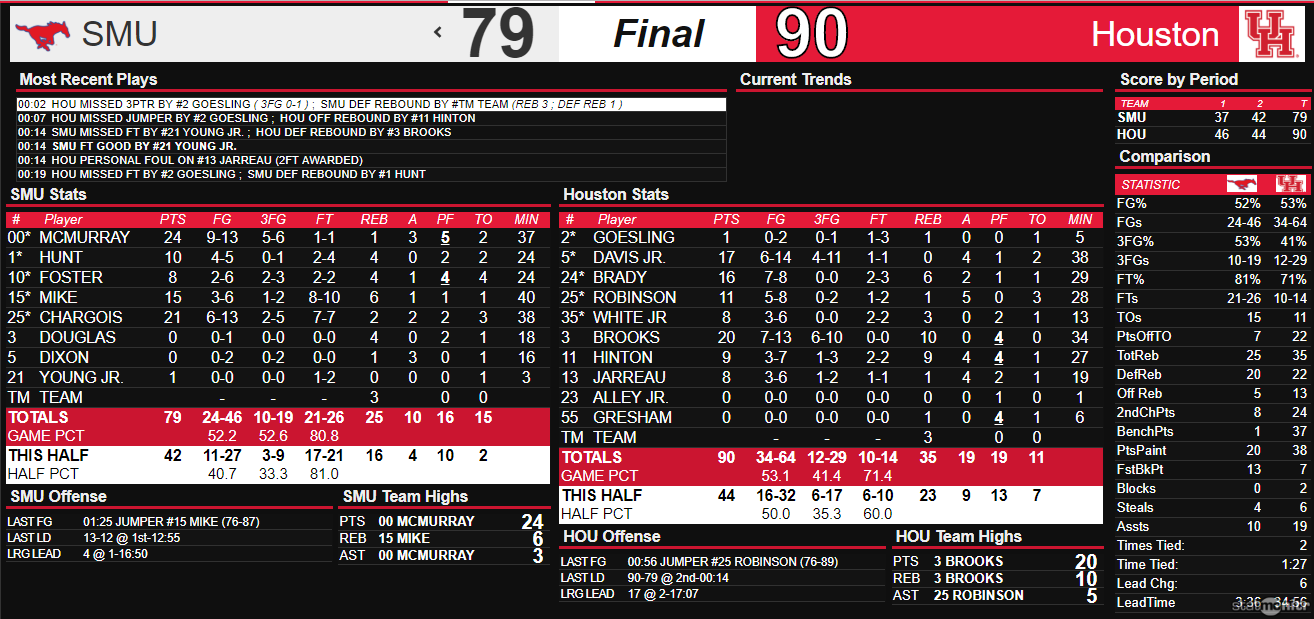 SMU led 10-6 before Houston answered with a 12-3 run to lead 18-13. Breaon Brady, Houston senior post player, scored 8 of Houston's 18 points. Teammate Armoni Brooks helped Houston up its lead to 27-19. Brooks was a perfect 3-for-3 on three-point shots for 9 points. A few minutes later, Brooks swished his fourth triple to give him 12 points; and, combined with Brady's 12 points, Houston led 38-26 with 2:54 til halftime.
The Mustangs (13-16, 5-12) were shooting 66.7% from the floor; but, at the time, SMU had more turnovers (13) than baskets (10). Houston led 46-37 despite SMU making 7 of 10 three-point shots.
SMU made its first three-point shot of the second half; but, cooled off from three-point range. Houston heated up with an 11-0 run to lead 57-40 with 16:58 on the clock. SMU didn't get closer than 9 points the rest of the ball game.
Armoni Brooks scored a team-high 20 points for Houston; and, Brooks pulled down a team-high 10 boards, too. Corey Davis, Jr. scored 17 points and added 4 assists. Brady scored 16 points and added 6 boards and 2 assists. Brady's 16 points are the most points he's scored since the season-high 19 points he scored against the Temple Owls 1/9/19. Senior guard Galen Robinson, Jr. added 11 points and 5 assists.
Houston outscored SMU 22-7 in points off turnovers; 24-8 in second chance points; 37-1 in bench points; and 38-20 in points in the paint.
Galen Robinson, Jr. reflected on his four years as a Houston Cougar.
"It's hard to put into words," Robinson acknowledged. "We're a program, we started from the bottom. We watched everybody else have their success. Right in front of our eyes. On our home court. To be able to cut down nets my senior year on Senior Night. You can't even write a better ending than that."
Robinson added, "What's left for the team? Like I've been telling everybody else, 'why not us?' The sky's the limit. If we come out and play our hearts out, out work anybody. I mean the sky's the limit. Why not us?"
---
Byron L. Riley, CPA; 832-303-3995; Do you need tax help? IRS Tax help available- Free Consult
NEXT:
Houston's final game of the regular season is Sunday, March 10, at Cincinnati, 11 a.m., on CBS.
CLICK HERE for The HRR's write-ups of Coogs' men's hoops games.
Subscribe in a RSS feeds reader
Subscribe to The HRR provides news and info of UH Coogs' men's basketball by Email