Coogs lose 69-64 to UCF to snap 33-game home win streak
Byron L. Riley, CPA; 832-303-3995; Do you need tax help? IRS Tax help available- Free Consult
UPDATED: March 4, 2019 -- 8:40 a.m. CST
POSTED: March 2, 2019 -- 10:53 p.m. CST
HOUSTON, TX (Fertitta Center) -- The Houston Cougars lost 69-64 to the UCF Knights in front of a loud, raucous, sold out crowd. The loss ended Houston's 33-game home win streak.
UCF's Collin Smith scored a game-high 21 points (14 in the second half) to lead the Knights to the victory. The 6'11" Smith and 7'6" Tacko Fall combined for 34 points and 17 rebounds.
"The guy who hurt us was Collin Smith," Houston Head Coach Kelvin Sampson. "He really played well."
UCF Head Coach Johnny Dawkins said of Smith's performance: "He was special. Sometimes, you'll see a young man have a special performance; and, we saw that tonight from Collin."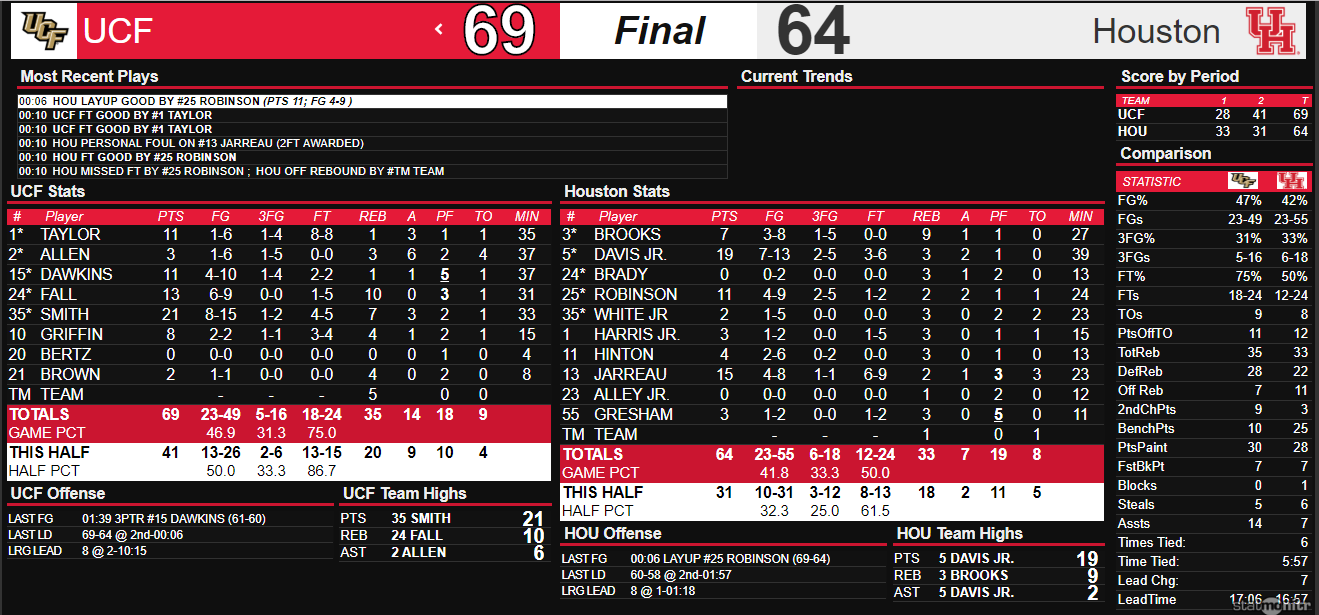 Smith scored UCF's first points of the game with a three-point basket from the corner. The basket was Smith's fourth 3-pointer in conference play this season (out of 16 attempts.)
The first half featured 5 ties and 4 lead changes. Houston (27-2) led the final 7:34 in the opening half. Houston led by as much as 8 (32-24) in the final 78 seconds of the half; however, UCF outscored Houston 4-1 to trim Houston's lead to 33-28 at halftime.
Houston shot 4 for 11 from the foul line in the first half. Big man Chris Harris, Jr. missed all three of his foul shots which was not much of a surprise because Harris was 4 for 11 in conference games before today. However, guards Corey Davis, Jr. (3 for 5) and DeJon Jarreau (0 for 1) combined for 3 for 6 from the foul line.
UCF wasted little time to erase Houston's halftime lead. The Knights scored the first 11 points of the second half. Collin Smith scored 7 of the 11.
With 10:15 left in the ball game, Houston trailed by 8 points (51-43). Coach Sampson called a 30-second timeout and inserted Armoni Brooks, Brison Gresham, and Galen Robinson, Jr. back into the game.
Brooks delivered a three-point basket and a long two-point jump shot to slice Houston's deficit to three (51-48) with 8:27 remaining. UCF's B.J. Taylor made two free throws; but, Robinson, Jr sank a three-point shot to bring the Coogs within 53-51 at the 7:53 mark.
However, seconds later, Taylor answered with a big three-point bucket for a 56-51 UCF lead. Houston trailed 58-52 with 4:01 on the clock; but, DeJon Jarreau pump-faked Fall of his feet and scored a driving lay-up. Then, Brooks got a steal which led to two free throws by Jarreau. Jarreau made both foul shots and Houston trailed 58-56 with 3:07 on the clock.
Next, Corey Davis, Jr. played great help defense from the weak side and stole the ball from Tacko Fall. Then, Davis Jr raced up the floor and scored a transition lay-up to tie the game at 58.
UCF called a 30-second timeout; but, after the timeout, Taylor missed a jumper which Brooks rebounded. In the front court, Davis Jr dribbled into the paint; Tacko Fall came to help on the drive; and Davis passed to Gresham under the bucket. Gresham scored a lay-up to give Houston a 60-58 lead with 1:57 remaining in the game.
Seventeen seconds later, Gresham was whistled for a foul while guarding Fall. UCF set up a baseline out of bounds play for Aubrey Dawkins; and, once Dawkins received the inbounds pass, Dawkins (6'6") made a tough three-point shot over Davis (6'1") for a 61-60 lead.
"They (Houston) had gained momentum; and, the crowd was amazing," said Coach Dawkins. "It was electric in the building. I was trying to think of how we could get a good look at a shot; and, I wanted to put someone in place who is confident in the fact that they can knock it down. He's done that for us all year. He and B.J. have done that for us all season; so, I called his number. Tweaked it a little bit from how we normally run it; and, came off and got a good look at it. And, knocked it down."
Galen Robinson, Jr. missed a go-ahead three-point shot on Houston's possession and Dawkins pulled down the missed shot and was fouled. Dawkins made both free throws for a 63-60 UCF lead with 78 seconds remaining in the game.
On Houston's next possession, Jarreau committed a turnover which led to a jump ball and the arrow pointing to UCF. Thirty seconds later, Smith rebounded his own missed shot and was fouled. Smith split the free throws for a 64-60 UCF lead with 35 seconds on the clock.
Houston called a 30-second timeout. After the timeout, Corey Davis, Jr airballed a three-point shot. UCF's Dayon Griffin grabbed the miss and was fouled. Griffin split the foul shots. Houston trailed 65-60.
With seconds winding down, Houston missed a three-point shot and a lay-up. Jarreau was fouled and split two free throws. Jarreau ended the game 3 for 6 from the foul line. Prior to this game, Jarreau was a 70-percent free-throw shooter in conference action.
Houston was forced to foul UCF. UCF went 4 for 4 from the line in the final 12 seconds to ice the game and pick up the hard fought win.
The Coogs missed 12 out of 24 free throws in the game while the Knights missed 6 of 24 foul shots.
"Corey Davis has been leading the league in free throw shooting;" Coach Sampson said. "When Corey goes 3 for 6, it's unusual. He's outstanding. DeJon Jarreau was shooting 80 percent a couple weeks ago. Between those two guys, they go 9-for-15; and, they're two of my best free throw shooters."
UCF out-rebounded Houston 35-33. The Knights also outscored Houston 30-28 in the paint and 9-3 in second-chance points.
"We've been a lot better at getting second and third shots; but, tonight, we only scored three points like that. That's not us. Overall, we're not a great shooting team; so, we depend on those second and third chance shots. We didn't do that tonight."
Houston only turned over the ball 8 times in the game. But, some of them occurred at inopportune times.
"Eight turnovers aren't bad; but, it was the timing of the turnovers that got us," Sampson acknowledged. "They were unnecessary and self-inflicted as well."
Sampson added, "We did a lot of things uncharacteristically tonight; but, let's also give Central Florida some credit here. We can't just sit here and say 'woe is us' and feel sorry for ourselves. Central Florida came in here with a really good plan; and, UCF Head Coach Johnny Dawkins came in with his guys ready to play tonight. They beat us."
Sampson wants people to know the sky is not falling for the Coogs after today's loss.
"I'm proud of my team," Sampson said. "We're 27-2 and 14-2 in the league; so, we're going to be okay. We'll go back and regroup and get after it on Monday."
Byron L. Riley, CPA; 832-303-3995; Do you need tax help? IRS Tax help available- Free Consult
NEXT:
Houston's next game is Thursday, March 7, vs SMU, 8 p.m., on ESPN. Senior Night for Breaon Brady, Corey Davis, Jr., Landon Goesling, and Galen Robinson, Jr.
CLICK HERE for The HRR's write-ups of Coogs' men's hoops games.
Subscribe in a RSS feeds reader
Subscribe to The HRR provides news and info of UH Coogs' men's basketball by Email