Coogs improve to 22-1 with solid 77-68 road win over UCF
POSTED: February 7, 2019 -- 9:47 p.m. CST
ORLANDO, FL -- The 12th-ranked Houston Cougars (22-1 overall, 9-1 in the American Athletic Conference) earned a solid road win Thursday night with a 77-68 victory over the UCF Knights. Houston senior guard Corey Davis, Jr. led the Coogs with a game-high 26 points. He also added 5 assists.
Backcourt teammate, Galen Robinson, Jr., added 12 points, 5 rebounds, and a team-high 7 assists. Junior guard Armoni Brooks scored 14 points and grabbed 7 rebounds to lead the Coogs.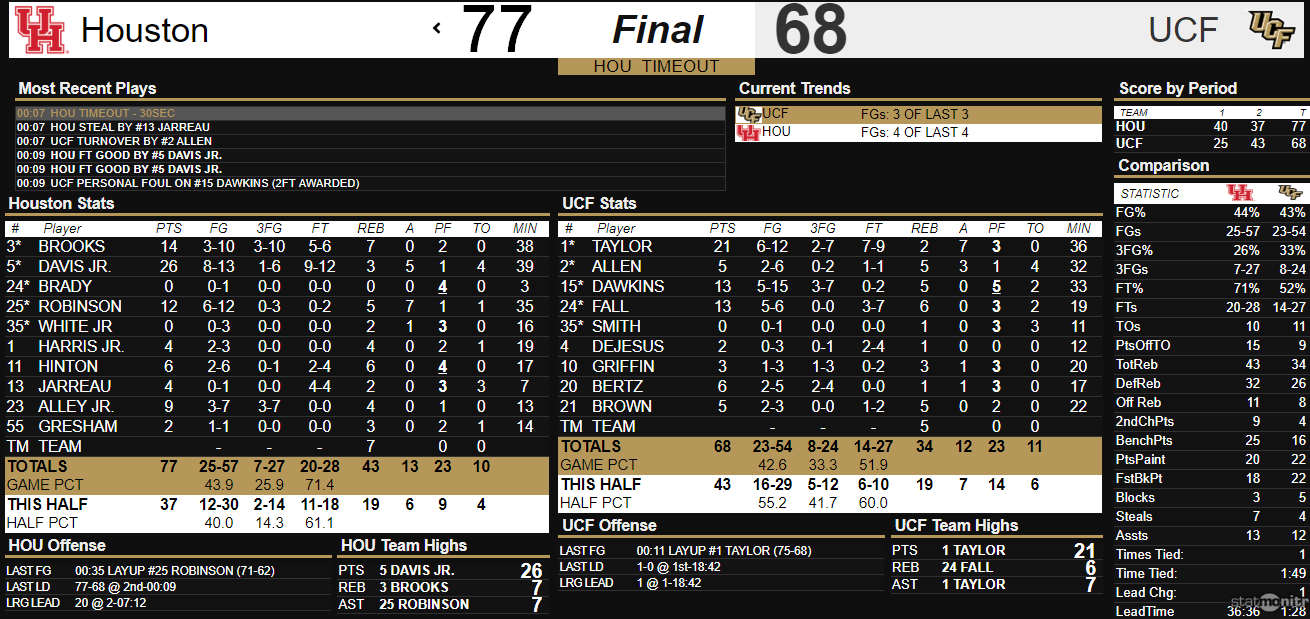 With the scored tied at 17, Houston went on a 10-0 run in three plus minutes to lead 27-17 with 7:36 remaining in the first half. The Knights (16-5, 6-3) did not get closer than 10 the rest of the half. Brooks nailed a long three-point shot to put Houston up 32-19.
Houston redshirt freshman Cedrick Alley, Jr. sank his third three-point shot of the first half to put Houston ahead 40-25 with 2:19 left in the half. Neither team scored the rest of the half.
Houston shot 48.1% (13 for 27) in the first half while limiting the Knights to 28.0% (7 for 25) field goal shooting. The Knights also missed 9 foul shots (8 for 17) in the opening 20 minutes.
In the second half, Houston led 51-34 with 11:54 left in the ball game. At that point, Houston had made only 4 of 15 second-half shots; but, the Coogs limited the Knights to 4 for 10 field goal shooting.
Houston stretched the lead to 61-41; but, the Knights scored 7 straight points before Corey Davis Jr swished a floater for a 63-58 Houston lead with 3:50 on the game clock.
The Coogs missed the front of three consecutive 1-and-1 trips to the foul line which helped keep the Knights in the ball game. UCF pulled within 7 (69-62) with 39.1 remaining in the game.
Houston went 6 for 6 from the line in the final 28 seconds to ice the game.
NEXT:
Houston's next game is Sunday, February 10, vs 25th-ranked Cincinnati (20-3, 9-1), at 3 p.m. on ESPN.
CLICK HERE for The HRR's write-ups of Coogs' men's hoops games.
Subscribe in a RSS feeds reader
Subscribe to The HRR provides news and info of UH Coogs' men's basketball by Email