12th-ranked Coogs improve to 23-1 with gritty 65-58 win over 25th-ranked Cincinnati
Houston extended its homecourt winning streak to 32
UPDATED: February 11, 2019 -- 1:12 p.m. CST
POSTED: February 10, 2019 -- 9:24 p.m. CST
HOUSTON, TX (Fertitta Center) -- The top two teams in the American Athletic Conference squared off Sunday afternoon; and, the Houston Cougars earned the hard-fought 65-58 win over the Cincinnati Bearcats. With the win, Houston improved to 23-1 overall and 10-1 in the AAC while Cincinnati is now 20-4 and 9-2.
Cincinnati's Jarron Cumberland made tough shots on his way to scoring a game-high 27 points; however, Cumberland was the only Cincinnati player to score in double digits.
Houston was led by 16 points each by Dejon Jarreau and Corey Davis, Jr. Galen Robinson, Jr. added 10 points, 4 rebounds, and 3 assists.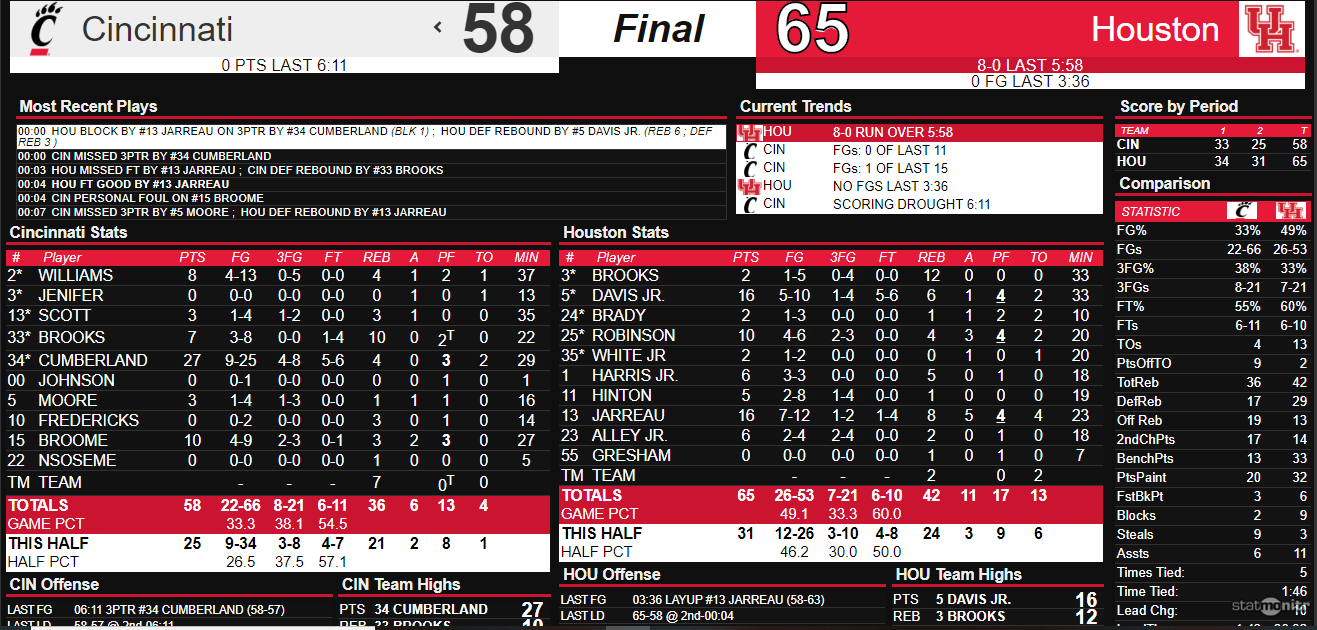 Jarreau scored 14 of his 16 points in the second half including 11 straight points during a 4 minute stretch which turned a 53-52 deficit with 8:05 remaining into a 63-58 lead with 3:36 to go in the game.
"I just took what they gave me," Jarreau said. "They were really on our shooters; so, that gave me a lane to go to and make a play."
Jarreau made quite a few plays during that stretch. First he scored a driving layup; next, he made a 3 pointer at the top of the key. Then, another driving layup followed up by a turnaround jumper or over a shorter defender; and, he ended his run with his third driving layup.
In addition to his 16 points, Jarreau also had 8 rebounds and 5 assists in slightly under 23 minutes.
"He's a very good player," said Mick Cronin of Jarreau. "I didn't think he was going to make that three; but, give him credit. That was a big shot. It changed the game. Around the rim, he's a talented guy."
Corey Davis was the key to Houston's engine in the first half. Davis scored Houston's first 4 points of the game - inside and outside the paint. Then, Davis drained a three-pointer and nailed a pull up jumper for 9 of Houston's first 11 points.
Houston led 17-10 before Cincinnati called timeout. The Bearcats trailed 19-12 before Cincinnati's Cumberland went to work with 11 points in four minutes. Cumberland made two three-point shots, 1 three-point play, and a long two before he picked up his second foul of the half with 5:24 left in the half.
Cincinnati did not wilt with Cumberland on the bench. Four different Bearcats scored during an 8-2 spurt which put Cincinnati on top 33-32 with 37 seconds remaining til halftime. Corey Davis made two foul shots with 3 seconds on the clock for a 34-33 Houston lead at halftime.
Houston's Armoni Brooks got his first bucket of the game: a two-hand offensive rebound put back slam dunk for a 43-37 Houston lead. Houston led 47-39 when Cumberland got hot once again. He scored 7 points during a 9-2 run to slice Houston's lead to 49-48 with 9:47 remaining.
After Galen Robinson made a three-point shot for a 52-48 Houston lead, Cincinnati's Cane Broome responded with a tough three-point basket for another 1 point margin. Then, Cumberland scored 7 consecutive points including a go-ahead three-point basket for a 58-57 Cincinnati lead with 6:11 left in the game.
Due to foul trouble on Davis and Robinson, Houston Head Coach Kelvin Sampson decided to put freshman Nate Hinton on Cumberland. At 6'5" and 212 pounds, Hinton's strength and quickness, plus help defense from teammates such as big man Chris Harris Jr., helped limit Cumberland from getting great looks at the basket down the stretch.
Harris blocked one of Cumberland's shots; and, the Bearcats struggled to make shots down the stretch. The Bearcats made only 1 of their last 15 field goal attempts and missed their final 11 shots of the game. Cincinnati did not score in the final 6 minutes of the game.
"Nate Hinton also did a great job," Kelvin Sampson said. "Junior guard Jarron Cumberland of Cincinnati was so good tonight. He was tough to guard. Nate's size was a factor in his ability to guard him. Our kids battled; and, so did the Cincinnati kids. It was two really good teams going at it. We're fortunate to get the win."
Armoni Brooks shot 1 for 5 from the floor in the game; however, he pulled down a game-high 12 rebounds. Houston out-rebounded Cincinnati 42-36 and outscored Cincinnati 32-20 in the paint.
Houston committed 13 turnovers; but, Cincinnati only scored 9 points off the turnovers. Houston blocked 9 of Cincinnati's shots. Brison Gresham blocked a game-high 4 shots in 7 plus minutes.
Jarreau's 16 points helped Houston's bench outscored Cincinnati's bench 33-13.
"Those were two tough teams," Sampson said. "It was hard to get an easy shot; but, they made some tough ones. And, we made some tough ones. Maybe the difference was that we played at home tonight. I'm proud of our kids' effort and of our fight."
Coach Cronin said Houston is the best team Cincinnati has faced this season.
"They put pressure on you for 40 minutes. They can beat you all 3 ways. They can beat you w/ offense; they can beat you w/ defense; and, they can beat you w/ rebounding."
The next match-up between Cincinnati and Houston is Sunday, March 10, at Cincinnati, at 11 a.m., on CBS.
NEXT:
Houston's next game is Thursday, February 14, at UConn, at 6 p.m., on ESPN.
CLICK HERE for The HRR's write-ups of Coogs' men's hoops games.
Subscribe in a RSS feeds reader
Subscribe to The HRR provides news and info of UH Coogs' men's basketball by Email