Coogs defeat Memphis, 90-77, and improve to 15-0 overall and 2-0 in American Athletic Conference play

POSTED: January 6, 2019 -- 10:36 p.m. CST
HOUSTON, TX (Fertitta Center) -- The Houston Cougars improved to a perfect 15-0 this season with a 90-77 victory Sunday evening over the Memphis Tigers. Houston has won 28 consecutive games at home.
Armoni Brooks led the Coogs with 22 points. Houston freshman Nate Hinton scored a season-high 19 points in 24 minutes off the bench. Senior guards Corey Davis, Jr. and Galen Robinson, Jr. each scored 11 points. DeJon Jarreau added 10 points and 6 assists off the bench.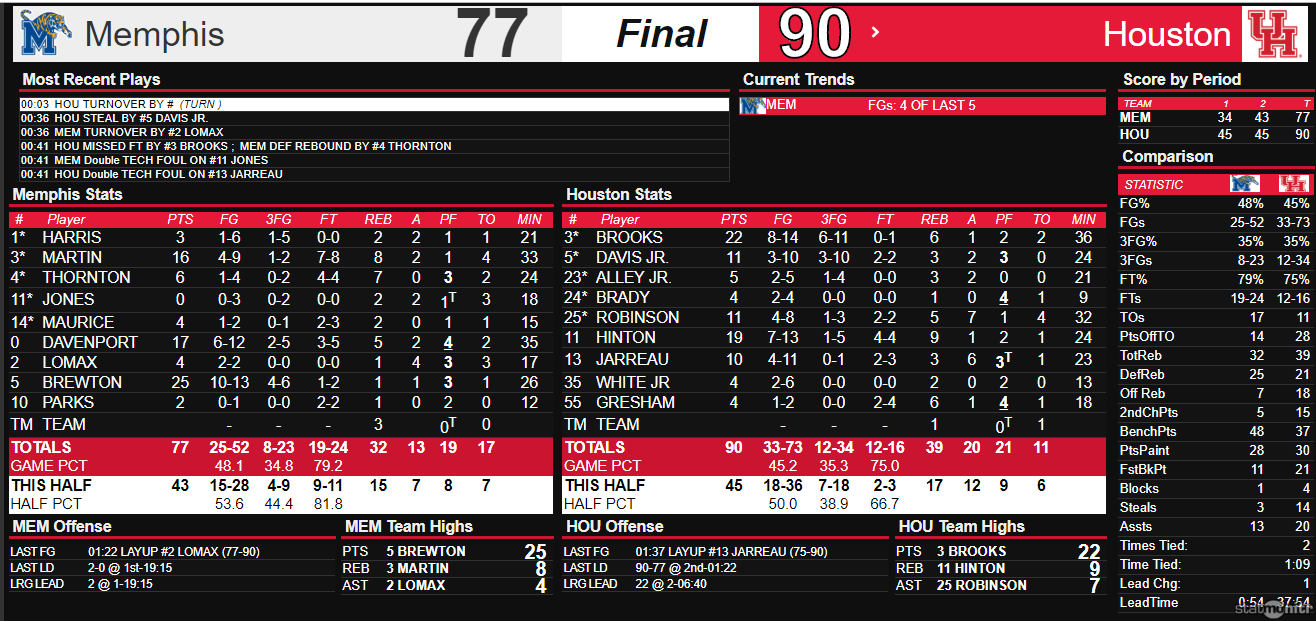 Memphis (9-6 overall, 1-1 in the American Athletic Conference) led 2-0; but, Houston scored 8 straight points to lead 8-2. However, when Corey Davis, Jr. picked up his second foul and headed to the bench, Houston's offense hit a dry spell. Davis, Jr. only played 4 minutes, 15 seconds in the first half.
Houston missed 9 of 10 field goal attempts but still led 12-10 thanks to Memphis going scoreless for more than two minutes. Houston led 16-10 before making 4 of 5 field goals to lead 24-20 at the 7:49 mark of the first half.
After the media timeout, Houston scored 8 points in 57 seconds to lead 32-20. The Tigers called timeout to regroup. Memphis pulled within 8 points twice; but, Houston took a 45-34 lead into halftime.
After sitting most of the first half with 2 fouls, Corey Davis, Jr. started the 2nd half and swished a 3-point shot; then, Breaon Brady scored for a 50-36 Houston lead. But, Memphis answer with 10 consecutive points cut the Coogs' lead to 50-46.
Armoni Brooks hit a 3 to end the 10-0 Memphis run. Then, Brooks swished a tough pull up jumper and nailed a fade away jump shot for a 57-47 lead. Memphis pulled within 6; but, Galen Robinson Jr's dish to Fabian White Jr for layup followed by 3 point bucket by Armoni Brooks gives Coogs 11 point lead (62-51).
Brooks scored 16 of his 22 points in the second half on 6 for 10 field goal shooting; 4 for 7 on three-point shots.
"A lot of the shots were coming in transition," Brooks said. "But, in the huddle, we were talking about getting stops. Once we get a stop, which leads to our transition offense, that's where we feel we're the best -- instead of walking the ball up the floor and calling a play -- Getting out in transition allows us to play our best basketball."
The Tigers' Kareem Brewton Jr. scored 4 points in a row; but, Houston responded with a 12-0 blitz less than 2 minutes to lead 74-55. Five different player scored in the run: 3 from Brooks; 2 from Fabian White, Jr. 3 from Davis, Jr; 2 from Nate Hinton; and 2 from DeJon Jarreau.
Houston led by as much as 22 points (82-60) with 6:40 remaining in the game. Memphis outscored Houston 17-8 to finish the game; but, the game was well in hand.
Houston improves 2-0 in the American Athletic Conference. "The 15-0 doesn't matter," Kelvin Sampson, Houston Head Coach said after the game. "What matters is the 2-0. The 2-0 is more important."
The Coogs shot 50.0% (18 for 36) from the floor in the second half. Twelve of the 18 baskets came from assists. Houston finished the game with 20 assists on 33 baskets.
"What I really liked about our team tonight was that we had 20 assists on 33 made baskets," Sampson said. "We're a very unselfish team. We move the ball."
A sold out crowd of 7039 fans filled Fertitta Center; and, the fans were loud which made for an electric atmosphere. Brooks appreciated the support and the vibe.
"They're amazing," Brooks said. "Having that arena filled up like that gives us a lot of juice, and hypes us up having great fans like that. I hope they continue to come out and support us the way they've been doing."
The crowd (and the Coogs) also had an impact of the Memphis Tigers' three freshmen. Tyler Harris (1 for 6); Antwann Jones (0 for 3); and Alex Lomax (2 for 2) shot 3 for 11 combined and finished the game with a plus/minus of -27.
Memphis Tigers' Head Coach Penny Hardaway said his freshmen weren't ready to play.
"They haven't played against a team this tough and that plays this hard," Hardaway said. "We played Tennessee. We played Oklahoma State. And, Texas Tech and those teams; but, Houston just plays with a different energy. I don't know if it's this building. I know that they're well-coached; and, they play hard. So, the freshmen today. They just weren't ready for that."
"We demand, don't discuss or negotiate effort, and hold kids accountable for not playing hard in our practices," Coach Sampson said. "But, again, I go back to our staff and strength coach. We're intense in the weight room. We're intense in conditioning; and, we're intense in our one-on-one workouts. That's our culture. I think everybody has something they're known for, good, bad, or different, we're all going for something. So, if that's the case, why not dictate what you're already known for?"
Houston out-rebounded Memphis 39-32; outscored them 15-5 in second-chance points; outscored the Tigers 28-14 in points off turnovers and outscored the Tigers 21-11 in fast break points.
NEXT:
Houston heads to Philadelphia, PA, to face the Temple Owls, Wednesday, January 9, at 6 p.m. on ESPNews.
CLICK HERE for The HRR's write-ups of Coogs' men's hoops games.
Subscribe in a RSS feeds reader
Subscribe to The HRR provides news and info of UH Coogs' men's basketball by Email