Coogs erase 15-point deficit to defeat LSU, 82-76

Updated: December 13, 2018 -- 9:35 a.m. CST
Posted: December 12, 2018 -- 11:25 p.m. CST
HOUSTON, TX (Fertitta Center) -- The Houston Cougars improved to 9-0 this season with an 82-76 win over the LSU Tigers (7-3) Wednesday night in front of a sold-out crowd inside the Fertitta Center.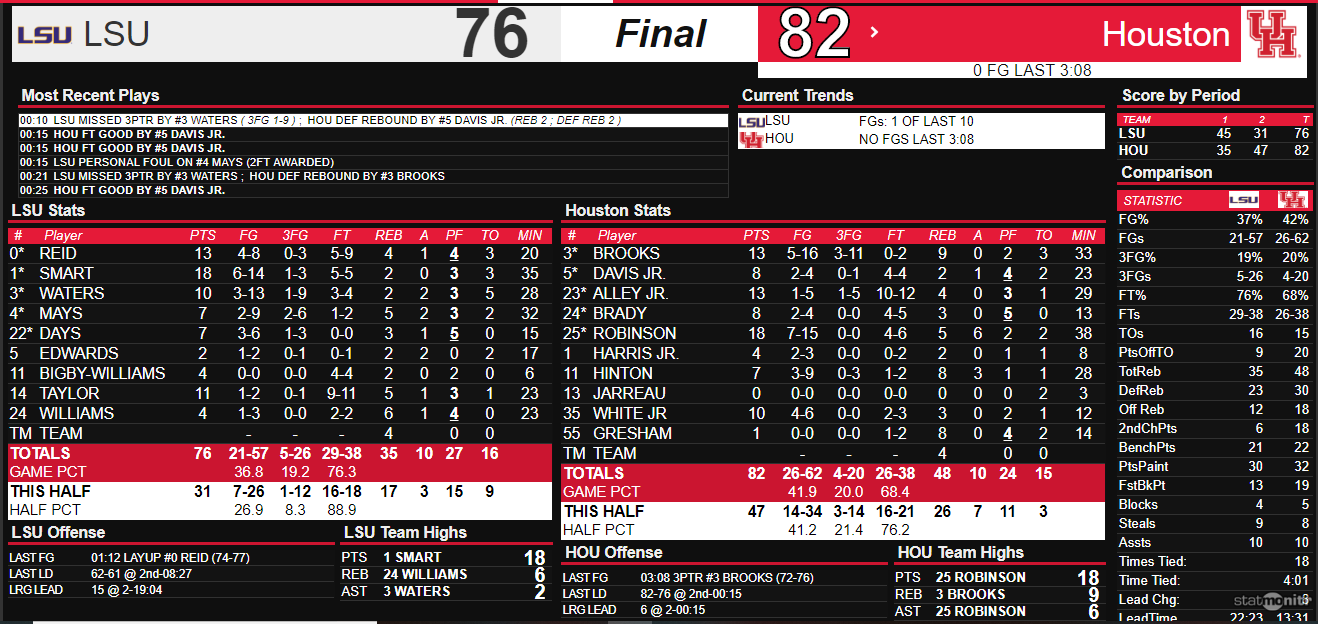 Houston trailed LSU 45-35 at halftime. The Tigers ended the first half with a 12-2 run; and, the Tigers scored the first five points in the second half to lead 50-35 with 19:04 on the game clock.
"I thought LSU outplayed us in the first half," said Houston Head Coach Kelvin Sampson after the game. "Sometimes you have to give credit to the other team instead of poor-mouthing your own team. LSU did a good job, and they have excellent players. Even though we were down by ten, and then by 15, I've been around this group enough to know we can do it."
Houston senior Galen Robinson Jr. scored four consecutive points to trim LSU's lead to 50-39; but, the Tigers answered with two free throws to lead 52-39.
Then, Armoni Brooks heated up. After missing his first seven field goal attempts in the game, Brooks knocked down two mid-range jumpers and a three-point shot to trim Houston's deficit to 53-46 with 14:32 remaining in the game.
LSU called timeout. The teams struggled to make field goals; however, both clubs exchanged made free throws. LSU led 57-48 before Houston scored eight straight points.
The Tigers led 62-58 after Darius Days made a corner three-point basket. However, Houston sophomore big man Fabian White Jr. converted a three-point play and freshman Nate Hinton scored in transition for a 63-62 Houston lead at the 7:51 mark. (Houston's first lead since the first half.)
Houston pushed the lead to 69-64. But, LSU did not go away. The Tigers got within one point three times (69-68, 71-70, and 73-72); but, after a smooth pump fake, Armoni Brooks nailed a huge three-point shot for a 76-72 Houston lead with 3:08 left in the game.
Neither team scored the next 99 seconds before Fabian White Jr split two free throws for a 77-72 Houston lead with 89 seconds on the clock.
After Galen Robinson Jr. split two free throws, Brooks missed two free throws which allowed the Tigers to stay in the game in the final minute. LSU's Tremont Waters sank two free throws to slice Houston's lead to 78-76 with only 28 seconds remaining.
LSU was forced to foul Houston senior Corey Davis Jr. Davis Jr made two foul shots; and, after a missed three-point attempt by Waters, Davis Jr capped the scoring with two more made free throws.
Robinson Jr. finished the game with a team-high 18 points. He added 6 assists and five boards. Brooks scored 13 points and pulled down a team-high 9 rebounds. Cedrick Alley Jr. added 13 points (10 for 12 foul shooting) while Fabian White Jr chipped in 10 points.
"I just wanted to stay aggressive," Robinson Jr. commented after the game. "One thing that really got to me was when they started chanting LSU in our gym. That really touched a nerve. I was like, 'there is no way we're losing this game'. That's the mindset I had. We noticed they were trying to take away our shooters, so that opened up driving lanes for me. Coach told me to keep being aggressive."
"The great thing about tonight was that the leader of that crowd was the students," Kelvin Sampson said. "Our students drove that atmosphere tonight. They were incredible. I'm so proud of our students. We have a big game Sunday, and they need to bring that same energy that they brought tonight."
NOTES:
After committing 12 turnovers in the first half, Houston turned over the ball just three times in the second half.
Houston limited LSU 26.9% (7 for 26) field goal shooting in the second half; and, the Coogs out-rebounded the Tigers 48-35 (26-17 in the second half).
With tonight's win, Houston is 9-0 for only the third time in school history; and, the first time since 1969-'70.
NEXT:
Houston's next game is Sunday, December 16, versus the Saint Louis Billikens. Sunday's game is the second of a 7-game homestand for Houston:
Saint Louis (December 16); Utah State (December 20); Coppin State (December 23); NJIT (December 29); Tulsa (January 2); and Memphis (January 6).
CLICK HERE for The HRR's write-ups of Coogs' men's hoops games.
Subscribe in a RSS feeds reader
Subscribe to The HRR provides news and info of UH Coogs' men's basketball by Email