Coogs defeat Lamar Cardinals 79-56

Updated: December 5, 2018 -- 9:15 a.m. CST
Posted: December 4, 2018 -- 11:12 p.m. CST
HOUSTON, TX (Fertitta Center) -- The Houston Cougars defeated the Lamar Cardinals 79-56 Tuesday night in front of an announced crowd of 5,587 fans (tickets sold not butts in the seats). Houston senior guard Galen Robinson Jr. tied his career-high with 20 points on an efficient 7 for 9 field goals (2 for 4 threes).
"I was just taking what the defense gave me tonight," Robinson Jr. said after the game. "If I was open, I shot it. If I was covered, I passed it. If I could drive, I drove it. I just kept it simple. It worked out for me tonight."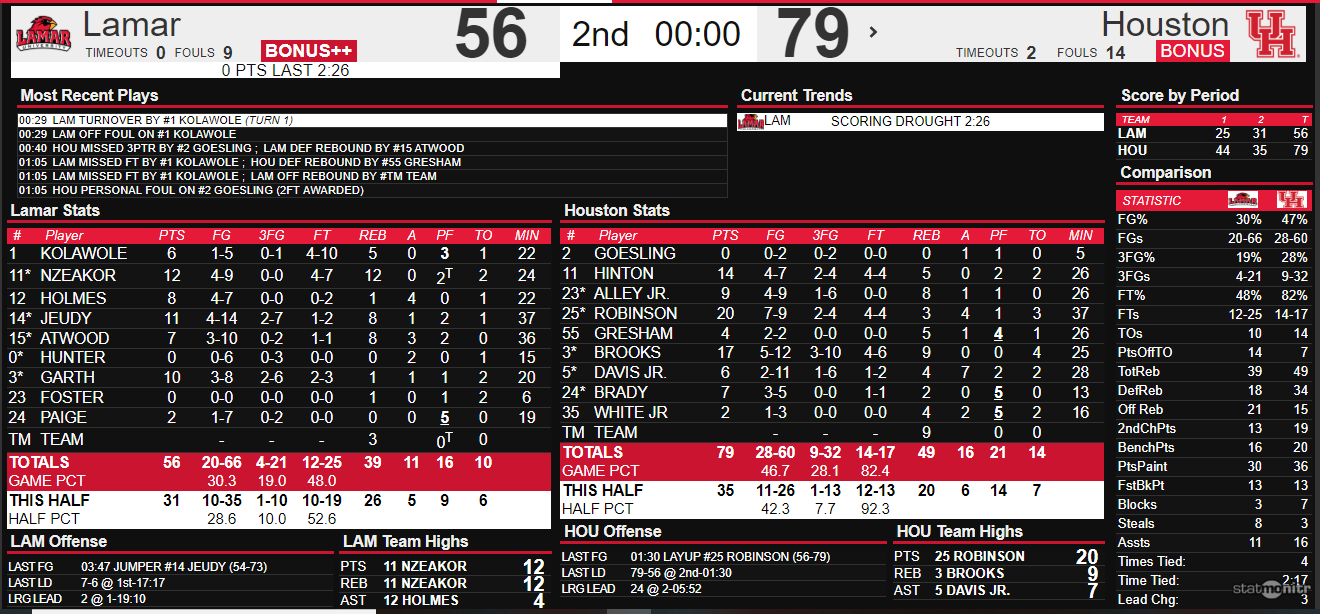 Lamar led 7-6 before Houston went on a 9-0 run. Houston led 18-10; but, Lamar answered with a 9-2 spurt to cut the Coogs' lead to one point (20-19) with 8:45 remaining until halftime.
Robinson Jr. scored fast-break lay-up for a 22-19 lead. Then, Houston redshirt-freshman Cedrick Alley Jr. knocked down a three-point shot. Then, Robinson Jr. drained a three-point shot. Next, freshman Nate Hinton got hot with 7 points in 80 seconds.
Houston continued its run over the next few minutes; and, when the damage was done, Houston led 41-20 with 2:33 left in the first half. 21-1 run in six minutes and 12 seconds.
Houston led 44-25 at halftime. Houston finished the first half with a 24-6 spurt. Galen Robinson Jr was a perfect 4-for-4 from the floor (2/2 threes) for 10 points. Nate Hinton also score 10 points (4/5 fgs, 2/3 threes) off the bench.
Midway through the second half, Houston's Armoni Brooks leaped high and grabbed a defensive rebound but came down and rolled his left ankle. Brooks tightened the shoe; but, after a few seconds, he hobbled to the bench. Brooks did return to the game a few minutes later; but, his ankle did hinder his play a bit. Brooks finished the game with 17 points and 9 rebounds.
The closest Lamar got in the second half was an 18 point Houston lead (47-29) at the 17:53 mark of the half. Houston led by as much as 24 in the second half.
Houston did have a few issues in the second half. The Coogs were whistled for 14 fouls in the second twenty minutes which led to 19 foul shots by the Cardinal in the half. Lamar made only 10 of the 19 attempts. In addition to pour free throw shooting, Lamar made only 10 of 35 field goal attempts in the second half.
Also, Lamar out-rebounded Houston 26-20 in the second half including a 15-5 edge on the offensive boards.
"I saw a lot of good things tonight," said Kelvin Sampson, Houston Head Coach, after the game. "Anytime you win a game by 23, you're obviously doing something right. We had a few too many turnovers, which is a little sloppy. They hurt us on the offensive blasts, so we just need to go get those things cleaned up."
In 25 minutes and 30 seconds, Hinton scored 14 points (2 for 7 from the floor) and pulled down 5 boards.
Despite not playing its best, Houston led the game for 36 minutes and 16 seconds.
"It's a good sign that Lamar gave us something that we need to work on," Robinson Jr. acknowledged after the game. "They had a lot of offensive rebounds, so we need to get to the film room, and see what we need to work on and try to get better for this tough stretch that we have coming up."
NOTES:
With tonight's win, Houston is 7-0 for only the fourth time in school history; and, the first time since 1997-98.
NEXT:
Houston's next game is against the Oklahoma State Cowboys, in Stillwater, OK, December 8, at 3 p.m.
After Oklahoma State, Houston returns home to face LSU (December 12); Saint Louis (December 16); Utah State (December 20); Coppin State (December 23); and NJIT (December 29).
CLICK HERE for The HRR's write-ups of Coogs' men's hoops games.
Subscribe in a RSS feeds reader
Subscribe to The HRR provides news and info of UH Coogs' men's basketball by Email