Coogs slip past UTRGV in tough 58-53 victory

Updated: November 29, 2018 -- 7:55 a.m. CST
Posted: November 28, 2018 -- 11:59 p.m. CST
HOUSTON, TX (H&PE Arena) -- The Houston Cougars earned a hard fought 58-53 win Wednesday night over the UTRGV Vaqueros.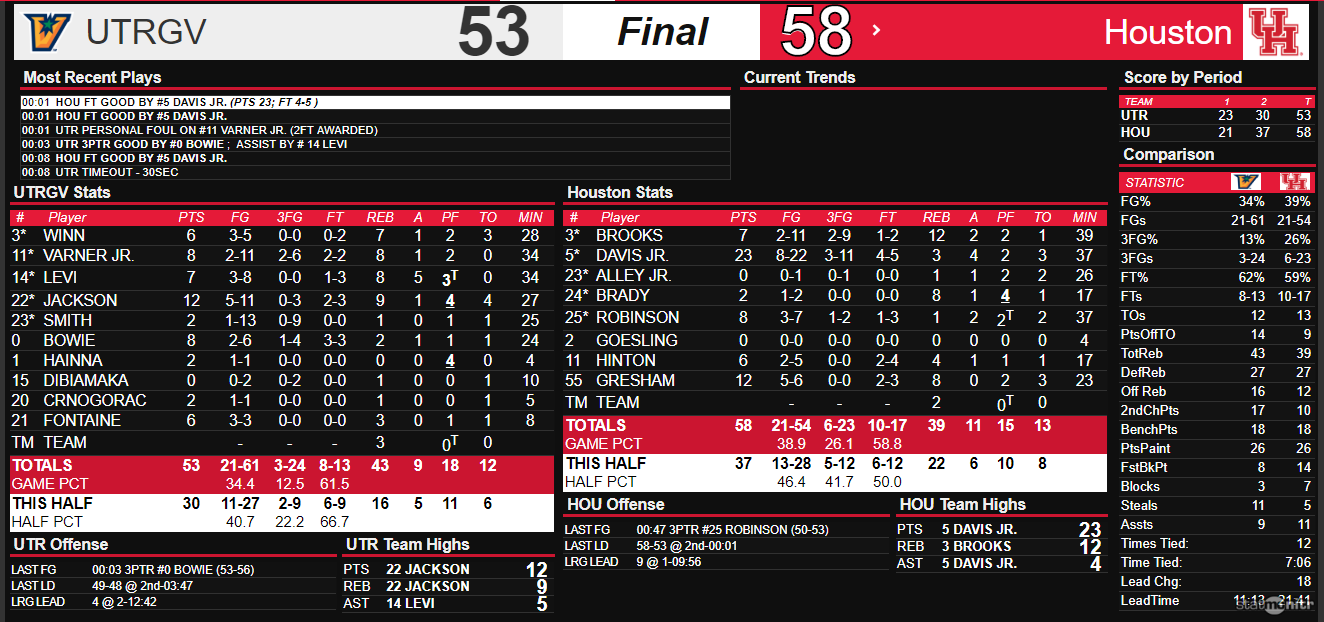 Both teams struggle making shots in the game. Houston trailed 23-21 at halftime; and, UTRGV dominated the Coogs on the boards in the first half with a 27-17 edge including a 12-2 edge in second chance points.
The Coogs (5-0) did not score the final 6:14 of the first half. Houston senior guard Corey Davis Jr. was scoreless in the opening half. Davis Jr. missed all 7 of his field goal attempts in the first half. Teammate Armoni Brooks shot 1 for 6 in the half.
Davis Jr. heated up in the second half and scored 23 points to keep the Coogs afloat
The teams struggled to score down the stretch. With the 1:06 remaining and the game tied at 50, Houston was scoreless the last 2:19 while UTRGV had gone 2:41 without making a field goal.
After the timeout, UTRGV (5-4) doubled Corey Davis Jr.; and, he dished to Galen Robinson Jr. Galen hit a corner 3 to put Coogs ahead 53-50. UTRGV called a 30-second timeout with 42.8 on the clock.
After the 30-second timeout, Corey Davis Jr. locked up Jordan Jackson. Jackson lost the ball. Galen Robinson Jr picked up the loose ball and was fouled. Robinson Jr split the free throws. Coogs lead 54-50. 26.7 on the clock. UTRGV with another turnover. Corey Davis Jr is fouled. 8.3 on the clock. Corey made the first free throws. Timeout, UTRGV. Coogs lead 55-50. Davis Jr made the 2nd free throw. Greg Bowie made a 3. UTRGV fouled Davis Jr. 1 second left. He made both free throws. Coogs win the game 58-53. FINAL.
Houston's Brison Gresham finished the game with 12 points, 8 boards, and 4 blocks in 23 minutes.
NOTE:
Chris Harris did not play in the game due to a sprained left ankle.
NEXT:
Houston: December 1, vs Oregon, 8 p.m., ESPN2. First game inside Fertitta Center.
CLICK HERE for The HRR's write-ups of Coogs' men's hoops games.
Subscribe in a RSS feeds reader
Subscribe to The HRR provides news and info of UH Coogs' men's basketball by Email